How To Make Blackberry Jelly At Home
Note- This post may contain affiliate links, we earn from qualifying purchases made on our website. If you make a purchase through links from this website, we may get a small share of the sale from Amazon and other similar affiliate programs.
I went to Buffet Hut for an occasion last week. There is a variety of food which was interesting for a foodie like me. After I am done with my meals and I went to the dessert corner and I saw a variety of cakes, pastries and jellies there. But the jelly which I liked the most is the Blackberry Jelly. It is because of the sour and sweet of this jelly and I found it very interesting
So, when I came back home, I called my cousin who runs a bakery shop to ask about the recipe of jelly, so I can make it at home. She gave me Blackberry Jelly Recipe and I made it at my home the next day. It was delicious and while eating Blackberry Jelly, a thought came into my mind that I should share that recipe with you all.
Another great jelly? Apple jelly! Here is everything you need to know about apply jelly and its substitutes. Come let's see the recipe of this different type of dessert. But here are some other amazing recipes that you should definitely try.
1. Elderberry Jelly– I know the easiest way to make Elderberry Jelly, which only requires 4 ingredients. I have shared the recipe for that tasty jelly that you can make at home in this post.
2. Pig Snout Jelly– Making pig snout jelly is a perfect choice for holidays or a get-together. In this post, I will share you can make delicious and mouth-watering pig snout jelly at your home very easily.
3. Quince Jelly– Although quince can't be eaten raw, they make some wonderful rose-colored quince jelly. You can convert sour quince to a beautiful rose-colored quince jelly.
4. Baked Mini Pumpkins– Easy to make and deliciously sweet and savory, these adorable little stuffed pumpkins will be the hit of your next fall gathering.
Ingredients for Blackberry Jelly Recipe
| | |
| --- | --- |
| Ingredients | Amount |
| Black Berries | 2 kg |
| Apple | 2 |
| Lemon | 1 |
| Sugar | 3 tbsp |
| Water | 2 cup |
Blackberry Jelly Recipe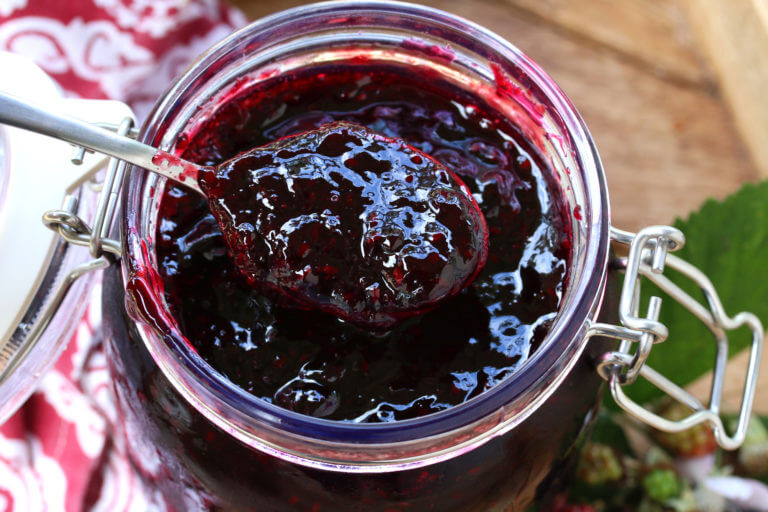 Take a tea towel and boil it in water for 2-3 minutes.
Now take a large bowl and upon it, arrange a bag on a stand with jellies in it.
Arrange it in such a way that a jelly juice will drip through it.
Now add apple, blackberries, lemon juice and water in a pan.
Boil it for 20 minutes.
Put this into the jelly bag and leave it for around 8 hours.
Remove the extra or any scum from the top of the mixture and cover the jar with a proper seal.
Store it in a cool and dark place for some time.
How Much Time It Will Take?
| | | |
| --- | --- | --- |
| Preparation Time | Cooking Time | Total Time |
| 10 MINS | 40 MINS | 50 MINS |
Nutritional Facts Of Blackberry Jelly Recipe
| | |
| --- | --- |
| Calories | 500 |
| Fats | 30 g |
| Sodium | 4130 mg |
| Potassium | 513 mg |
| Cholesterol | 45 mg |
| Carbohydrates | 20 g |
| Protein | 2 g |
How to Make Blackberry Jelly at Home | Video