How to Make Black Soup at Home
Have you ever heard about black soup? I recently came to know about it when one of my friends ordered it in a restaurant. It was black or I can say dark in color.
At first, I was not very much interested in it. But my friend asked me to taste it, and it tasted really good. I was amazed by its delicious taste.
This soup is basically a Nigerian recipe but is believed to be originated in Greece. Well as claimed by many people about the usage of some Nigerian greens in this recipe, that's why they call it Nigerian.
This soup is actually very good for one's health; it contains some leaves like scent, uziza and bitter leaves which are having good health benefits. These leaves are good for the stomach and also relieve heartburn.
Now let's make this soup at home without any confusion. To make this you have to get some ingredients which are listed in the table below. Also, there are other recipes that you can have as starters, let's check them out.
1. Cowboy Soup– This cowboy soup is very healthy as well as very yummy! Beef is the main ingredient and as you all know that beef is rich in protein, leading to the growth of muscles and supporting mass muscle growth.
2. Minestrone Soup– Minestrone soup is very popular among people because of the mix-match of the vegetables it has. I want to tell you all that it has a really interesting history associated with it.
3. Mulligatawny Soup– The word mulligatawny in Tamil means chili, pepper and water. This together makes it a recipe which we commonly know as soup.
4. 10 Bean Soup– With the dash of spice, this soup gives you a rich flavor. Make the soup part of your diet will make you healthy as its liquid will not only hydrate you but the solids will make it a hearty meal for you.
Ingredients for Black Soup recipe
| | |
| --- | --- |
| Ingredients | Quantity |
| Roasted fish | 300 gm |
| Assorted meat | 1 kg |
| Uziza leaves | 2 cups |
| Scent leaves | ½ cup |
| Bitter leaves | 2 cups |
| Ground crayfish | ½ cup |
| Ground pepper | To taste |
| Palm fruit sauce | 4 cups |
| Salt | To taste |
| Seasoning cubes | 3 pc |
| Stockfish ear | 7 pc |
So the ingredients are ready and you can get these ingredients from any nearest grocery store or supermarket.
This recipe doesn't take much of the time. It gets easily prepared in less time. Here is the time break up in the table below.
How Much Time It Will Take?
| | | |
| --- | --- | --- |
| Preparation time | Cooking time | Total time |
| 30 minutes | 30 minutes | 1 hour |
This recipe is quite interesting, the blend of different flavors and ingredients makes it so delicious. I am sure you will also be excited to know how its made. Ok, let's start making this black soup now.
Black Soup Recipe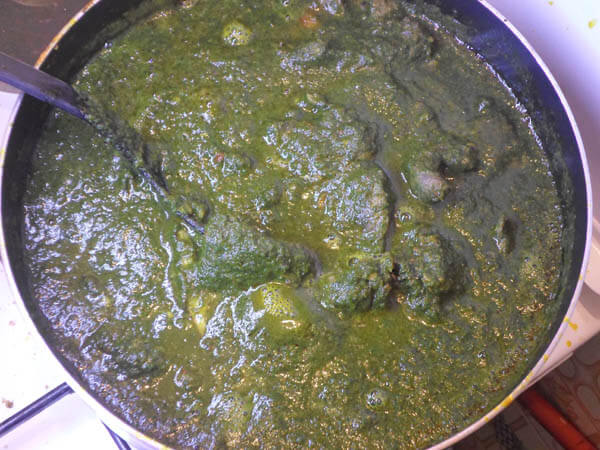 First, you need to grind the leaves, except bitter leaves, they are to be grinded separately.
Put Uziza and scent leaves and grind them together.
Now you have to cook the meat. Before cooking season it with a seasoning cube and some salt.
Cook it until it is soft and tender.
Now it's time to add washed stockfish, banga sauce, dried fish and crayfish.
Cook this soup for about 10-15 min and allow it to thicken.
Now add some ground leaves in this soup and keep stirring, add two cubes of seasoning and some salt to taste.
Now after the soup thickens put the heat on low.
And you are done! Try this soup with some Nigerian swallow and enjoy its great taste.
Nutritional Facts of Black Soup
The complete nutritional break down this Black Soup is given in the table for your nutritional needs. Do check it out.
| | |
| --- | --- |
| Calories | 430 |
| Fiber | 11 gm |
| Sugars | 11 gm |
| Protein | 10 gm |
| Fat  | 20 gm |
| Carbohydrates | 24 gm |
How to Make Black Soup at Home | Video
This recipe is easy and simple for you guys to make at home but if you find it difficult somehow, then here is a video that will help you. 
I hope you will like this Black Soup recipe and will try it at your home. Please tell us your experiences and taste of this recipe in the comments section below. We would like to see  your valuable comments. Till then stay safe and keep cooking.