How To Make Beef Bouillon At Home
Beef can be used as a base ingredient in many soups. Today, I am going to show you a recipe for a very famous soup known as beef bouillon. This bouillon is a great addition to other recipes and gives a great deal of flavor to the dish.
I am a very big soup fan and I first tried this beef soup on National Soup Day. After trying it, I was so impressed with the taste of this soup that I started to make it at home every weekend. This beef bouillon is very simple to make at home. It is a clear seasoned soup with no solid ingredients. But despite this, this soup is very flavourful in taste.
To make beef bouillon, heat oil in a pan and cook meat in it. Then, add carrots, celery, peppercorns, onion, salt, and cloves to it. Cook it for some time, then reduce the heat to simmer. Then, remove it from heat and cool slightly. With cheesecloth, strain the mixture and refrigerate it overnight. Then, discard the fat and clarify it. Garnish it with lemon zest, then serve.
I have given an overview of this beef bouillon recipe. This recipe is very similar to beef consommé. If you want to know more about it, here is everything about beef consommé and its substitutes.
I have explained the steps of this soup below with proper ingredients and a video demonstration as well. So let's check it out. Also, there are other recipes that you can have as starters, let's check them out.
1. Berenjenas Con Miel– Berenjenas Con Miel is a fried eggplant and honey dish. This dish is a great combination of sweetness and saltiness. It is a classic dish of Moorish origin and is served across Granada, Córdoba, Málaga, and Jaén.
2. Pork Patties– Pork patties are a very comfortable food that anyone should have. These pork patties can be used as an evening snack or you can have them in your burger as well.
3. Grilled Eel– The dish is crisp on the outside and tender from the inside. But if you cook it on high heat, then you do not need to steam it to remove the fat.
4. Sweet and Sour Fish– This Chinese sweet and sour fish recipe uses fish fillets to create a stunning presentation while keeping the cooking process as easy as possible.
Ingredients For Beef Bouillon
2 lb. Lean Beef
2 cups Water
1/2 teaspoon Vegetable Oil
1 Carrot (chopped)
2 stalks Celery (chopped)
5 Peppercorns
3 Cloves
1 Onion (chopped)
1 teaspoon Salt
2 cloves Garlic (minced)
Lemon Zest (to garnish)
How Much Time It Will Take To Make Beef Bouillon?
| Preparation Time | Cooking Time | Total Time |
| --- | --- | --- |
| 10 minutes | 10 minutes | 20 minutes |
Steps To Make Beef Bouillon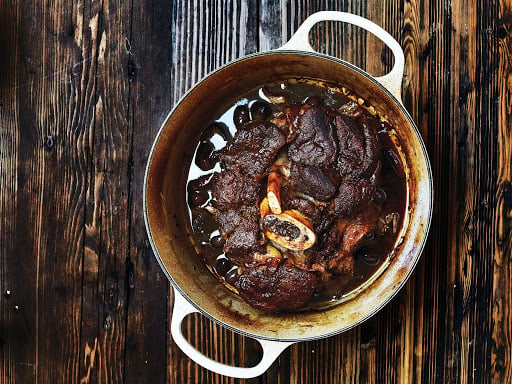 In a large Dutch oven, cook meat in oil until it turns brown.
Add carrots, celery, peppercorns, cloves, onions, and salt to it.
Boil it for a few minutes. Then, reduce the heat and simmer uncovered for about 3 hours.
After that, remove from heat and cool slightly.
Strain the mixture through a damp cheesecloth.
Cover and refrigerate the bouillon overnight.
Discard cloves and peppercorns.
Discard the fat that has risen to the top of the bouillon and clarify it.
Serve it warm or chilled. Garnish with a lemon zest.
Your beef bouillon is ready now.
Nutritional Breakdown Of Beef Bouillon
| | |
| --- | --- |
| Calories | 438 kcal |
| Fat | 14 g |
| Sodium | 1067 mg |
| Carbohydrates | 65 g |
| Protein | 17 g |