How to Make Bavette Steak at Home
Note- This post may contain affiliate links, we earn from qualifying purchases made on our website. If you make a purchase through links from this website, we may get a small share of the sale from Amazon and other similar affiliate programs.
I was introduced to Bavette Steak at one of my business lunch. It tasted delicious. I asked one of my business partners and he told me that Bavette steaks were certainly not quite popular because of the availability of the meat counters of supermarkets. But now it has again hit the markets for local meat sources are quite healthy and are gaining popularity. I learnt more about this mouth-watering Bavette Steak Recipe. Later, I was even successful at preparing it at my home, it was incredible.
Let me tell you something about bavette steaks.
Bavette steak is a French name for the flank steak of a cow. This cut has rich and deep flavours. It is often referred to as the 'butcher's cut'. Intermuscular fat has a high degree of fineness. Bavette steak looks wonderful as a centrepiece of a heavy meal. It has an incredible taste.
But here are some other amazing recipes that you should definitely try.
1. Filet Mignon– A dish from the 90s, Filet Mignon has tenderloin which is the softest and desirable cuts of meat. A lip-smacking Filet Mignon is just four ingredients and half an hour away.
2. Chicken Etouffee– Chicken Etouffee is New Orleans' delicacy. It is smothering of meat in a sauce with a roux which is a mixture of fat and flour cooked together.
3. Pesto Pasta– Learn how to make pesto pasta with this quick & easy recipe! With bright, bold flavor, it's one of our favorite weeknight dinners.
4. Jamie Oliver's Spaghetti Carbonara– Spaghetti Carbonara- a classic Italian dish that receives love by everyone who eats it. And what is not to love about this dish, it has everything in it that a person likes- pasta, cheese, bacon and more.
Ingredients required for Bavette Steak Recipe
| | |
| --- | --- |
| Ingredients | Amount |
| Bavette Steak | 1 1/2 – 2 lbs |
| Tallow | 2 tbsp |
| Butter | 1 tbsp |
| Black Pepper | 1 tsp |
| Sea Salt | 1 tsp |
How much time will it take ?
| | | |
| --- | --- | --- |
| Preparation time | Cooking time | Total time |
| 15 minutes | 15 minutes | 30 minutes |
Note- Use coarse ground black pepper and unrefined sea salt for seasoning.
Bavette Steak Recipe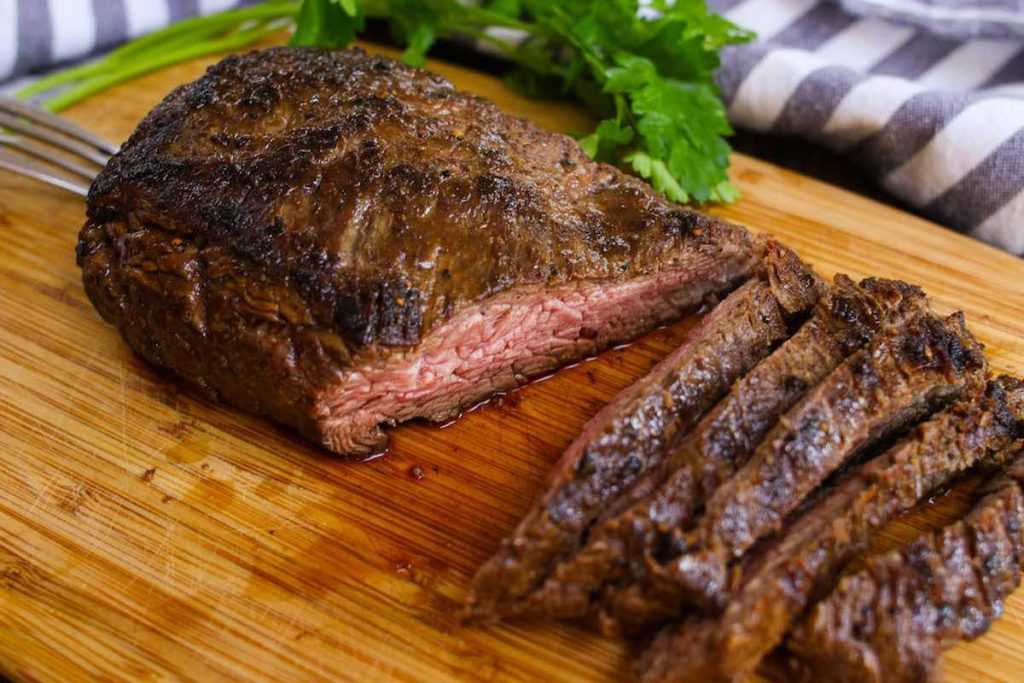 Firstly for creating a crust, season the meat with coarse ground black pepper and sea salt. Make sure steak is brought to room temperature and use a paper towel to dry it before making it.
Preheat a skillet or griddle over medium-high heat. Put tallow and butter into the skillet to combine them. Tallow would prevent the butter from burning.
When this combination gets mixed properly, it will begin smoking.
At this instant, put either side of bavette steak in the pan and let it cook for 3-7 minutes.
Now put the cooked steak out of the pan. Leave it undisturbed before carving.
Nutritional Information of Bavette Steak Recipe
| | |
| --- | --- |
| Calories | 163 |
| Total fats | 7 g |
| Saturated fat | 2.9 g |
| Cholesterol | 67 mg |
| Sodium | 48 mg |
| Potassium | 288 mg |
| Proteins | 24 g |
How to Make Bavette Steak at Home | Video