How To Make Barley Vegetable Soup At Home
Soups are an ideal starter to a meal, amazing appetizers too. They can be consumed as a snack or a full meal. A delicious soup with a bunch of crunchy veggies does wonders for me. Upping the health profile of the soup by adding barley (rich in fibre) is a game-changer. Today, I will be sharing the recipe of the soup that has been a standard in my house while growing up. It's the Barley Vegetable Soup.
Barley Soup is a Polish dish and my mother learnt it from one of her school friends. I always loved the smell of barley and veggies cooking on the pot and waited eagerly for the soup to be served. You'll know it once you cook it in your kitchen.
As children, I remember how my brother and I used to fight to get the bigger bowl of Barley Soup. So, drinking this soup makes me nostalgic. I love the whole vibe of it. I am sure some families still have Barley Vegetable Soup as a staple in their meals. Plus, in these cold winter nights, hot soup can soothe the nerves.
If you want, you can also use pearl barley instead of simple barley for this recipe. While you're here, you can also check the pearl barley substitutes.
So, why not try it in our kitchens? Also, there are other recipes that you can have as starters, let's check them out.
1. Matzo Ball Soup– Matzo ball soup is a delicious soup filled with the goodness of vegetables. It is different from the regular chicken soup because of the Matzo balls in it. It is also easy to make and has a unique flavor.
2. Vegan Pumpkin Soup– This is a classic, easy pumpkin soup made with fresh pumpkin that is very fast to make. Thick, creamy and full of flavour, this is the pumpkin soup recipe you will make now and forever.
3. African Peanut Soup– A soup made of peanut butter, tomato paste and kale, I know it sounds unusual but it is really delicious. The African peanut soup is a delicious vegetarian delight. You can drink it as a soup or take it with cooked rice. It is amazing both ways.
4. Mushroom Bisque– This is one of my favorite soups of all time. It is so easy. The secret to this deep, rich soup is a long slow caramelization, the key to unlocking the mushroom's magic. This is just pure essence of mushroom.
Ingredients for Barley Vegetable Soup
| Ingredients | Amount |
| --- | --- |
| Finely Chopped Onions | 2 tbsp |
| Finely Chopped Garlic | ½ tsp |
| Chopped Carrots | 2 tbsp |
| Chopped Tomatoes | 1 tbsp |
| Finely Chopped Spinach | 1/4 cup |
| Oil | 2 tsp |
| Vegetable Stock | 4 cups |
| Tomato Pure | 3 tbsp |
| Cooked Barley | 2 tbsp |
| Cooked Macaroni | 3 tbsp |
| Dried Oregano | ½ tsp |
| Dried Red Chilli Flakes | ½ tsp |
| Salt | To taste |
| Grated Mozzarella Cheese (for garnishing) | 1 tbsp |
Here's the list of ingredients. Most of them will be available in your kitchen; the rest will be readily available in nearby supermarkets.
The soup takes a couple of minutes to get ready. You will not have to wait for hours to have a delicious soup bowl. Check out the timetable below for the time break up.
How Much Time Will It Take?
| Preparation Time | Cooking Time | Total Time |
| --- | --- | --- |
| 10 min | 10 min | 20 min |
That's how quick the Barley Vegetable Soup can be made. Let's jump into the step by step procedure to make it. Down below is the recipe.
Barley Vegetable Soup Recipe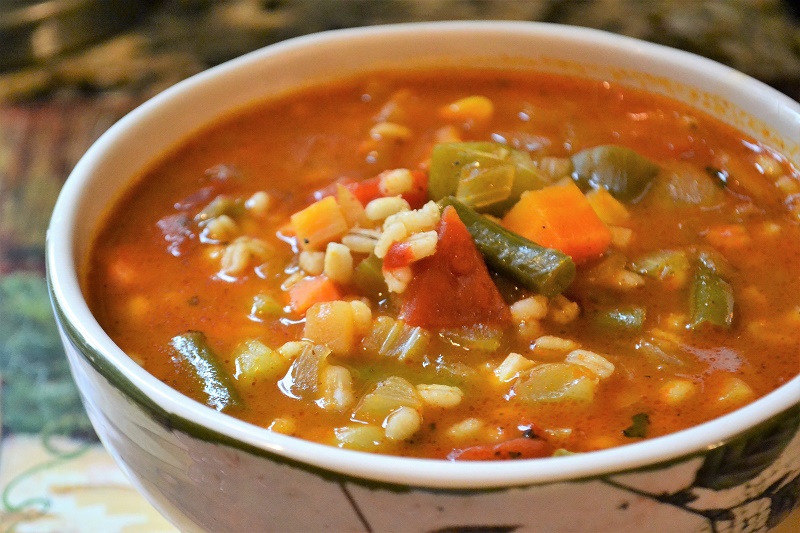 Sauté onions and garlic in a non-stick pan for about 2-3 minutes.
Add chopped tomatoes, tomato puree, spinach, carrots, vegetable stock and salt, mix and simmer for 5-7 minutes.
It's time to pop in barley and macaroni and simmer for another minute.
The soup's almost ready; take it off the flame and add red chilli flakes and dried oregano.
Garnish with grated cheese and serve it up!
Pro Tip– Barley and macaroni can be cooked by adding them to a vessel full of water and setting it to boil until they are cooked well(10-12 min). Then, strain under cold water.
Nutritional Breakdown of Barley Vegetable Soup
It is important to understand what you are feeding your body with. Hence, I've added the nutritional values of the constituents of the soup. Do check it out.
| | |
| --- | --- |
| Calories | 91.2 |
| Protein | 3 g |
| Carbohydrates | 20 g |
| Fibre | 4.1 g |
| Sugar | 3g |
| Fat | 0.5 g |
| Saturated Fat | 2.5 g |
| Sodium | 480 mg |
Note- The nutritional breakdown is for a Serving Size of 1 cup (240g).
How to Make Barley Vegetable Soup at Home | Video
I am attaching a video down below for you all to refer to in case of any disconnect. Check it out for a better understanding.
I hope you enjoyed reading the recipe and would want to create one in your own kitchen. Do recommend it to your friends and family and share our feedback in the comment section down below. We would also love to answer your queries there too.