How to make Barbacoa de Res at Home
This Barbacoa De Res is a perfect meal for your boring Sundays. It is basically a Mexican traditional dish that people make mostly on special occasions. If I talk about this recipe, it has a very delicious and juicy taste with which you'll fall in love.
You can also serve this recipe with Beef broth. I have no doubt in saying that my love for Barbacoa de Res will never change.
My mom has magic in her hand because I still remember the taste of her handmade Barbacoa de Res. She is a great cook with unique ideas. Obviously, I have learned this Barbacoa de Res recipe from my mother.
Don't have allspice berries? Here is a list of allspice berries substitutes that you can use instead. Do give it a read, you'll find some really great alternatives.
Today I was thinking to share this amazing recipe with all my food lovers. But here are some other amazing recipes that you should definitely try.
1. Kielbasa And Cabbage– Kielbasa and cabbage is a Polish dish that contains kielbasa, which is Polish sausage and cabbage along with other ingredients and flavors.
2. Spelt Pasta– This recipe is an old one and is usually made in most European and western countries. These Spelt Pasta noodles are made up of the spelled flour and some other ingredients such as eggs and olive oil which adds to its healthy nature.
3. Jamaican Jerk Seasoning– This seasoning consists of Jamaican spices which are known for their great flavor and taste. This spice includes many ground spices like cinnamon, cumin, black pepper and many more which are known for their anti-inflammatory properties.
4. Souse Meat– Souse meat is a Caribbean dish which you can easily make at your home. They were making spicy meat which was named Souse meat. The meat was really tasty and I observed how they were making it very carefully.
Ingredients for Barbacoa de Res
Pulled Beef
| | |
| --- | --- |
| Ingredients | Amount |
| Beef brisket | 3 1/2 pounds |
| White onion (halved) | 1 |
| Garlic cloves | 3 |
| Bay leaves | 3 |
| Salt | 1 pinch |
| Water | 4 Cups |
Sauce
| | |
| --- | --- |
| Ingredients | Amount |
| Small guajillo chile peppers | 6 |
| Small ancho chile peppers | 2 |
| White vinegar | 3 tbsp |
| Garlic cloves | 2 |
| Whole cloves | 4 eaches |
| Whole allspice berries | 3 |
| Ground black pepper | 1/2 tsp |
| Dried oregano | 1/4 tsp |
| Dried thyme | 1/4 tsp |
| Cumin seeds | 1/4 tsp |
| Ground ginger | 1/4 tsp |
| Ground cinnamon | 1 pinch |
| Salt | 1 pinch |
I know that the list of the ingredients list is quite lengthy but you will get all the ingredients easily from your nearby supermarket. Now, let's see how much time we have to invest in making Barbacoa de Res recipe.
How much time it will take?
| | | | | |
| --- | --- | --- | --- | --- |
| Prep time | Cook time | Additional | Total time | Servings |
| 10 minutes | 1 hr 50 mins | 5 minutes | 2 hrs 5 mins | 6 |
When I was learning this recipe from my mom, it was very difficult for me to remember all the points. But you don't have to worry because the full recipe of Barbacoa de Res is written below.
Barbacoa de Res Recipe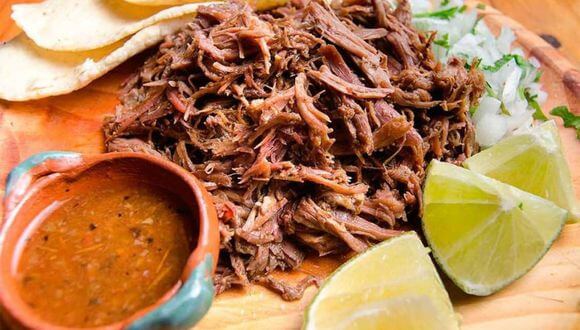 Firstly, Place the beef brisket in a pressure cooker and then add onion, bay leaves, garlic, and salt; cover it completely with water.
Close the cooker and heat until it makes a whistling sound, it will take about 10 minutes. Adjust the temperature and then cook it for about 60 minutes.
Let the pressure of the cooker release naturally. Remove the beef brisket from the cooker and shred it with a fork.
Strain it by discarding the solid pieces. Separate 2 cups for the barbacoa sauce and keep the rest of the liquid for some other use.
Mix guajillo chile peppers and ancho chile peppers in a large pan and cover it with water.
Bring the mixture a boil and cook it for another 5 minutes.
Turn off the flame and let it cool for about 5 minutes and then drain.
Mix chile peppers, cloves, cinnamon, allspice, Vinegar, black pepper, oregano, thyme, garlic, cumin, ginger, and the reserved liquid. Mix all the ingredients together.
Transfer the mixture of sauce into a pot and cook it over medium flame. Sprinkle salt on it.
Bring it to a boil and then reduce the heat. Add shredded beef in the pot coat it completely with the sauce.
Then, cover the pot and cook it for a maximum of 30 minutes.
Now your Barbacoa de Res Recipe is ready. Serve it and enjoy the flavorsome taste of this amazing recipe.
Nutritional Facts of Barbacoa de Res
If you are a health-conscious person, then don't get worried about your health by seeing this huge lists of ingredients because I've added a nutritional breakdown of the nutrients present in this recipe.
| | |
| --- | --- |
| Calories | 173.4 |
| Protein | 24.2 g |
| Carbohydrates | 6.4 g |
| Fat | 5.4 g |
| Cholesterol | 53.2 mg |
| Calcium | 34.6 mg |
| Iron | 3.9 mg |
| Magnesium | 34.6 mg |
| Potassium | 550.3 mg |
| Sodium | 1517.4 mg |
How to Make Barbacoa de Res at Home | Video
I highly recommend you all to watch this video if you are going to try this recipe for the first time. This video will guide you about how to make this Barbacoa de Res.
I hope you have liked this recipe of Barbacoa de Res and do make this at home. Do share your experiences and reviews regarding this particular recipe with us by commenting down in the comments section below.