How To Make Banh Mi At Home
Banh Mi is a great baguette sandwich made with crispy baguettes and baked chicken and pickled vegetables. It is a delicious sandwich and is very savory and flavorful. It is also simple to make.
Banh Mi is a sandwich from Vietnamese cuisine. Its main attraction is the crispy short baguette which can be filled with different meats and pickled vegetables. You can use any kind of meat in it and it tastes absolutely delicious. You can find Banh Mi in any Vietnamese restaurant, but I prefer the homemade version.
To make banh mi, add rice vinegar, water, and sugar to a saucepan. Stir it and then pour this mixture over the sliced carrot, radish, and onion and set it aside. Season the chicken breast and bake it. Also, slice and toast the baguette. Then, spread mayonnaise on it. Top with sliced chicken, pickled vegetables, cucumber, jalapeno, and cilantro. Top with the other half.
This was just an overview of the recipe. Find the complete recipe below. But before going to the full recipe, do check out other bread recipes as well.
1. Panettone Bread– Panettone is an Italian type of sweet bread originally from Milan, usually prepared and enjoyed for Christmas and New Year in Western, Southern, and Southeastern Europe.
2. Maharashtrian Multigrain Thalipeeth– Thalipeeth is a famous Maharashtrian dish typically made of three flours, whole wheat, millet and Bengal gram flour or besan.
3. Grilled Dark Chocolate Sandwich– Both simpler and more decadent than a chocolate croissant, a grilled chocolate sandwich is a marriage of bread and chocolate in which the two components are evenly matched.
4. Apple Chicken Salad Sandwich– This tasty chicken salad is filled with flavor. The crunchy apples, cranberries, and nuts make it extra special and offer great texture, and the lemon, mayonnaise, and dash of curry powder create a creamy consistency with a bit of zing.
Ingredients For Banh Mi
| Ingredients | Amount |
| --- | --- |
| Rice Vinegar | ½ cup |
| Water | ¼ cup |
| White Sugar | ¼ cup |
| Carrot (sliced) | ¼ cup |
| White Radish (sliced) | ¼ cup |
| White Onions (sliced) | ¼ cup |
| Boneless Breast Chicken | 1 |
| Garlic Salt | 1 pinch |
| Ground Black Pepper | 1 pinch |
| French Baguette | 1 |
| Mayonnaise | 4 tablespoons |
| Cucumber (sliced) | ¼ cup |
| Fresh Cilantro Leaves | 1 tablespoon |
| Jalapeno Pepper (sliced) | 1 small |
| Lime Wedge | 1 |
How Much Time It Will Take?
| | | |
| --- | --- | --- |
| Preparation Time | Cooking Time | Total Time |
| 30 Minutes | 20 Minutes | 50 Minutes |
Banh Mi Recipe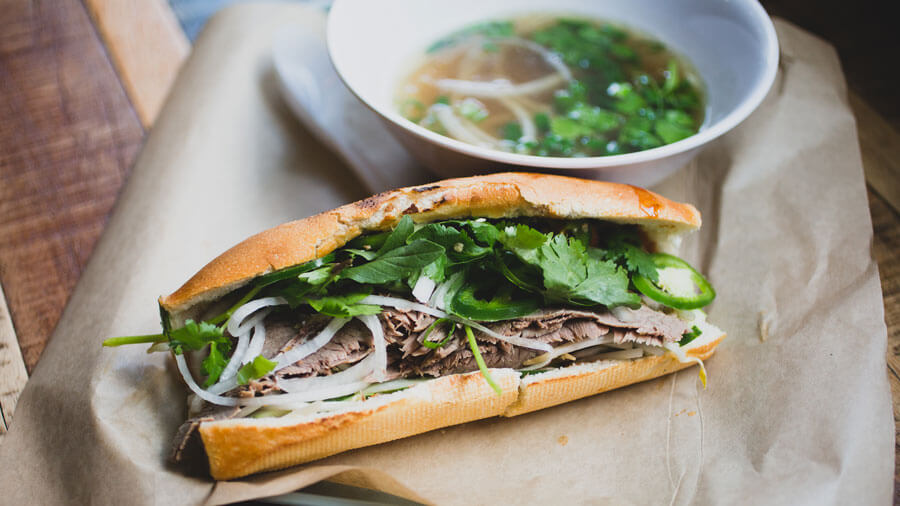 In a saucepan, add rice vinegar, water, and sugar. Place it over medium heat and stir until sugar is dissolved for around 1 minute. Let the mixture cool for some time.
In a bowl, add carrot, radish, and onion. Pour the cooled vinegar mixture over them.
Mix them properly and keep the bowl aside for 30 minutes.
Then, remove the excess vinegar from the bowl.
Preheat the oven broiler while the vegetables in the bowl are marinating. Apply some oil on the broiler pan.
On the slotted broiler pan, add chicken breast and sprinkle garlic salt and pepper. Cook the chicken breast for about 6 minutes until it turns brown. Take the broiled chicken from the oven and cut it into slices.
Now, cut the baguette into slices and lay it on a baking tray. Place the baguette bread inside the broiler for 2 to 3 minutes.
Spread mayonnaise on half of the toasted baguette. Top the bread with broiled chicken, cucumber slices, pickled carrot, onion, jalapeno pepper, cilantro leaves, and radish. Squeeze lime over the filling and add the other baguette slice on top.
Your Banh Mi is ready.
When you are going to serve it, cut it into slices, and serve accordingly. Now, your Banh Mi Recipe is ready to serve. Have a great day with this sumptuous recipe.
Nutritional Facts Of Banh Mi
If you are a fitness freak person, then this is the perfect nutritional breakdown for you, which will guide you accordingly.
| | |
| --- | --- |
| Calories | 657.4 |
| Protein | 24 g |
| Carbohydrates | 85.2 g |
| Cholesterol | 42.3 mg |
| Sodium | 990 mg |
How To Make Banh Mi at Home | Video