How to Make Banana Wine at Home
Bananas are the best fruit in the world as they are available throughout the year. They are consumed throughout the globe due to its various health benefits and nutritional elements.The bananas are relatively cheaper than other fruits available in the market. These bananas are rich in potassium, Vitamin C and many other healthy elements.
The banana helps in improving the digestion and makes your skin glow. They are also a great source of energy. After knowing so much banana benefits, I am sure you will start eating it daily and so should we.
But do you know there is a wine made you of banana and is consumed in India's southern region? Yes, this wine is called banana wine and is good in taste and is smoothing. Today I will share the recipe of this wine with you guys, which I know you will like surely.
This recipe is easy to make, but it takes a lot of time to ferment. You have to wait for about 3-4 weeks to taste it as it brings its own time. But there are many other drinks that we've covered in our blog. You should definitely check them as well.
1. Root Beer Float– Root Beer Float- what a summer treat it is! It is an awesome treat with scoops of vanilla ice cream floating in bubbly foamy root beer.
2. Pear Wine– The most important part of wine is the fruit, but that doesn't mean the fruit has to be pretty. Traditionally fruit that wasn't good enough for eating was used to make wine.
3. Bahama Mama– It is a tropical cocktail which has the combination of two varied rum including some fresh fruit juices and grenadine syrup. These refreshing drink would soothe your mind taking you to the beautiful land of Bahamas.
4. Tequila Sunset– It is an energizing and pleasant drink that is quite easy to make. Three ingredients: tequila, fruit juice and grenadine combine to give a perfect and amazing Tequila Sunset Cocktail.
Ingredients for Banana Wine
| Ingredients | Amount |
| --- | --- |
| Banana | ½ kg |
| White grape juice | ½  liter |
| Orange and lemon juice | 1 cup |
| Sugar | 200 gm |
| Pectin enzyme | ½ tsp |
| Wine yeast | 1 tsp |
| Spices (Cinnamon or cardamom) | 1 tsp |
These ingredients will be easily available at your nearest Supermarket store.
This recipe doesn't take much time to cook, but you have to let it rest for about ten days to ferment properly. Here is the complete time frame of this recipe.
How Much Time It Will Take?
| | | | |
| --- | --- | --- | --- |
| Preparation time | Cooking time | Fermentation time | Total time |
| 20 minutes | 30 minutes | 30 days | 10 days 50 minutes |
Now comes the most awaited part of the recipe, which I know you were waiting for. So let's start making this cool banana wine recipe at home and enjoy the time at its best.
Banana Wine Recipe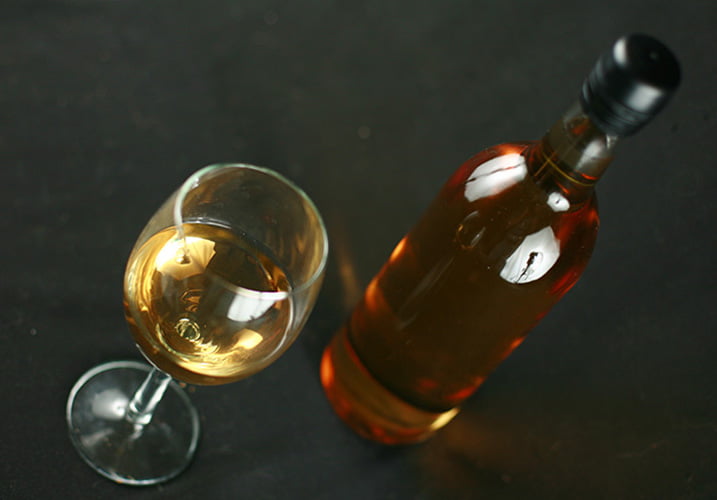 Take the bananas and peel them and cut them into small pieces.
Now boil the banana for about 25 minutes and remove any dirt if there. 
Now add grape juice and some water to increase the volume.
Add the Pectane enzyme, which helps to loosen the cell binding in the bananas.
Now add sugar and read the hydrometer reading until it is 1.100
Using a pH meter regulates the pH to 4.0.
Next day, add yeast to this mixture and stir this mixture two times a day to prevent the mold formation on its top.
Now follow the basic grape recipe and continue further. Check the hydrometer reading and move it to the second fermenter if it shows 1.040.
After the fermentation is completed let the wine rest for about 3 to 4 weeks to get a good and better taste.
And after a few weeks, sip this drink and enjoy your homemade banana wine recipe with your friends and family.
Nutritional Breakdown of Pear Wine
Here is the complete nutritional breakdown of this drink for your convenience. Check the table below.
| | |
| --- | --- |
| Calories  | 50 |
| Protein | 1.1 gm |
| Sugar | 30.2 gm |
| Fiber | 2.6 gm |
| Carbohydrates | 30.8 gm |
| Fat | 0.3 gm |
How to Make Banana Wine at Home | Video
This recipe is quite confusing and I would recommend you to watch his video before you proceed further.
I hope you will like this recipe and will give it a try at home. Please tell us about your experiences and tell us how you made it in the comments section below. Till then, stay safe and stay tuned for more such recipes.