How To Make Banana Custard at Home
Let's start with some questions regarding health. I will start by asking you Do you know which is the best natural way to have proteins? I guess you know the answer yes it is Banana. But eating Banana regularly makes your daily routine boring and to leave this boring habit of your's I am here with Banana Custard Recipe.
You can add Banana Custard in your week's routine as you can have it in alternative days. But apart from this Do you Know from where Banana Custard came from? Banana Custard is an essential part of English Dessert and it is from England.
I know most of people must be very confused about Banana Custard because in some parts of the world Banana Custard is known as "Banana Pudding" but let me clear all your doubt both Banana Custard and Banana Pudding are the same.
If you don't want to add banana to your pudding, here is a list of banana substitutes for you. Also, here are some similar recipes you should check out as well.
1. Vanilla Custard– A silky smooth and luxurious real vanilla custard that can be served hot or cold, alone or with tons of desserts. Plus, this homemade custard recipe requires just five ingredients and a simple process.
2. Boiled Custard– This Boiled Custard recipe is quite easy and takes almost no time in getting cooked but it tastes really good.
3. Lemon Custard– This delicious lemon custard is so simple to make that anyone can make it using a few ingredients and by following a simple process. This custard is a perfect dessert for any time.
4. Fried Bananas– We all have eaten fried bananas. But homemade fried bananas have that freshness that makes them more irresistible. Today, I a going to show you how you can make it at your home.
Ingredients For Banana Custard Recipe
| Ingredients | Amount |
| --- | --- |
| Sugar | 1/2 Cup |
| Cornstarch | 1 tbsp |
| Salt | 1/8 tsp |
| Milk | 1 Cup |
| Egg Yolks | 3 |
| Vanilla Extract | 1 1/2 tsp |
| Mashed Banana | 2 |
| Fresh Mint Leaf | 5 |
It is quick and easy to make recipe. It will take very little time to make and I always think it is a time-consuming dessert But I was wrong and I have mentioned proper timings in the table below.
How Much Time It Will Take?
| | | |
| --- | --- | --- |
| Preparation Time | Cooking Time | Total Time |
| 5 Mins | 15 Mins | 20 Mins |
I was very excited when my mother was explaining to me about the recipe and I know you are also excited to know the recipe but your wait is because we are just one step away from Banana Custard Recipe.
Banana Custard Recipe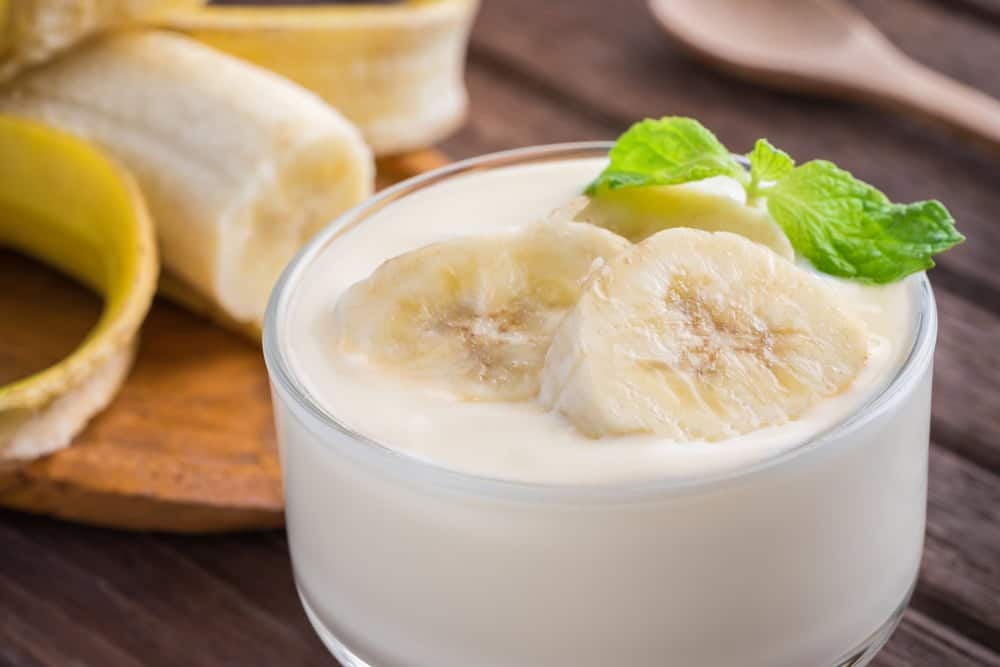 Add sugar, cornstarch, salt, and milk in a saucepan. Mix them properly over the medium heat, until it will turn thick for 3-4 minutes.
When you remove the saucepan from heat, stir a small amount of hot fillings into the egg yolks and boil gently for 5 minutes. Add vanilla extract in the end when removed from heat.
Transfer the mixture in the serving bowl and place that bowl in the refrigerator for 1 hour. Before you serve fold the mixture in banana and on the top garnish it with mint.
Finally, Banana Custard is ready to replace your favorite dessert.
Nutritional Facts Of Banana Custard
As we all dessert is not that healthy for your health but Banana Custard is healthy and delicious. To back the statement I have mentioned the nutritional information of Banana Custard.
| | |
| --- | --- |
| Calories | 235 |
| Fats | 7g |
| Cholesterol | 172mg |
| Sodium | 125mg  |
| Carbohydrates | 38g |
| Protein | 5g |
How To Make Banana Custard at Home|Video
By watching something live gives you more exposure to learn the recipe easily and that is the reason I have mentioned the video which I saw before I made Banana Custard.
I hope you've liked the recipe. I will recommend you to make it in summer it will give you relief from the scorching summers and your kids will definitely love it. Do share your meaningful reviews with us in the comment section.