How to Make Banana Crumb Muffins at Home
Note- This post may contain affiliate links, we earn from qualifying purchases made on our website. If you make a purchase through links from this website, we may get a small share of the sale from Amazon and other similar affiliate programs.
Banana Crumb Muffins remind me of my childhood friend's birthday. We were 8 years old or so when I visited her home. She knew that I loved bananas, so to my surprise, I was served Banana Crumb Muffins. It had an incredible taste.
Banana and muffins together, you can imagine how thrilled I would have been. I paid my heartfelt thanks to her family. When I came back home, I told my mother about it and next I knew was the pleasure of having Banana Crumb Muffins as breakfast every day. I absolutely loved it. Gradually, I too learnt to make perfect Banana Crumb Muffins. I used to treat my friend with them. How memorable those days were!
Topping with crumbs makes banana muffins an extraordinary and incredible dish. It tastes divine when it melts inside your mouth. With crunchy and sweet sugar crumb toppings, anyone whether a kid or an adult would find it the tastiest dish ever.
I know your mouth must be watering so without further ado, let's check out the Banana Crumb Muffins Recipe to make your breakfast delicious and energizing. But before we jump onto the recipe, let's check out some other desserts that you might like.
1. Bohemian Kolaches– Kolaches are sweet pastries famous in Czech, which are made of yeast dough with a filling of fruit or cheese. Though it is a sweet dish, yet it is healthier than a donut.
2. Maple Glaze for Donuts– The glaze of the donut is what makes it drool-worthy. After trying this maple glaze recipe, I am sure you will never give a second thought to any other glaze for the donuts. 
3. Blueberry Buttermilk Muffins– These are a great and delicious snack. They are also really easy to make. Today, I will be sharing the easiest recipe for blueberry buttermilk muffins with all of you.
4. Baked Apple Slices– Making an apple dish at home is loved by everyone of us. These Cinnamon Baked Apple slices is something that you should definitely try as a dessert.
Ingredients required for Banana Crumb Muffins Recipe
| | |
| --- | --- |
| Ingredients | Amount |
| All-Purpose Flour | 1 1/2 cup |
| Baking Soda | 1 tsp |
| Salt | 1/2 tsp |
| Mashed Bananas | 3 |
| White Sugar | 3/4 cup |
| Lightly Beaten Egg | 1 |
| Melted Butter | 1/3 cup |
| Packed Brown Sugar | 1/3 cup |
| Ground Cinnamon | 1/8 teaspoon |
| Baking Powder | 1 teaspoon |
| All-Purpose Flour | 2 tablespoons |
| Butter | 1 tablespoon |
How much time will it take ?
| | | |
| --- | --- | --- |
| Preparation time | Cooking time | Total time |
| 15 minutes | 20 minutes | 35 minutes |
Banana Crumb Muffins Recipe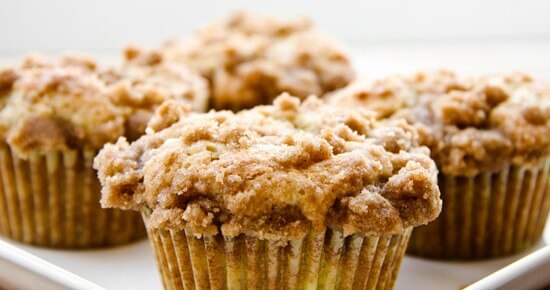 Take a large bowl. Combine 3/2 cup flour, baking soda, baking powder and salt in it.
Take another bowl. Sugar, bananas, egg and melted butter are to be beaten together in it.
Take the banana mixture and put it in flour mixture. Stir it until the ingredients get moistened.
Scoop out the batter into lightly greased muffin cups.
Now, take a small bowl. Combine brown sugar, 2 tablespoons of flour and cinnamon in it.
Add 1 tablespoon butter and wait until the mixture appears like coarse cornmeal.
Top the muffins.
Put them in a preheated oven(375 F) until they get completely baked.
Nutritional Information of Banana Crumb Muffins Recipe
| | |
| --- | --- |
| Calories | 204 |
| Saturated fats | 3.8 |
| Total fats | 3.8 g |
| Cholesterol | 33.2 mg |
| Sugars | 12.5 g |
| Dietary Fiber | 1.2 g |
| Total carbohydrates | 36.1 g |
| Sodium | 250.3 mg |
| Potassium | 163.6 mg |
| Proteins | 2.4 g |
How to Make Banana Crumb Muffins at Home | Video