How To Make Baklava At Home
Baklava is an American-Turkish dessert. Today, let's see how you can make it at your home.
The dessert mainly consists of phyllo dough with a syrup of honey inside it and is crispy and full of dry fruits. The taste is so tempting and delicious that you will get addicted to it. The recipe takes a little extra time to make as there are a lot of steps required to make the dessert. Now, let's have a quick overview of the recipe.
To make baklava, prepare a mixture of sugar, water, honey and lemon juice. Boil to make the syrup. Now, grease the baking tray and keep the phyllo sheets. Then, spread the mixture and add some walnuts. Bake for 15 minutes at 325F and serve.
Now, let's see the detailed recipe. But before we jump onto the recipe, let's check out some other desserts that you might like.
1. Christmas Brownies– These brownies are far away from your typical brownies. These brownies have a beautiful decoration to make them the perfect Christmas baked delight. They are the best Christmas gift for people who love sugar, chocolate and, of course, Christmas.
2. Persimmon Pudding– Persimmon is a fruit, which looks like a tomato but is a berry. It has a slippery silk-like texture. It tastes creamy, tangy and sweet, all at the same time. Isn't it an exciting fruit? I would love to eat this fruit. Make a pudding with this will surely be a great dessert.
3. Vanilla Brownies– Vanilla Brownies are also known as Vanilla Blondies. This recipe will lighten up your mood and gives a good aroma. When you follow this recipe, it will be a lot easier to make this brownie. Make these brownies for your loved ones and make them happy.
4. Donauwelle– Donauwelle is a traditional sheet cake with layers of chocolate and plain pound cake with a wavy border between the two. This cake has sour cherries in it and is topped with buttercream and chocolate glaze. It is famous in Germany and Austria.
Ingredients for Baklava
| Ingredients | Quantity |
| --- | --- |
| Phyllo Dough  | 16 oz. |
| Unsalted Butter  | 1 ¼ cups |
| Walnuts  | 1 lb. |
| Ground Cinnamon  | 1 tsp. |
| Granulated Sugar  | 1 cup |
| Lemon Juice  | 2 tsp. |
| Water  | ¾ cup |
| Honey  | ½ cup |
| Melted Chocolate Chips & Walnuts  | To Garnish |
How Much Time Will it Take?
| Preparation Time | Cooking Time | Total Time |
| --- | --- | --- |
| 1 Hour  | 1 Hour 15 Minutes  | 2 Hours 15 Minutes |
This baklava recipe will take quite a time to get completed. As we know, desserts take their sweet time to cook properly. So, just wait a little bit and get something really delicious and sweet to eat.
Baklava Recipe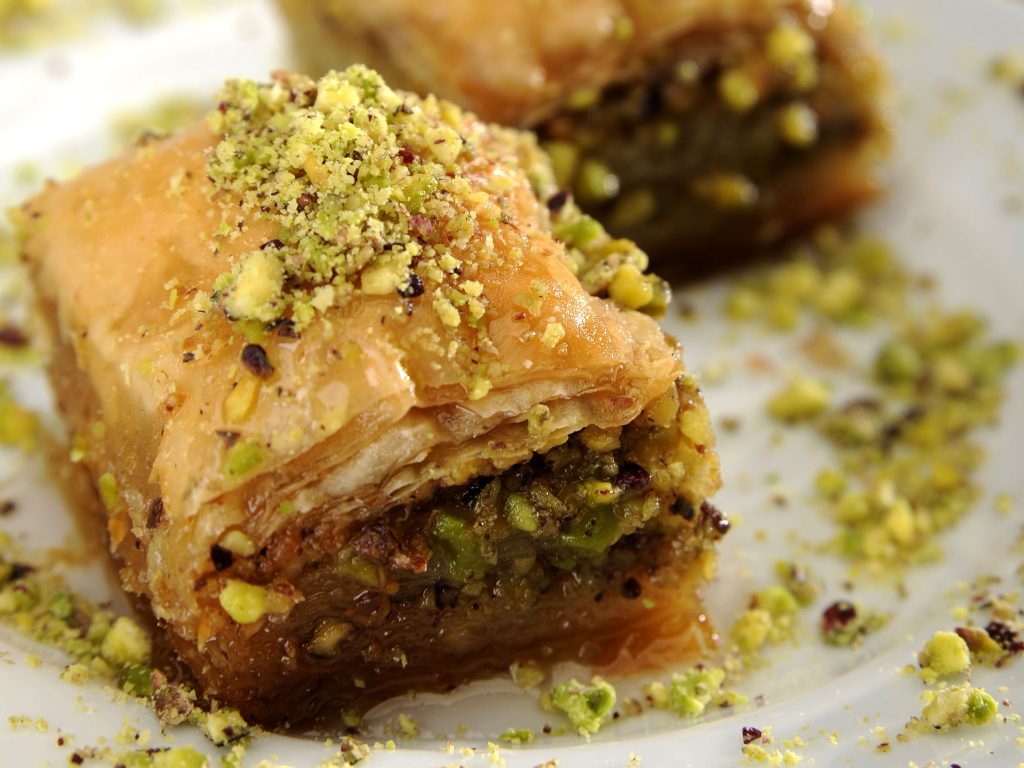 Use the phyllo dough as per the instructions listed on the package by the manufacturer.
Take plenty amount of dough that fits your baking sheet. Trim the extra part out if you feel space is less.
Grease the bottom of the baking pan with some butter. 
Take a medium saucepan and add sugar, honey and lemon juice to it, along with some water. Boil this mix and stir until the whole sugar is dissolved. Lower the heat and boil for another 4 minutes without stirring. 
Let this mixture cool and take the form of syrup. This syrup will be used in the baklava dessert.
Using a food processor, coarsely grind the walnuts or chop them whatever you like. And in a bowl, add these chopped walnuts and cinnamon.
Keep these phyllo sheets in a baking pan, grease each sheet with butter and add more after one another.
Keep the remaining phyllo covered with a towel and spread the nut mixture over the whole dough.
Place the buttered sheets of phyllo and a layer of nuts. Complete the layers of buttered phyllo sheets and brush the top with butter.
Cut the pastry into the desired shapes may be diagonal. Bake it for about 15 minutes at 325F or until they are golden brown in color.
Take it out of the oven and pour the syrup that you made earlier on this hot baklava. This will make it more crispy from the outside and soggy. 
Let this dessert rest for about 5 hours so that the syrup can get inside the pastry. Garnish with some chopped nuts and melted chocolate.
Cover it with a tea towel and then can be stored for 1-2 weeks.
Finally, it's done! Your baklava dessert is ready and can now be served. Make this dessert at home and see what it tastes like. I am sure you will love it and will definitely include it in your dessert menu.
Nutritional Breakdown of Baklava
The nutritional details of this baklava recipe is provided in the table below.
| | |
| --- | --- |
| Calories  | 255 |
| Cholesterol  | 20 mg. |
| Carbohydrates  | 21 gm. |
| Fiber  | 1 gm. |
| Sugar  | 11 gm. |
| Protein  | 3 gm. |
| Iron  | 1 mg. |
| Calcium  | 20 mg. |
How to Make Baklava at Home | Video
Down below is a video that you can watch to know more about this recipe. This will help you to make thi dessert more accurately and precisely at home.
I hope you liked this Baklava recipe and if so, please comment down below and tell us your most welcomed reviews and experiences. I will bring you more such recipes every day. Stay tuned for more recipes like these and have a great day!