How to Make Baked Porgy at Home
Note- This post may contain affiliate links, we earn from qualifying purchases made on our website. If you make a purchase through links from this website, we may get a small share of the sale from Amazon and other similar affiliate programs.
A special dinner night! Are you thinking about your favorite food? Just relax because I will share this unique dinner idea that can make your dinner night even more fabulous. Not only you but your loved ones will also love the idea of this unique seafood.
If you are tired of eating prawns, lobsters or any regular fish, then you should definitely try this recipe. The name of this recipe is Baked Porgy.
Porgy is really a great fish to eat and cook. You will really love the idea of cooking it. This dish is originated from Spanish or Portuguese Pargo. It belongs to the sea bream family of fish. They are mainly high backed snappers or we can say they are Grunt like fishes.
So for your adventurous mood of seafood, this baked Porgy is the best choice ever. This savory and tangy dinner will make you miss this dish even more. But here are some other amazing recipes that you should definitely try.
1. Oyster Steak–  Oyster steak has high moisture content and does well when cooked using high heat, such as with grilling, broiling or pan searing.
2. Venison Summer Sausage– This is a nice change from regular summer sausage. The cheddar and jalapenos give it a bit of a spicy kick that is sure to please at gatherings. 
3. Smoked Canadian Bacon– Canadian bacon is the American name for a form of bacon that is smoked and fully cooked, trimmed into cylindrical and thickly sliced."Canadian" bacon is made only from the lean eye of the loin and is ready to eat.
4. California Grilled Chicken– This skinless, boneless chicken is a delicious treat for all meat lovers. California Grilled Chicken recipe as it is famously called is quite easy to make at your homes as well.
Ingredients for Baked Porgy
| Ingredients | Amount |
| --- | --- |
| Porgies | 2 |
| Onion | 1 |
| Tomato | 1 |
| Garlic Cloves | 3 |
| Cucumber | 1 |
| Olive Oil | 1 tsp |
| Salt | 1/2 tsp |
| Black Pepper | 1/2 tsp |
| Rosemarry | 1/2 tsp |
Porgy can be made at home with these ingredients and you can get all of these ingredients from the nearby store. Now let's check the time it will take to make this Porgy at home
How Much Time It Will Take?
| Preparation Time | Cooking Time | Total Tome |
| --- | --- | --- |
| 10 minutes | 30 minutes | 40 minutes |
40 minutes and your dish is ready. Now you know the ingredients and time it will take, so let's see the recipe to make Baked porgy at home.
Baked Porgy Recipe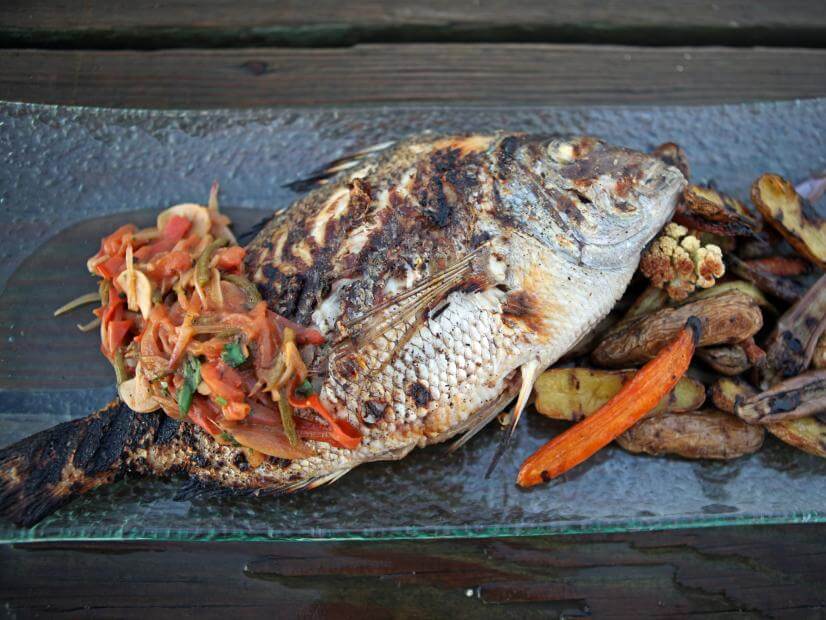 Slice the fish and take two lemons and cut them from the center.
Now squeeze the lemon juice on the fish and then cover it and refrigerate it for 1- 2 hours.
Make a mixture of curry powder and salt and other veggies.
Put this mixture inside the fish on both sides.
In another bowl, chop capsicum and onions, add lime and olive oil, add some black pepper, and mix it.
Set the oven at 315F and put fish in the oven for 30 minutes.
Put is back in the oven, uncovered for 20 minutes and wait for its opaque color when pierced with a knife.
After 30 minutes, garnish it with round sliced onions and capsicum.
Your delicious baked Porgy is ready now. Make it at your home and everyone is going to love it.
Nutritional Breakdown of Baked Porgy
As we know that fish are a very good source of protein and has other nutritional benefits as well. That's why I've added a list of nutrients available in this recipe
| | |
| --- | --- |
| Calories | 200 |
| Fat | 5g |
| Sodium | 90mg |
| Protein | 2g |
| Carbohydrates | 11g |
| Fiber | 3g |
How to Make Baked Porgy at Home | Video
Here is a video for you that you can watch regarding this recipe. This video will help you with cooking the porgy fish better.
Give a try to this recipe and I am sure that you are going to love it. If you have any queries regarding the dish, please ask in the comment section. Till then, eat healthily and stay healthy