How To Make Baked Apple Slices At Home
Note- This post may contain affiliate links, we earn from qualifying purchases made on our website. If you make a purchase through links from this website, we may get a small share of the sale from Amazon and other similar affiliate programs.
Making an apple dish at home is loved by every one of us. Today, I will be sharing the recipe for baked apple slices, which you can prepare in minutes.
I love making dishes with apples. An apple pie is something I love baking and eating the most. Then, with the monotonousness of the apple pie, I thought to make another dish by using apples. These cinnamon-baked apple slices are what crossed my mind to be made as a dessert. Like an apple pie takes a lot of effort and time, does this dish also take time? Let's see.
The process of making baked apple slices involves peeling and slice the apples and then dipping them into the cornstarch syrup to coat them. Sprinkle some sugar and cinnamon over the slices and bake them in the oven. Cook till the slices get tender.
This dish will be an addition to your dessert list. Unlike other apple desserts, these baked slices will be ready in no time. Apart from being simple, this dish is really healthy. Also, keep in mind that the apples will not get crispy in this recipe. This recipe will make them tender and warm. But before we jump onto the recipe, let's check out some other desserts that you might like.
1. Banana Crumb Muffins– Banana Crumb Muffins are moist with a little cinnamon and nutmeg and topped with tons and tons of crumb topping. This is the best homemade banana muffins recipe perfect for a healthy breakfast.
2. Texas Tumbleweed– This recipe is perfect when you are in a rush but still want to make a delicious dessert. It is a no-bake recipe. It has a hint of salt, sweetness, and cream. These treats will be a perfect combination of flavors.
3. Scottish Cranachan– This recipe is a traditional Scottish dish that is flavorful and very easy to make. It is made with oats along with other ingredients and also uses malt whisky for a boozy flavor.
4. Apple Crisp– Apple crisp is made with nuts and oats in its topping. This recipe is very easy to make and anyone can make it at their home without any fuss.
Ingredients for Baked Apple Slices
1 Granny Smith Apple (peeled, cored and sliced)
2 ½ tablespoon Water
1 tablespoon Cornstarch
1 ½ tablespoon White Sugar
1 pinch Ground Cinnamon (for taste)
The ingredients required for this healthy recipe might be stocked up in your pantry. If not, then you will surely get them all in the supermarket nearby you. Now, let's take a look at the time it will take to be prepared.
How Much Time It Will Take To Prepare Baked Apple Slices?
| Preparation Time | Cooking Time | Total Time |
| --- | --- | --- |
| 5 minutes | 15 minutes | 20 minutes |
Making these delicious cinnamon apple slices will take only 20 minutes. It seems easy as this is not a time taking recipe. Let's move onto the steps involved now.
Steps to Make Baked Apple Slices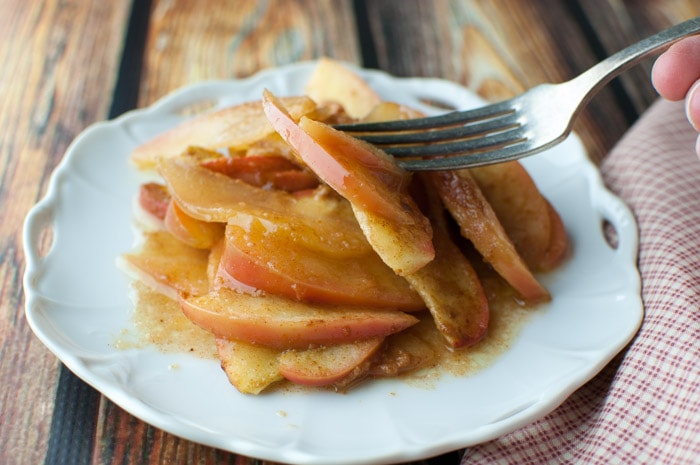 Preheat the oven to 350 degrees (175 degrees C).
Spread the slices on a baking tray.
Now, prepare a mixture of water and cornstarch in a small bowl.
Pour the mixture over the apple slices.
Then, sprinkle some cinnamon and sugar on the slices.
Cook for 15 minutes or till the slices get tender.
Serve hot or cold.
Note- If you want a more healthy version of this recipe, then you can replace sugar with honey or brown sugar.
You can enjoy this apple dish as a dessert with ice cream or as a side dish with any of the meal or in your breakfast. This dish is really versatile as it has multiple uses. I bet that everyone is going to love it (especially your kids).
Nutritional Breakdown of Baked Apple Slices
These sliced apple dessert is really good for health. That is why, I've added a nutritional breakdown of this recipe below.
| | |
| --- | --- |
| Calories | 166 |
| Protein | 0.5g |
| Carbohydrates | 44g |
| Sodium | 2.2mg |
How to Make Baked Apple Slices at Home | Video
If you are not clear of any step involved in this recipe, I have uploaded the video. Do watch the video once to know about every detail.
Try this recipe and share your reviews in the comment section below. I will be happy to know how much you liked the recipe. Not just this, you are free to share any suggestion or a recipe you would love to know more about. I will be happy helping you. For now, grab them as a snack. Enjoy the sweetness!