How To Make Baked Acorn Squash At Home
Note- This post may contain affiliate links, we earn from qualifying purchases made on our website. If you make a purchase through links from this website, we may get a small share of the sale from Amazon and other similar affiliate programs.
Have you ever heard about Baked Acorn Squash Recipe? Do you know we can use Acorn's shell in making a dish? If you don't know about it, then don't worry! I tell you the name is a dish which is Baked Acorn Squash and I will also provide you Baked Acorn Squash Recipe also.
When I was in New York, I saw a person at Street Food Lane which is selling something unique. I went to his stall and saw that he is selling Baked Acorn Squash. I found it very tasty and delicious, I could not stop myself asking him about Baked Acorn Squash Recipe.
He gave me the recipe and today, I decided to make Baked Acorn Squash at home and while making a thought came into my mind to share the Recipe with lovely people over here. You can also use delicata squash or any of its substitutes.
But first, let's gather the ingredients for Baked Acorn Squash from supermarkets which will elevate the dish. But here are some other amazing recipes that you should definitely try.
1. Parsleyed Corn On The Cob– Parsleyed corn on the cob is a dish that can be served as a great snack. This recipe is very good for your taste buds! It is also very easy to make and gets prepared in no time.
2. Dragon Eggs– These eggs recipe is something that you can't afford to miss. Make these delicious eggs at your home and it can be a great addition to your party menu.
3. Sous Vide Scallops– Sous Vide technique is used in restaurants majorly. My mother cooks perfect Sous Vide Scallops. Neither it is difficult to make nor it is much time-consuming. Its aroma tickles my nose every time I think about it.
4. Frozen Hash Browns– Frozen hash browns are simple and famous American breakfast dish. During the 1890s, they began to show up in the restaurant menus. They are sometimes made into the form of the patty so as to make its handling convenient.
Ingredients For Baked Acorn Squash
| Ingredients | Amount |
| --- | --- |
| Acorn Squash | 1 |
| Butter | 1 tbsp |
| Brown Sugar | 2 tbsp |
| Maple Syrup | 2 tsp |
| Salt | 2 tbsp |
When I was making Baked Acorn Squash for the first time, I thought it must be time-consuming dish but it was not. So let's see how much time it will take.
How Much Time It Will Take?
| | | |
| --- | --- | --- |
| Preparation Time | Cooking Time | Total Time |
| 10 Mins | 75 Mins | 85 Mins |
When I was writing the instructions for baked acorn squash, I was very curious to know how to make Baked Acorn Squash. But you don't have to wait for more for it because you are just one step away from the recipe.
Baked Acorn Squash Recipe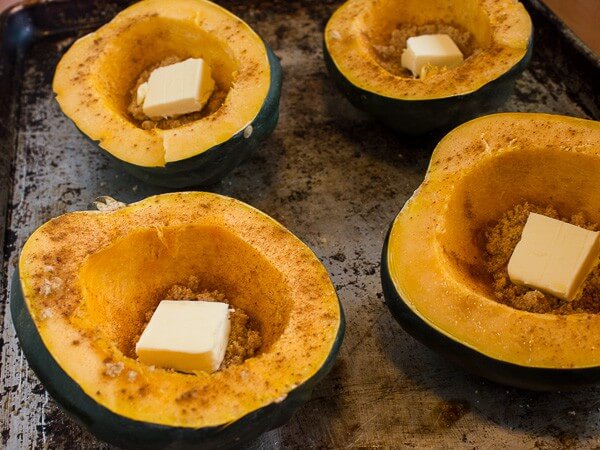 At 205°C preheat the oven.
In a microwave heat the squash for 1 minute and cut into two pieces.
When you cut it into two pieces, scrape seeds from the acorn.
Place Acorn Squash in a roasting pan and add salt, butter, brown sugar, and maple syrup.
Bake it for 30 minutes, until it will turn golden brown.
After the baking process, add some sauce over Acorn Squash which absorb by exposed areas.
Finally, your Baked Acorn Squash is ready. Just like I fell in love with it when I had it for the first time, I bet you will too.
Nutritional Facts Of Baked Acorn Squash
For people who are health conscious and worried about their fitness, I have mentioned the nutritional breakdown of Baked Acorn Squash below.
| | |
| --- | --- |
| Calories | 115 |
| Protein | 2.3g |
| Fats | 0.3g |
| Carbohydrates | 29.9g |
How To Make Baked Acorn Squash at Home | Video
When I was trying to make Baked Acorn Squash for the first time, I saw a video on YouTube regarding its recipe. So I've added a video of the recipe of Baked Acorn Squash, so it'll be easier for you to make it at home.
I hope you have liked this Baked Acorn Squash Recipe. Do share your meaningful reviews with us in the comment section when you will make this. Till then, stay tuned for more.