How To Make Bacon Jalapeno Mac and Cheese At Home
Bacon jalapeno mac and cheese is a very popular, comfort food known for the relish it renders. A promising food with a rich texture and an irresistible flavor, it can be done in a jiffy.
You don't need much to get out of your cozy bed and make a dashing surprise for your loved ones. This culinary classic food comes in just 40 minutes. Just the toss and turn of bacon, spicy jalapenos, macaroni, and cheese, it will be ready to devour.  
Often boiled in hot water, macaroni or pasta works well even when soaked before the actual cooking begins. Depending on how you use jalapenos, with or without seeds, your mac and cheese gets its spicy flavor. Vegans can avoid bacon and still the recipe turns out ravishing. If you are out of onion powder, you can use a paste of two diced onions.
As always in every recipe, care for detail is essential in getting the ultimate end product in its best form. Read on more to find out the ways to do it.
What Equipment Will You Need to Make Bacon Jalapeno Mac and Cheese?
Stovetop –  I have used a stovetop for this recipe. Those with the comfort of an oven can try the same by baking in a 9 x 13-inch baking dish at 350°F for about 20-30 minutes.  
Large Pan – You need a large pan to boil the macaroni in hot water and to fry minced bacon. The same can be used to cook the jalapeno mixture as well.
Whisk – You will need a whisk to evenly coat flour and cheese.
Small Bowls – You need two small bowls to keep the minced bacon and jalapeno mixtures aside.
Spatula – You shall use a medium-sized spatula to stir the mixtures occasionally.
How Much Time Will You Need to Make Bacon Jalapeno Mac and Cheese?
| Preparation Time | Cooking Time | Total Time |
| --- | --- | --- |
| 10 Minutes | 30 Minutes | 40 Minutes |
What Ingredients Will You Need to Make Bacon Jalapeno Mac and Cheese?
Macaroni – Choose any macaroni that you prefer. Cavatappi noodles are the most sought-after for this recipe.
Bacon – Use bacon fat instead of butter for sauteing jalapenos.
Jalapenos – Here cometh the spice! Keep the seeds for extra spice. Saute jalapenos in bacon fat for a splendid flavor.
Flour – All-purpose flour to be mixed with cheese for thickening.
Cheese – A combination of two or more cheese varieties of your choice gives the needed gooey texture. Freshly shredded cheddar cheese is often used for a yummy flavor. 
Milk – Adding milk to cheese ensures that it gets all fluffy.
Panko – Panko or white breadcrumbs can be stored and used. They ensure an amazing breaded coating.
 Onion Powder – Onion powder is the supreme seasoning agent that gives the ultimate finish.
Garlic – Shredded garlic cloves are used for a rich flavor and seasoning.
Salt – A pinch of salt to turn every dish into an awesome relish.
Pepper – Pepper flakes or cayenne pepper can be used for upgrading the taste of your recipe.
Water – You need water to boil macaroni and get it all twirly!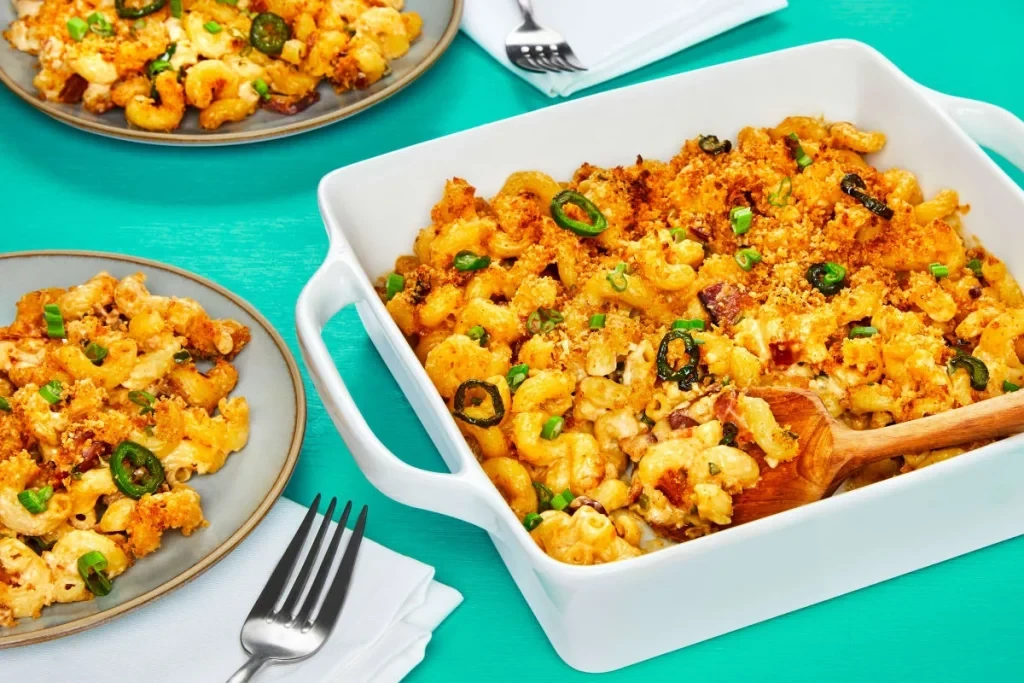 Steps To Make Bacon Jalapeno Mac and Cheese
1. Boiling Macaroni in Water
Fill a large saucepan with water and boil. Add macaroni to boil over low heat for 6-7 minutes and cook until al dente. Drain well and set aside.
2. 'Bacon' The Beacon Of Flavor
Cut bacon into bite-sized pieces and stir them in another pan on high flame. Once bacon drizzles in the pan, gradually reduce the heat. This ensures you don't overcook the bacon. Transfer the cooked bacon into a bowl.
3. The Jalapeno Mixture
In the pan comprising bacon fat, saute jalapenos. Add salt, shredded garlic, onion powder, and pepper flakes. Saute for ten minutes and keep the mixture aside. Transfer to another bowl.
4. Keep Going the Cheesy Way
Set the same pan to medium flame. Add milk and flour and whisk it well. Add shredded cheese and stir until it melts. It is important to add cheese gradually and not all at once.
5. Behold the Classic!
To the cheesy mixture, add minced bacon, the cooked macaroni, and the jalapeno mixture. Stir in evenly. Adjust the seasoning as per your preferences. 
Garnish your bacon jalapeno mac and cheese with panko and jalapeno. The roux method, without eggs, is often used for cooking this recipe. Store-bought cheese can be avoided as it contains potato starch and causes clumping of cheese. 
Nutritional Information
| | |
| --- | --- |
| Calories | 1090 kcal |
| Fat | 66 g |
| Saturated Fat | 34 g |
| Cholesterol | 160 mg |
| Sodium | 1150 mg |
| Carbohydrates | 86 mg |
| Dietary Fiber | 4 g |
| Sugar | 8 g |
| Protein | 31 g |
How Will Bacon Jalapeno Mac and Cheese Look and Taste Like?
Bacon jalapeno mac and cheese looks luscious and super creamy. Melted cheese, bacon, and jalapenos look evenly distributed. The taste and flavor are unparalleled. A blend of melted cheese layered into bacon and macaroni makes the recipe deliciously rich!
Recipe Card
Bacon Jalapeno Mac and Cheese Recipe
The bacon jalapeno mac and cheese is a delicious and spicy dish. The dish is a blend of cheese, spicy jalapenos, and slices of bacon. It is very easy to make and gets ready in no time.
Stovetop

Large Pan

Whisk

2 Small Bowls

Spatula
16

ounces

Macaroni

1

pound

Bacon

1

cup

Jalapenos (sliced)

2

tablespoons

Flour

3

cups

Cheddar Cheese (shredded)

1

cup

Milk

2

cups

Panko

Onion Powder (two medium-sized onions)

6

cloves

Garlic

2

teaspoons

Salt

1

teaspoon

Pepper

4

cups

Water
In a large pan, boil macaroni in water for 6-7 minutes and cook until al dente. Keep aside macaroni after draining well.

Chop bacon into bite-sized pieces and stir them in another pan on high flame. Set aside in a bowl.

Use the pan with bacon residue to saute jalapenos. Add salt, shredded garlic, onion powder and pepper flakes. Mix the mixture for ten minutes and transfer it into a bowl.

Take the same pan and whisk milk and flour over medium flame. Gradually add cheese and stir, ensuring no clumps.

Add bacon, macaroni, and jalapeno mixture to the cheese and stir well. Season your dish as you wish and garnish with panko and jalapenos.
That was all about the bacon jalapeno mac and cheese. It is classic and yummy comfort food as well as a great holiday dish. It is an absolute delight for ravenous tummies. Put on your apron, get it done and let me know how it turned out. Until then, peace out foodies!