How To Make Aztec Chocolate Bar At Home
The Aztec chocolate bar is a sweet, rich and smooth snack or sweet. In this post, let's see how you can make it at your home.
Aztec (now Mexico) has always been known for its unique taste and flavors to implement in their dishes and experiment with them. Aztec chocolates were known for their sweet and spicy taste as they used to add chili to their chocolates. Now, let's have a quick overview of the recipe.
To prepare the Aztec chocolate bar, roast pumpkin seeds for 5 minutes. Now, melt the chocolate and add some ground spices like cinnamon, cayenne pepper, ancho chili powder, and pumpkin seeds. Spread the mixture on a baking tray and refrigerate for 5 minutes.
Let's see the detailed recipe now. But before we jump onto the recipe, let's check out some other desserts that you might like.
1. Chocolate Trifle Bowl– This easy Chocolate Trifle recipe is rich and decadent with layers of fudgy brownie, chocolate pudding, and whipped cream. It's a chocolate lover's dream, and it's perfect for feeding a crowd! It's often called a chocolate brownie trifle.
2. Chocolate Fondue– It is a great idea to end our meal with a chocolate fondue. From fruits to cakes to cookies and marshmallows, almost everything will pair best with it. Just slide them in the skewer, dip in warm chocolate sauce and you are ready to go. You will taste heaven.
3. Classic Dark Chocolate Mousse– Classic chocolate mousse makes any dinner feel a little fancier. It's great for a dinner party because it looks so pretty, everyone gets their own serving, and you can make it ahead.
4. Eton Mess– It is a classic British dessert made from a mixture of strawberries, pieces of meringue and cream. This dessert is called Eton mess because it was first made in Eton college and was served in their annual cricket match against Harrow school.
Ingredients for Aztec Chocolate Bar
| Ingredients | Preparations |
| --- | --- |
| Pumpkin Seeds  | ½ cup  |
| Cayenne Pepper  | ¼ tsp.  |
| Cinnamon  | ¾ tsp.  |
| Ancho Chili Powder  | ¾ tsp.  |
| Semi-Sweet Chocolate  | 12 oz. |
The ingredients listed above are necessary and you have to gather them to make this Chocolate bar at home.
As I move forward, you will find a great recipe and its procedure explained in detail about what you have to do to have the best Aztec chocolate bar in just a few minutes.
How Much Time Will it Take?
| Preparation Time | Freeze Time | Total Time |
| --- | --- | --- |
| 10 Minutes  | 5 Minutes  | 15 Minutes  |
What I was talking about is a recipe that has no long procedure and takes your whole day in the kitchen. With this time provided, I am sure you will make these Aztec chocolates without thinking about it twice.
So what to wait for then? Let's make these sweet and spicy chocolates with no further delay. Here is what you have to do.
Aztec Chocolate Bar Recipe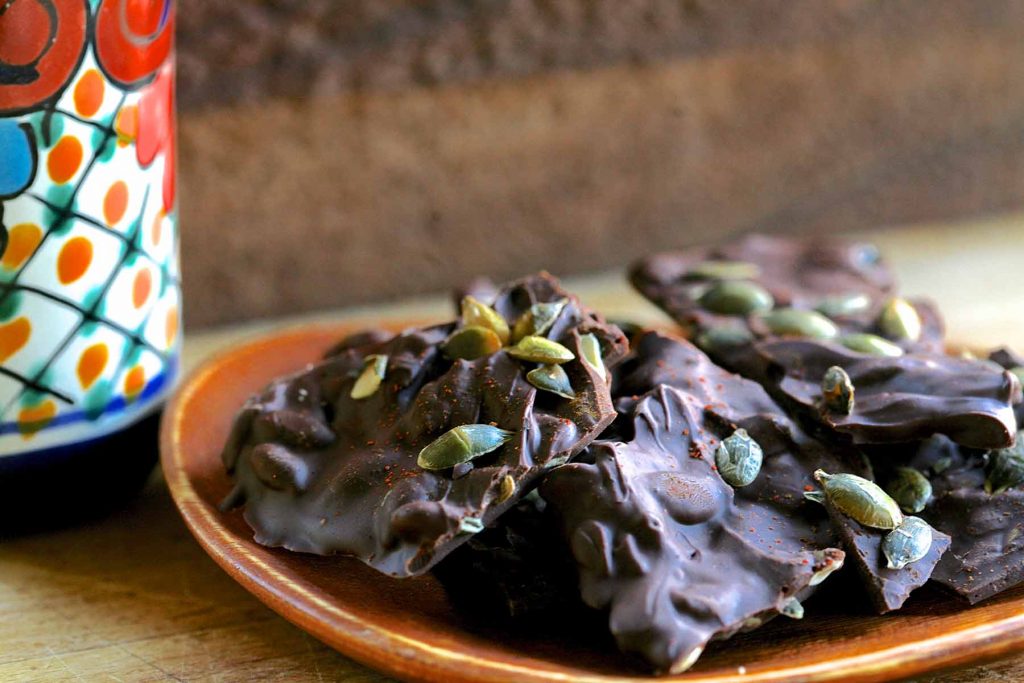 In a skillet, add pumpkin seeds and roast them for about 5 minutes until they start to pop. Let them lose moisture and allow them to cool afterward.
Now, melt the chocolates that you have and add some ground spices like cinnamon, cayenne pepper, ancho chili powder, and pumpkin seeds over them.
Spread this mixture onto a baking pan with parchment paper aligned.
Add some more pumpkin seeds over the chocolate and also garnish with some of them. Add more spices if you want an extremely enhanced taste.
Keep it in the freezer for about 5 minutes until you check and the chocolate is hard. 
Shred-it into small pieces and make these spicy chocolates a must-make recipe on any occasion you like. Enjoy them with all your loved ones and have a great time together.
Nutritional Breakdown of Aztec Chocolate Bar
Nutritional Breakdown of this recipe that will help you note down the actual values is given in the box below. Read it to manage and regulate your daily consumption.
| | |
| --- | --- |
| Calories  | 46.1 |
| Carbohydrates  | 8.5 gm. |
| Sugars  | 1.9 gm. |
| Fat  | 1.5 gm. |
| Iron  | 1.8 mg.  |
| Cholesterol  | 0 mg. |
Please share your reviews in the comment section. For your queries, refer to the comments section and post your question there. If you like this recipe, share it with your near and dear ones and enjoy it together.