How to Make Aviation Cocktail at Home
Cocktails have always been a good companion in all our parties and gatherings. A floral mix of various drinks in small amounts and a perfect balance makes them more soothing. I love cocktails and usually try them out of my curiosity. Many cocktails look similar in colour and have a common appearance. But have you ever seen any cocktail that has a purple hue? Yes, purple in color, it's true. This cocktail that I am talking about is one of the most beautiful drinks that I have ever come across.
So what is this drink called? Today, I will reveal the name of this drink but to your surprise, I will be sharing the whole procedure to make it too. This drink is known as Aviation Cocktail. But why is it called so? The same question came into my mind after I heard this name. But before that, let me tell you this drink is an exceptional one and will make you feel like a relaxing and smoothest drink you ever had.
Talking about its name, this drink came into existence when a bartender named Hugo Ensslin made it for the first time at Hotel Wallick in New York in the early twentieth century. Soon after, this drink became a hit. But due to the unavailability of some of its ingredients, it disappeared from the market in the past. Today, it can be made at home as all the ingredients, including the crème de violette liqueur, is available.
But there are many other drinks that we've covered in our blog. You should definitely check them as well.
1. Zombie Cocktail– The reason why this drink is popular is not because of its name, but because of its ingredients. This Zombie Cocktail carries a good amount of alcohol within it and I would tell you to please try it once to relax your mind and body after some hectic or busy day.
2. Alexander Cocktail– This drink is quite popular in the American region and people usually love to have it. Yes, the famous Alexander Cocktail that you may have tasted in some bars or even parties. But have you ever made it at your home? Well, if not, then this is the right time to do so.
3. Negroni Drink– This cocktail is believed to be made in the year 1919 at cafe casoni in Italy. As an Italian drink, this has Gin and Campri as its key ingredients.
4. Captain Cool Cocktail– This drink is called captain cool cocktail recipe and is considered one of the best cocktails I have ever tasted in my whole life. This drink will cherish your mood and make you feel the energy it has.
Ingredients for Aviation Cocktail
| Ingredients | Amount |
| --- | --- |
| Gin  | 2 ounces  |
| Maraschino Liqueur  | ½ ounce  |
| Crème de Violette | ¼ ounce |
| Lemon Juice  | ¾ ounce  |
| Brandied Cherry  | To Garnish |
These were the ingredients that you will need. Make sure you have all of them present in front of you while making this drink.
How Much Time Will it Take?
| Preparation Time | Cooking Time | Total Time |
| --- | --- | --- |
| 3 Minutes  |                     – | 3 Minutes  |
This is the beauty of this drink; no need to wait for anything extra. Just mix up the ingredients and enjoy. It hardly takes any time to make this Aviation drink.
Now, let's see how to make this drink and how to begin. This step is the most important as it will tell you what to mix first. So, hold up there and get ready to taste this fantastic drink.
Aviation Cocktail Recipe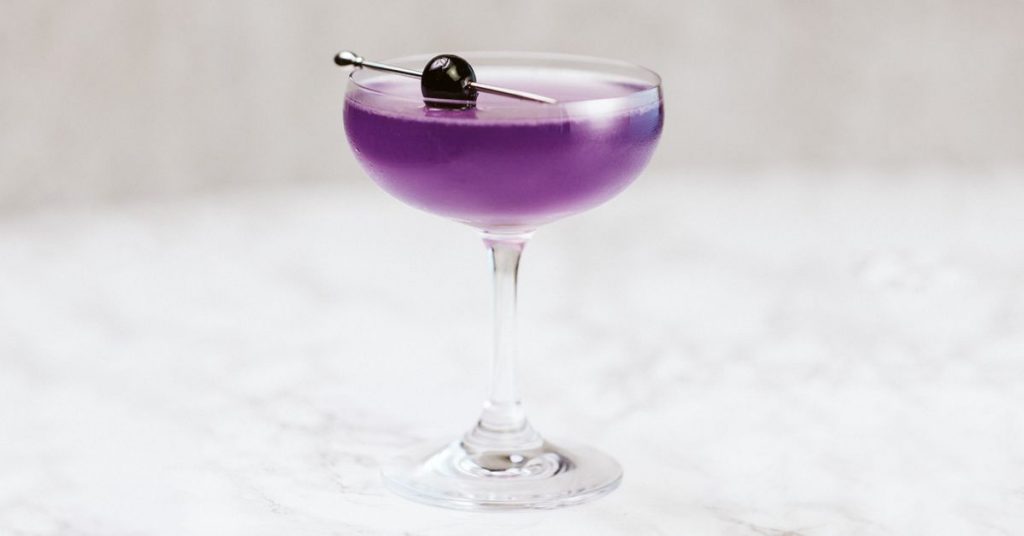 Make sure all the ingredients are available and within your reach.
Fill the cocktail shaker with gin, liqueurs and lemon juice. Add some ice to it as well.
Shake it well and strain this drink into cocktail glasses for a good presence.
Garnish with a lemon peel on the top. And enjoy.
So, how was the drink? This drink is a unique mixture of some great flavorful drinks that makes it the best choice for your parties and other functions at home. Enjoy this drink with your loved ones and have a great time.
Nutritional Breakdown of Aviation Cocktail
The nutritional breakdown of this recipe is listed below. You can have a glimpse of the list and know the exact values of the nutritional elements it carries.
| | |
| --- | --- |
| Calories  | 181 |
| Carbohydrates  | 6 gm. |
| Protein  | 0 gm. |
| Fats  | 0 gm. |
| Cholesterol  | 0 mg. |
How to Make Aviation Cocktail at Home | Video
Here is a video that you can watch to make this Aviation drink at home. This video will make it more convenient for you to make this drink.