How to Make Aubergine Soup at Home
Note- This post may contain affiliate links, we earn from qualifying purchases made on our website. If you make a purchase through links from this website, we may get a small share of the sale from Amazon and other similar affiliate programs.
Do you know what Aubergine is? Well, this is not anything that you have never heard before. It's just another name for eggplant. Yes, you heard it right, eggplant, the same eggplant that is also called brinjal in various other parts of the world. So, what's up with this Aubergine today? You will find out in the upcoming lines about what we will prepare using these big and purple eggplants.
Today what do you say about a soup recipe that is both healthy and tastes delicious that even your kids will quietly eat it up. So using these aubergines, today, the recipe that I would be sharing is called Aubergine soup or Eggplant soup, whatever you may call it. This recipe got its origin and roots from the European continent and got popular throughout the world.
Talking about its taste well, it's great, and having health benefits makes it even more suitable for everyone. Making it is also an easy task, nothing that difficult. I will be sharing the ingredients and the whole recipe below that you can tally to make this vegetable and eggplant soup at home.
So what do you say? Let's start this recipe and enjoy this hot and delicious soup in these chilly winters. This would be the best thing to have in the winter as it is a perfect meal to keep you warm and healthy at the same time.
Most people are worried about the time that a recipe takes and how long it will take to make it to the dining plate. Well don't you worry, I will provide you all the necessary time details and I am sure you will be glad to witness the timings that this Aubergine soup takes to get ready.
But first, note down the ingredients as they are essential to start any recipe. Also, there are other recipes that you can have as starters, let's check them out.
1. Matzo Ball Soup– Matzo ball soup is a delicious soup filled with the goodness of vegetables. It is different from the regular chicken soup because of the Matzo balls in it. It is also easy to make and has a unique flavor.
2. Crab Bisque– Crab Bisque is creamy in texture, unlike crab soup.  It's an old-school creamy soup that's perfect for a special occasion. It is also very easy to make.
3. Turkey Soup– This soup is a mixture of chicken pieces cooked (or boiled) with some ground herbs and spices. The soup is healthy and takes almost no time to make it.
4. Gazpacho Soup– Spanish recipes are known for their spicy and fresh ingredients that add to their dishes' taste. This classic gazpacho soup recipe comprises various healthy ingredients including fresh tomatoes, bell peppers and cucumbers.
Ingredients for Aubergine Soup
| Ingredients | Quantity |
| --- | --- |
| Egg Plants  | 2 large  |
| Whole Cumin Seeds  | 1 tsp. |
| Extra Virgin Olive Oil  | 1 tsp. |
| Onion  | 1 large  |
| Celery Stalks  | 4-5 pc. |
| Chicken Stock  | 1 quart |
| Diced Tomatoes  | 1 can  |
| Garlic  | 2-3 cloves  |
| Parsley  | ¼ cup |
| Fresh Thyme  | 1 stalk |
| Ground Cayenne Powder  | ¼ – ½ tsp. |
| Kosher Salt  | ½  tsp. |
| Freshly ground Black Pepper  | ½ tsp. |
I told you about the timings. Only 1 hour and this recipe is all done. I think we all can manage an hour from our schedule to make this healthy and delicious soup at home.
How Much Time Will it Take?
| Preparation Time | Cooking Time | Total Time |
| --- | --- | --- |
| 20 Minutes  | 45 Minutes  | 1 Hour 5 Minutes |
Now, we don't have to wait much and jump straight to the recipe we are about to make. Follow the below-given steps to make this eggplant soup at home without any trouble.
Aubergine Soup Recipe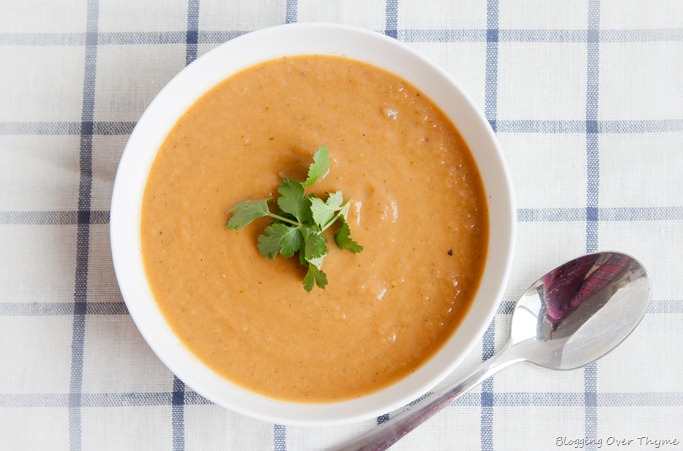 Before starting this recipe, if you are using cumin seeds, then toast them in the skillet until they smell like something is being cooked and grind them with the help of a mixer or mortar or pestle.
First, you have to preheat your oven to 400F and keep that eggplant on the baking sheet (foil-lined). You can brush the eggplant with some olive oil and whole cumin seeds.
Now roast these eggplants for about 20-30 minutes until they are soft enough to easily get pricked by a fork. Peel off the skin of eggplants and keep them aside.
In a large soup pot add some olive oil and keep it over medium-high heat. Now add the onions and saute them until they turn a little translucent and tender. Continue cooking and add the chopped celery into this mixture and let it get soft and stir occasionally.
Add the chicken stock to this mixture and some diced tomatoes, garlic, parsley, cilantro, thyme, and eggplant. Keep the level of water such that the surface of the contents of the soup remains covered.
Cook this soup for about 20-25 minutes on low heat and using a blender, blend it until you find it smooth enough.
Season with some salt and pepper according to your taste and garnish with some fresh cilantro leaves and serve hot!
Ok, now what? Now, you only need to keep your soup bowl and taste buds ready. Yes, enjoy this hot soup and make it easy for your house's chef to gather compliments.
Nutritional Breakdown of Aubergine Soup
The best of any recipe that you can have is by knowing the nutritional values. These values tell you about what that meal contains and how to regulate and manage what your body demands.
| | |
| --- | --- |
| Calories  | 276 |
| Fats  | 8 gm. |
| Cholesterol  | 7 mg. |
| Sodium  | 569 mg. |
| Carbohydrates  | 47 gm. |
| Fiber  | 11 gm. |
| Protein  | 11 gm. |
| Sugar  | 19 gm. |
How to Make Aubergine Soup at Home | Video
To know more about this Aubergine soup, you can watch this video and know what else you can add to make it more delicious.
Can't wait to begin with the recipe? Try it and share your reviews in the comment section. Just in case you have any queries related to the recipe, you can ask in the comment section below. And if you like this recipe, do share it with your family and relatives as well. Bon Appetite!