How to Make Arkansas Green Beans at Home
If you are a mother, then it must be your daily challenge to feed your baby with vegetables and greens. It is a task for every mother to make their babies introduce to healthy food. Every mother manages to do so in one way or the other. Mostly they opt for such recipes that have healthy food hidden under something interesting. Or cook the vegetables or greens in such a manner that it tastes so delicious that the plates get empty as soon as its served. So I am thinking to share with you all a recipe which can be comprised in your diet.
The recipe I will share with you all today is Arkansas Green Beans. It is a delectable side dish with your main meal course. This recipe is a makeover of green beans with sweetness. Everyone at your place will never deny green beans once you make them at home.
So ditch the traditional Green Beans recipe and try this out. You will surely love it. Not only you, but everyone at your home will become a fan of green beans after tasting this recipe. Let us see how to prepare this recipe. But here are some other amazing recipes that you should definitely try.
1. Espinacas con Garbanzos– This recipe is also known as spinach and Chickpeas. It is a Spanish dish that was invented by moors as they were the first people to bring spinach, chickpeas and cumin to Spain.
2. Christmas Green Beans– Christmas green beans are dressed up with pimentos and chopped pecans that are caramelized in butter and honey. A simple, healthy side dish to complete your family dinner.
3. Collard Greens– Collard Greens are a member of the cabbage family. They are leafy green vegetables like spinach that are commonly used in the U.S.A. Cooking them is a must, as they are too raw to eat.
4. Steamed Asparagus– This spring cook Steamed Asparagus at home and serve as a side dish in your meals. Asparagus is the versatile spring veggie which goes by its folk name "sparrow grass".
Ingredients for Arkansas Green Beans
| Ingredients | Amount |
| --- | --- |
| Green Beans | 5 cans/ 15 ounce |
| Bacon | 7 slices |
| Brown Sugar | 2/3 cup |
| Butter | ¼ cup |
| Soy Sauce | 7 teaspoons |
| Garlic Powder | 1 ½ teaspoons |
I am pretty sure that you will find the ingredients of this recipe in your pantry only. Even if not, then do not worry as you can get it from any nearest supermarket. Let's see how much time it will take to prepare this recipe.
How Much Time Will It Take?
| Preparation Time | Cooking Time | Total Time |
| --- | --- | --- |
| 15 minutes | 40 minutes | 55 minutes |
Spending time to make a healthy recipe will never bother anyone. It is a recipe that is not difficult to prepare. But this recipe will take less than an hour to be prepared. Check out the instruction to see how Arkansas green beans are prepared.
Arkansas Green Beans Recipe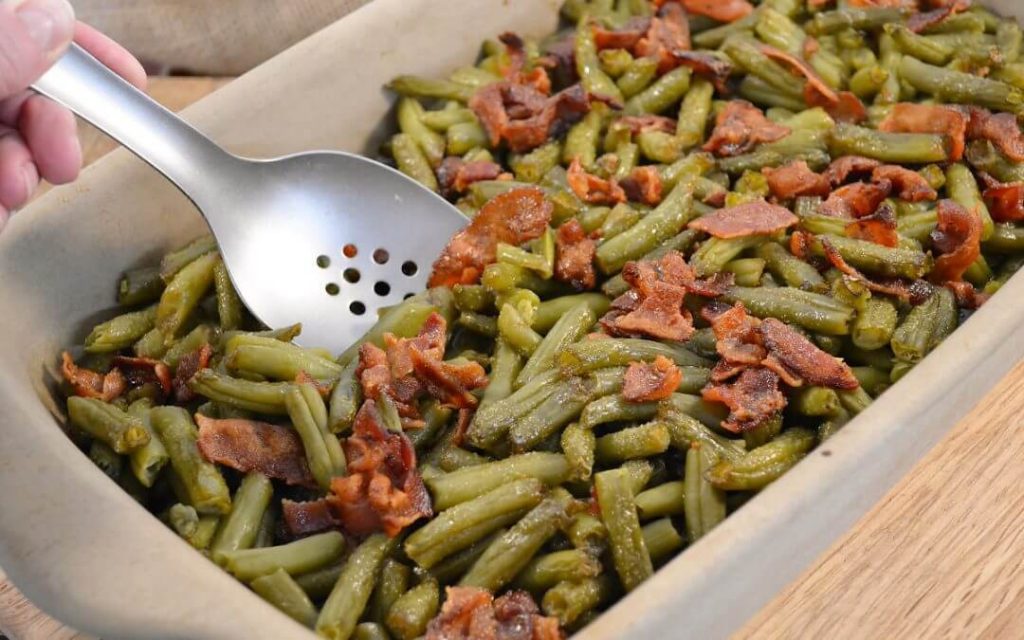 Set your oven on preheat mode to 350 degrees F (175 degrees C). 
Take a baking pan of 9×13 inch dimension and place the green beans in it.
On a microwave-safe plate, cook bacon till it gets cooked. It will take 2 minutes. 
Cover the green beans with a layer of bacon.
In a small bowl, add brown sugar, butter, garlic powder and soy sauce to it. Mix it all well to make a mixture. Pour this mixture on the bacon and beans.
Bake it for 40 minutes without covering.
Serve hot.
You must be wondering about the taste of the green beans. As this recipe is altogether something new, you will taste in terms of the green beans. So try it out.
Nutritional Breakdown of Arkansas Green Beans
These green beans are very healthy for us. That's why, I've added the nutritional breakdown of this recipe below.
| | |
| --- | --- |
| Calories | 146 |
| Protein | 4.3g |
| Carbohydrates | 15.9g |
| Fat | 7.4g |
| Cholesterol | 19.2mg |
| Sodium | 735.7mg |
How to Make Arkansas Green Beans at Home | Video
This Arkansas Green Beans recipe will be a great help to all the mothers reading this. What else a mother will want if her baby eats a good healthy meal. It will surely satisfy the hunger and taste buds. In case you have any confusion related to your recipe. Watch the video I have uploaded to serve the purpose. It will be a great solution to all your confusion.
I hope you tried this recipe and liked it. Please share your reviews in the comment section below and if there are any questions regarding the recipe, post your queries in the comment section and provide you with the solution. If you like this recipe, share it with your family and friends. Enjoy!