How To Make Apple Crisp At Home
Note- This post may contain affiliate links, we earn from qualifying purchases made on our website. If you make a purchase through links from this website, we may get a small share of the sale from Amazon and other similar affiliate programs.
A dessert can bring joy to the table. But you also need to make sure that the dessert is a healthy delight as well. Today I will be sharing the recipe of a healthy dessert made with apples. The recipe is of apple crisp.
You might confuse this recipe with Apple crumble. Let me make this clear for you, these are two different recipes. Apple crumble is a baked fruit dessert while Apple crisp is made with nuts and oats in its topping. This recipe is very easy to make and anyone can make it at their home without any fuss.
Making Apple crisp requires arranging the sliced apples in a baking tray with flour, sugar and cinnamon mixture sprinkled over them. Then prepare the crumble using oats, flour, brown sugar, baking soda and melted butter. Spread this mixture over apples and bake them.
This is just a brief of the recipe. You will get to know more details of the recipe further. You will love this easy-to-make dessert. But before we jump onto the recipe, let's check out some other desserts that you might like.
1. Lemon Sherbet– This lemon sherbet is quite popular in the European and some American bars and restaurants. And the best part is that it's really easy to make one.
2. Beignets– You can have these soft and pillowy fried doughnuts without leaving the comfort of your house. This recipe will show you how you can make Beignets at home easily.
3. Fried Bananas– We all have eaten fried bananas. But homemade fried bananas have that freshness that makes them more irresistible. Today, I a going to show you how you can make it at your home.
4. Baked Apple Slices– Making an apple dish at home is loved by everyone of us. These Cinnamon Baked Apple slices is something that you should definitely try as a dessert.
Ingredients For Apple Crisp
10 cups All-Purpose Apples, Peeled, Cored and Sliced
1 cup White Sugar
1 Tablespoon All-Purpose Flour
1 Teaspoon Ground Cinnamon
½ cup Water
1 cup Quick-Cooking Oats
1 cup All-Purpose Flour
1 cup Packed Brown Sugar
¼ Teaspoon Baking powder
¼ Teaspoon Baking soda
½ cup Butter, melted
You will find them all of these ingredients in your kitchen. If not, no need to worry. You can easily find them all in the supermarket for sure. Now, take a look at the time to prepare this dessert.
How Much Time It Will Take To Make Apple Crisp?
| Preparation Time | Cooking Time | Additional Time | Total Time |
| --- | --- | --- | --- |
| 30 Minutes | 45 Minutes | 5 Minutes | 1 Hour 20 Minutes |
You might consider this as a lengthy recipe. But actually it is not. Preparing this recipe might take some time but it is very easy to prepare. You will get to know this by looking at the steps involved in this recipe. Take a look.
Steps To Make Apple Crisp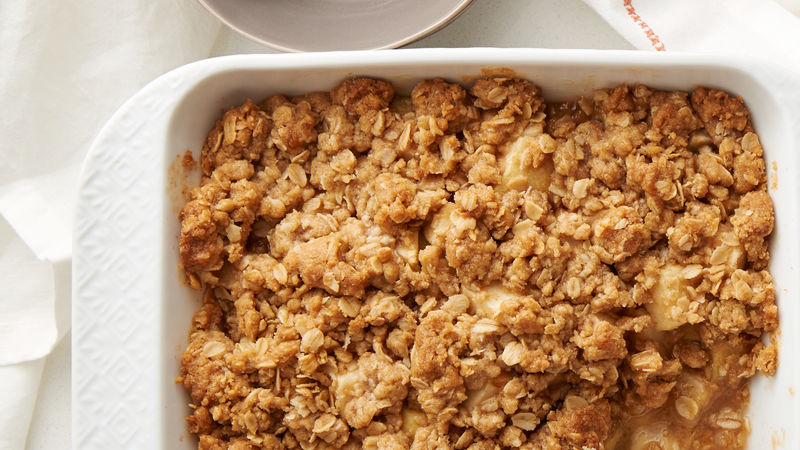 Set the oven to preheat at 350 degrees F (175 degrees C)
Take a 9×13 inch pan and place the sliced apples in a circular fashion.
Now take a separate bowl, use it to mix sugar, flour and ground cinnamon. Once you come up with a fine mixture, you can sprinkle it over the apples uniformly. The next step is to carefully pour water on apples making sure that it is even.
In another bowl, combine a cup of quick cook oats, 1 cup flour, brown sugar, baking powder, baking soda and melted butter. Crumble this mixture over the apples.
Bake for 45 minutes.
Serve this apple crisp with ice cream. It will turn out a great combination. You can even serve this as a dessert itself.
Nutritional Breakdown of Apple Crisp
Apples are great for health and so is this recipe. Let's see how healthy this recipe is.
| | |
| --- | --- |
| Calories | 316 |
| Proteins | 2.4 g |
| Carbohydrates | 60.5 g |
| Fat | 8.4 g |
| Cholesterol | 20.3 mg |
| Sodium | 97.9 mg |
How To Make Apple Crisp At Home | Video
Here, I have uploaded the video in order to offer you assistance so that you do not get caught up in any inconvenience when giving a try to this recipe. Make sure to watch it in order to know every detail of the recipe.
I hope you like the recipe. Do share your reviews on the comment section below. I will be glad to know about how it turned out. Leave your question in the comment section below. I will try to make every detail clear with my best knowledge. I hope you like them as much as we like them sharing with you. Have a good day!