How To Make Antipasto Salad At Home
Wanna add Italian flavors at the family Thanksgiving feast? If yes, then start your Thanksgiving meal with a bowlful of antipasto salad. It's a traditional Italian salad loaded with cheese, vegetables, and meat. This winning trio is enriched with sweet and savory flavors that will leave you wanting to have more. So, read this recipe and get ready to toss fresh veggies and cheese into a perfect Thanksgiving salad.
Antipasto salad has veggies like onions, tomatoes, olives, peppers, and meat like salami, pepperoni, all combined in a vibrant chorus. The salad dressing has alluring flavors of red wine vinegar, oregano, and seasoning spices. You can add some extra veggies if you like. 
This salad can be stored for 3 to 5 days in the refrigerator. Trust me! Out of all versions of antipasto salad, this one will leave you salivating. So, let's move ahead with the recipe for antipasto salad. 
To know the equipment and the ingredients needed for antipasto salad, read the lists below. It needs a few kitchen equipment that can be easily handled. Also, you can get all the ingredients from the nearby store. So, read the instructions carefully and I'm sure your Thanksgiving antipasto salad will look and taste exactly as described below. But before you read out the entire recipe, check out other dishes from the chef delight section of our blog.
1. Shaved Cauliflower Salad– Shaved cauliflower salad has thin cauliflower florets filled with the flavors of Dijon mustard, lemon zest, lemon juice, and nutritional yeast. This salad is topped with grated parmesan cheese and is seasoned with salt and pepper. It's a simple yet scrumptious salad to be enjoyed at a holiday feast.
2. Garrotxa Bread Salad– Garrotxa bread is a tantalizing salad treat filled with crispy bread and Garrotxa cheese. Arugula leaves add freshness and delicious earthy flavors to the salad. This salad is dressed with the flavors of Dijon mustard, horseradish, white wine vinegar, honey, salt, and pepper. The membrillo adds to the sweet delight of the salad.
3. Scallion Salad– Have you tried a simple salad with a twist of Korean BBQ flavors? If not, then Scallion salad is the one you should try. This salad has thin white and green scallion strips tossed in rice vinegar dressing. It's mildly flavored with sugar and is topped with chopped cilantro.
4. Holiday Fruit Salad With Marshmallows– Holiday fruit salad with marshmallows is a delicious holiday salad. It has sweet and sour fruits combined with marshmallows. It's mixed with sour cream dressing and sweetened shredded coconut. This salad is perfect to be enjoyed at holiday dinners.
What Equipment Will You Need For Antipasto Salad?
Bowl- Use a large glass bowl to make the salad and a small bowl to make salad dressing. 
Spatula- Use a spatula to mix the salad ingredients in the bowl. 
Pot- To boil spiral pasta, you'll need a pot. 
Knife- You can use any sharp kitchen knife to chop veggies. 
Spoon- Use a spoon to mix the ingredients of the salad dressing in a small bowl. 
How Much Time Do You Need To Make Antipasto Salad?
| Preparation Time | Cooking Time | Total Time |
| --- | --- | --- |
| 15 Minutes | 15 Minutes | 30 Minutes |
What Ingredients Will You Need For Antipasto Salad?
Pasta- Use two packages of spiral pasta to give an Italian base to the salad. 
Tomatoes- Chop 4 or 5 tomatoes to add a mildly sweet and tangy flavor to the salad. 
Onions- Chop three large onions to have a sweet flavor and a mild aroma to this salad. 
Peppers- Two chopped large peppers will give a mildly spicy and fresh aroma.
Beans- Rinse and drain two cans of Garbanzo beans or chickpeas to make this salad healthier and tastier.
Genoa salami- One pound of thinly sliced Genoa salami is enough to add meaty flavor and more nutrients to antipasto salad. 
Pepperoni- Add a pound of sliced pepperoni to give smoky-meaty bites to the salad. 
Cheese- Wow your mates by adding a golf pound of provolone cheese in antipasto salad. 
Olives- A cup of halved olives will give a spark of bitter, salty, and tangy taste to the salad.
For Dressing:
Vinegar- Add a cup of red wine vinegar to absorb all the flavors in the dressing and to enhance the taste of the salad.
Sugar- A half-cup of regular sugar is enough to balance the flavors of vinegar and seasoning spices. 
Oregano- Add earthy aroma and flavors to the salad by adding two tablespoons of dried oregano. 
Salt- Sprinkle salt to enhance the taste of the salad.
Pepper- A teaspoon of freshly ground pepper will add some heat to the salad.
Olive oil- Add one and a half cups of olive oil to perfectly combine all the flavors in the salad.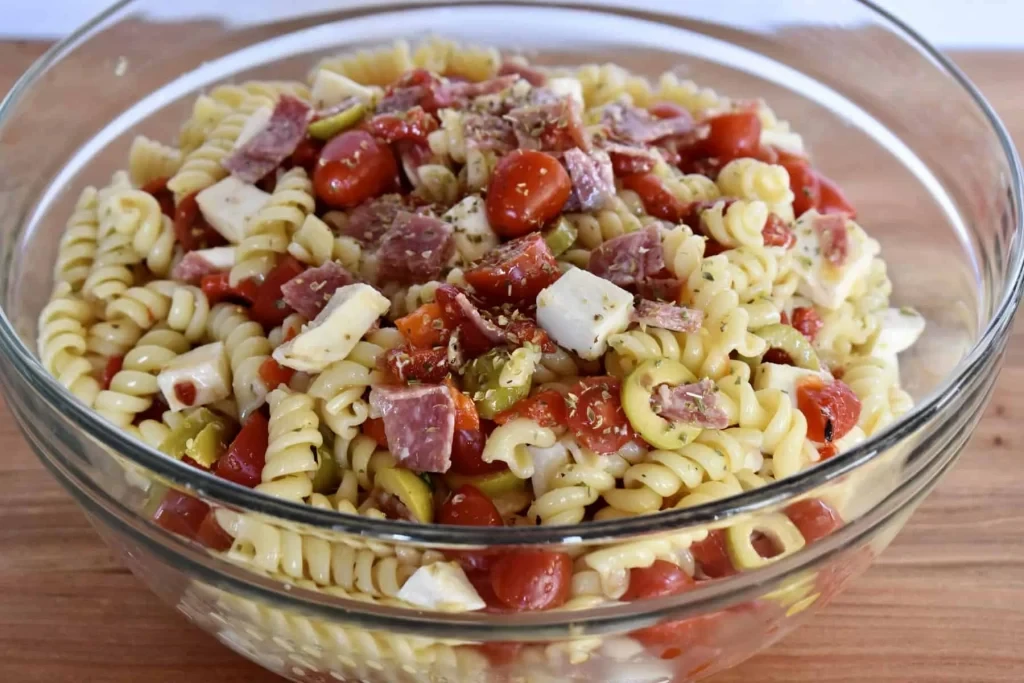 Steps To Make Antipasto Salad
1. Cook Pasta
Cook pasta according to the directions mentioned in the package. Drain the pasta and rinse them with cold water. Take a large bowl and add chopped tomatoes, onions, pepper, beans, salami, pepperoni, and olives to it. Toss them together after adding a pinch of salt and pepper. 
2. Prep dressing
Take a small bowl and add olive oil to it. Pour in red wine vinegar and add sugar. Season with salt and pepper and mix to combine. 
3. Prep the salad
Add salad dressing along with cooked pasta to the bowl containing veggies. Toss them together to combine and serve immediately. 
Nutritional Information
| | |
| --- | --- |
| Calories | 753 kcal |
| Carbohydrates | 62 g |
| Protein | 26 g |
| Fat | 44 g |
| Saturated Fat | 12 g |
| Polyunsaturated Fat | 5 g |
| Monounsaturated Fat | 24 g |
| Trans Fat | 1 g |
| Cholesterol | 55 mg |
| Sodium | 1510 mg |
| Potassium | 590 mg |
| Fiber | 7 g |
| Sugar | 11 g |
| Vitamin A | 498 IU |
| Vitamin C | 18 mg |
| Calcium | 163 mg |
| Iron | 4 mg |
How Will Antipasto Salad Look and Taste?
Time to taste the delicious antipasto salad! This Thanksgiving salad has fresh veggies tossed with spicy and mouth-watering salad dressing. This Italian salad is an amazing combination of veggies, salami, and pepperoni. Cheese gives an extra lift to the salad. Try this Thanksgiving salad now and enjoy it with your family. Happy Thanksgiving!
Recipe Card
Antipasto Salad Recipe
Antipasto salad is delicious combination of fresh veggies, cheese, and meat like salami and pepperoni. All these salad ingredients are tossed together with vinegary salad dressing. It's an Italian-styled salad and is spiced up with salt and pepper seasoning along with dry oregano. Try this salad for Thanksgiving and enjoy your family feast.
Bowl

Spatula

Pot

Knife

spoon
2

pounds

Spiral Pasta

5

Large Tomatoes (chopped)

3

Large Onions (chopped)

2

Large Green Peppers (chopped)

1

pound

Genoa Salami (julinned)

1

pound

Pepperoni (sliced)

1/2

pound

Provolone Cheese (cubed)

1

cup

Pitted Ripe Olives (halved)

32

ounces

Garbanzo Beans or Chickpeas (rinsed and drained)
For Salad Dressing
1

cup

Red Wine Vinegar

1/2

cup

Sugar

1.5

cup

Olive Oil

2

tablespoons

Dried Oregano

2

teaspoons

Salt

1

teaspoon

Pepper
Boil the pasta in pot containing mildly salted water and cook it as per the package directions. Drain them and rinse with cold water once they're cooked.

Take a large bowl and add chopped tomatoes, onions, green pepper, salami, and pepperoni to it. Add Provolone cheese cubes and olives along with drained beans to the bowl.

Take another bowl and whisk vinegar, sugar, oregano along with salt and pepper in it. Pour this mixture into the bowl containing salad ingredients. Toss them all together to coat them with salad dressing. Add salt and pepper if needed.
So! How was your antipasto salad? Tell me in the comments below and try out other holiday recipes.