How to Make Alexander Cocktail at Home
Some drinks are popular just because of their names and some are due to their perfect balance and smooth taste. Well, I am quite sure all of you love to have drinks, right? And why not? Drinks complete us. They have become a part of every occasion or gathering and we can't even imagine one without it. And the best part is that we don't even need to wait for them. They are instant and wastes no time.
Today, I have another drink that I guess you all already know about. This drink is quite popular in the American region and people usually love to have it. This drink goes by the name Alexander Cocktail. Yes, the famous Alexander Cocktail that you may have tasted in some bars or even parties. But have you ever made it at your home? Well, if not, then this is the right time to do so.
This Alexander Cocktail recipe is quite easy to make and requires three ingredients. Yes, I am not kidding. Just three common ingredients and your drink is ready. But there are many other drinks that we've covered in our blog. You should definitely check them as well.
1. Aviation Cocktail– The Aviation is a classic gin cocktail dating back to the turn of the 20th century. This drink came into existence when a bartender named Hugo Ensslin made it for the first time at Hotel Wallick in New York in the early twentieth century.
2. Blue Motorcycle– Blue Motorcycle is a 7 ingredient cocktail and making it at your home is one the easiest things you'll ever see. So you should definitely check out the recipe of this wonderful cocktail.
3. Coquito– Coquito is a traditional coconut punch served at Christmas and New Year's celebrations in Puerto Rico. The creamy, sweet drink is similar to eggnog with rum but with the tropical element of coconut.
4. Madras Cocktail– Originated in 1945, Madras Cocktail is a variation of a Cape Codder that is a Grey Goose and cranberry juice drink. Over a period of time, other ingredients began to be added to it. This pleasing fruit juice is a classic drink.
Ingredients for Alexander Cocktail
| Ingredients | Quantity |
| --- | --- |
| Brandy  | 1 ounce |
| Creme de Cacao | 1 ounce  |
| Cream  | 1 ounce  |
| Nutmeg (Optional) | To Garnish |
And as I told you, the ingredients are listed above. Let's have a look and gather them from your nearest supermarket.
How Much Time Will it Take?
| Preparation Time | Cooking Time | Total Time |
| --- | --- | --- |
| 3 Minutes  |                     – | 3 Minutes |
This is the best part of this cocktail recipe. The time that it takes is just so less. Only three minutes and you can enjoy the sip of this relishing drink.
To make this drink is the easiest thing that one can do. You just have to mix up everything and your drink is ready. But here down below is the exact procedure of how you can make this Alexander Cocktail.
Alexander Cocktail Recipe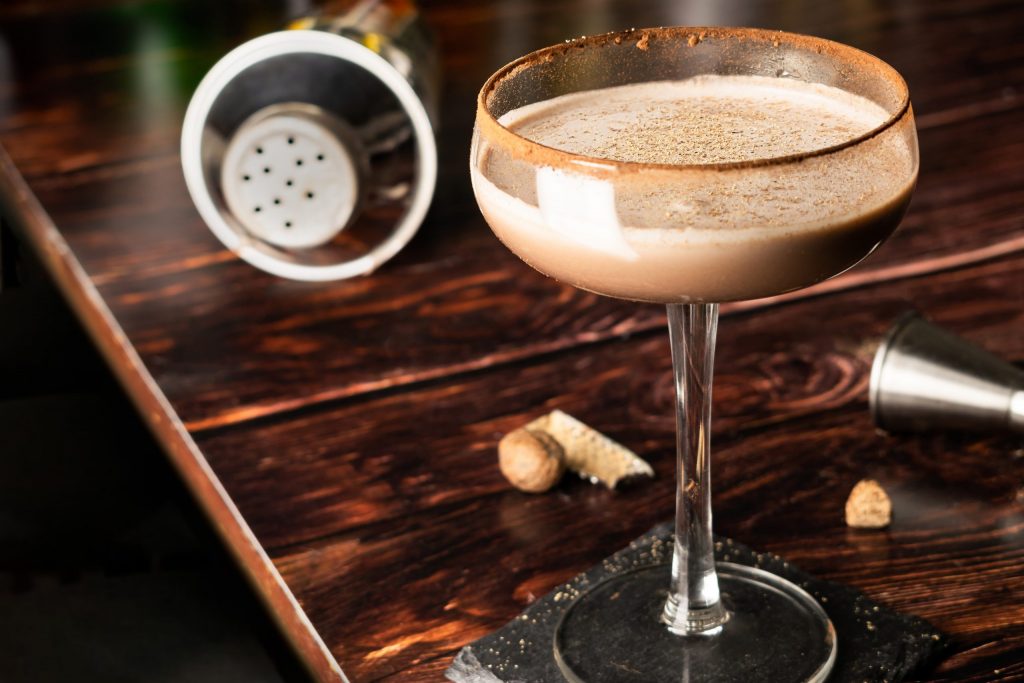 First, collect all the ingredients and keep them under your reach.
Now, bring a cocktail shaker and fill it with some ice cubes and pour all the ingredients into it that are listed above in the box (except nutmeg).
Shake it well and strain it in a chilled cocktail glass. Garnish with some nutmeg powder or during and enjoy!
Enjoy your smooth and refreshing chilled drink and have a great time. This brandy will make you crazy for its taste and you will mark it as one of your favorite drinks.
Nutritional Breakdown of Alexander Cocktail
The nutritional details are important and I have listed them for you in the table below.
| | |
| --- | --- |
| Calories  | 238 |
| Fats  | 11 gm. |
| Cholesterol  | 34 mg. |
| Fiber  | 0 gm. |
| Sugars  | 11 gm |
| Protein  | 1 gm. |
How to Make Alexander Cocktail at Home | Video
Below is a video that can help you make this drink at home without any confusion or trouble. I highly recommend you to watch it and make the cocktail perfectly.
I hope you will introduce this Alexander Cocktail to your friends and family and get their reviews as well. I request you to give your valuable feedback in the comments section below and tell us about it. Send us your queries and questions and we will revert. Cheers!