How To Make African Peanut Soup At Home
A soup made of peanut butter, tomato paste and kale, I know it sounds unusual but it is really delicious. The African peanut soup is a delicious vegetarian delight. You can drink it as a soup or take it with cooked rice. It is amazing both ways.
African peanut soup has the goodness of peanuts, ale and herbs. It is refreshing and delicious and a great recipe, that's the reason it is actually really popular. It doesn't take a lot of time to cook and requires less effort, so it is the perfect food for a cozy day in.
To make African peanut soup, boil broth and water in a pan. Add ginger, garlic, onion and salt. Then, whisk peanut butter, tomato paste and hot stock in a bowl and add this to the pot. Add kale to the pot and stir continuously. Add sriracha to season and sprinkle chopped peanuts. Serve with cooked rice.
This is a trailer of the recipe, which you'll find going down. Before that, let me tell you the ingredients you'll need for this nourishing soup. Also, there are other recipes that you can have as starters, let's check them out.
1. Barley Vegetable Soup– It is a Polish dish and my mother learnt it from one of her school friends. I always loved the smell of barley and veggies cooking on the pot and waited eagerly for the soup to be served.
2. Hot Dog Soup– This soup recipe is full of healthy veggies that anyone can make at their home using these 7 easy ingredients.
3. Lemongrass Ginger Soup– This simple soup can be eaten hot or cold, in winter, or in summer. Many are aware of the healing benefits of carrots, mainly the antioxidant-rich carotenoids that are known to pack anticancer powers.
4. Acorn Squash Soup– Acorn squash is a simple, vegan and delicious soup. It is roasted and blended with onion, carrot and garlic to make a smooth soup. It is very good for consumption during winters.
Ingredients For African Peanut Soup
4 cups Vegetable Broth
2 cups Water
1 medium Red Onion (chopped)
2 tablespoons Fresh Ginger (peeled and minced)
4 cloves Garlic (minced)
1 teaspoon Salt
1 bunch Kale (chopped)
3/4 cup unsalted Peanut Butter
1/2 cup Tomato Paste
Sriracha
1/4 cup Peanuts (roughly chopped)
Cooked Rice (for serving)
This is your shopping list. Let's check the time we need to make this soup.
How Much Time Will It Take To Make African Peanut Soup?
| Preparation Time | Cooking Time | Total Time |
| --- | --- | --- |
| 15 Minutes | 30 Minutes | 45 Minutes |
In less than an hour, you'll have a rich and delicious soup. So, let's see how we can make it.
Steps To Make African Peanut Soup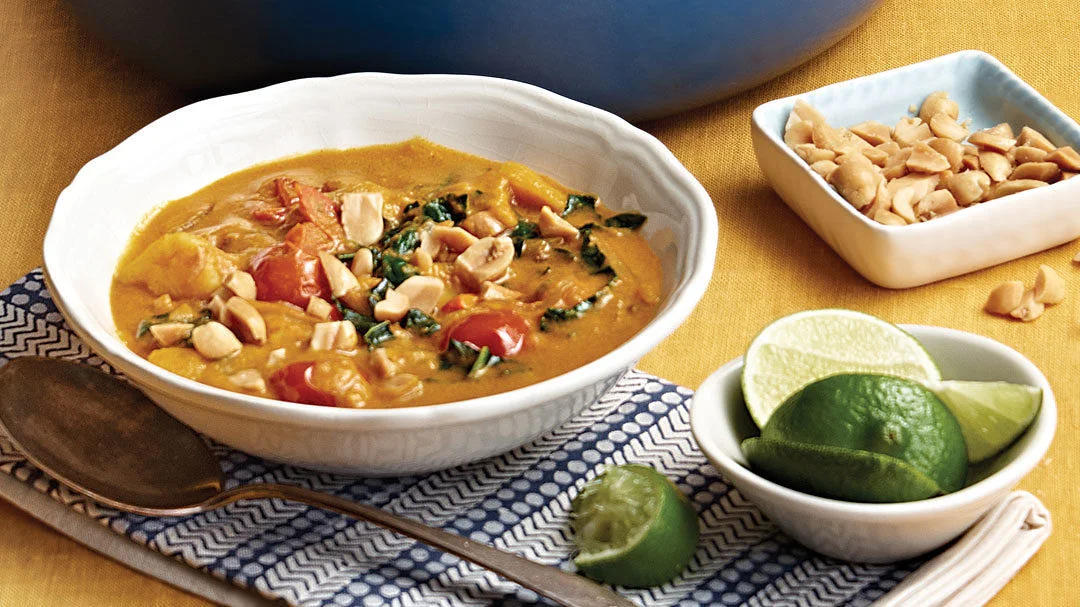 In a stockpot, pour the broth and the water and bring to boil. Add onion, ginger, garlic and salt. Cook on medium-low heat for about 20 minutes.
In a bowl, add peanut butter, tomato paste and 2 cups of hot stock. Whisk all these together till you get a smooth texture. Put this mixture in the pot of soup. Stir and add kale. Add sriracha to season.
Keep the soup on low flame for about 15 minutes while stirring often. Sprinkle with chopped peanuts. The soup is ready and you can serve it as it is or with cooked rice.
Your African peanut soup is ready! It is delicious, healthy and smooth with crunchy peanuts. Let's check the nutritional value of this soup.
Nutritional Breakdown Of African Peanut Soup
Here is the nutritional breakdown for this recipe.
| | |
| --- | --- |
| Calories | 434 |
| Fat | 29.6 g |
| Carbohydrate | 32.2 g |
| Fiber | 11.4 g |
| Protein | 17.6 g |
How To Make African Peanut Soup At Home | Video
If you didn't understand any part of the recipe, I've added a similar video that'll help you. Check it out!
Do try to make this recipe and tell me how well you liked it in the comments below. If you have any questions or praises, leave them in the comments as well. I'll be happy to get back to you with answers. Till then, happy eating!