How to Make 10 Bean Soup at Home
Soup is a meal in itself and is loved by everyone. Whether a basic tomato soup or a healthy vegetable soup, people prefer to have them before their meals. Eating your soup before dinner will cut down your dinner quantity, which will further aid in weight loss. You must be happy to hear this. Well, who will not be glad to know this? The reason being a soup makes you full and improves your dinner options.
Looking at all the health benefits of the soup, I will share a 10 bean soup recipe with you all today. With the dash of spice, this soup gives you a rich flavor. Make the soup part of your diet will make you healthy as its liquid will not only hydrate you but the solids will make it a hearty meal for you. This soup will surely satisfy you.
It is one such food with fewer calories but is packed with nutrition; unless you add cream or butter to your soup. Check out the recipe below and get started. Also, there are other recipes that you can have as starters, let's check them out.
1. Minestrone Soup– Minestrone soup is very popular among people because of the mix-match of the vegetables it has. I want to tell you all that it has a really interesting history associated with it.
2. Black Soup– This soup is actually very good for one's health; it contains some leaves like scent, uziza and bitter leaves which are having good health benefits. These leaves are good for the stomach and also relieve heartburn.
3. She-Crab Soup– She-Crab Soup is a soup made with female crabs. It is a rich soup, similar to bisque, made of milk or heavy cream, crab or fish stock, Atlantic blue crab meat, and crab roe, and a small amount of dry sherry added as it is plated.
4. Acorn Squash Soup– Acorn squash is a simple, vegan and delicious soup. It is roasted and blended with onion, carrot and garlic to make a smooth soup. It is very good for consumption during winters.
Ingredients for 10 Bean Soup
| Ingredients | Amount |
| --- | --- |
| Mixed Beans | 1 packet/ 16 ounce |
| Bacon | 4 slices |
| Garlic (minced) | 2 cloves |
| Celery (chopped) | 3 stalks |
| Onion | ½ |
| Salt | To taste |
| Black Pepper | To taste |
I am pretty sure that you will find the ingredients of this recipe in your pantry only. Even if not, then do not worry as you can get it from any nearest supermarket. Let's see how much time it will take to comfort us with its fullness and warmth.
How Much Time Will It Take?
| Preparation Time | Cooking Time | Additional Time | Total Time |
| --- | --- | --- | --- |
| 10 minutes | 1 hour 40 minutes | 8 hours | 9 hours 50 minutes |
You must be thinking about how difficult and lengthy this recipe is. But don't stress out; I am sharing the recipe step by step instructions. Follow them and it won't be any difficult to cook.
10 Bean Soup Recipe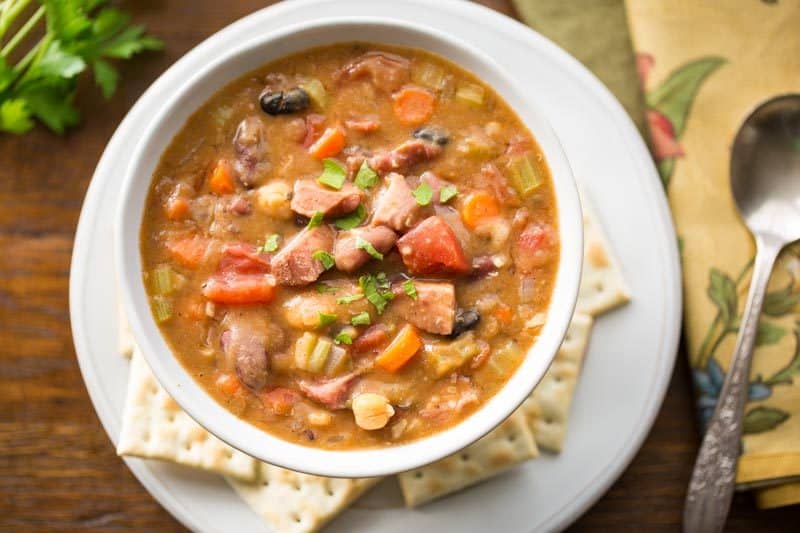 Day before making the soup, soak beans in water overnight.
In a pan, stir fry the onions, garlic, celery and bacon. Cook them till they become tender.
In a large pot, add the soaked beans and water. Add all the stir fried  things and cook them till the beans get properly cooked with no rawness. 
Sprinkle in some salt and pepper as per your taste.
Serve hot.
Note- You can avoid the soaking process but let me tell you before-hand that this will increase your cooking time. It may take upto 3 hours if you cook this soup without soaking the beans overnight.
This soup will be a great option as it has a mixture of beans. You can add meat or vegetables to this soup to make it a good meal. Or to make it a stew.
Nutritional Breakdown of 10 Bean Soup
As you know that this soup has a lot of vegetables in it. This makes the soup more healthy and delicious as well. So let's check out the nutritional breakdown of the nutrients present in 10 Bean Soup.
| | |
| --- | --- |
| Calories | 351 |
| Protein | 19.6g |
| Carbohydrates | 44.8g |
| Fat | 9.5g |
| Cholesterol | 12.7mg |
| Sodium | 322.1mg |
How to Make 10 Bean Soup at Home | Video
Having trouble while making the soup? Don't worry if you are unclear about some steps. I have uploaded the video of the steps involved in this recipe, so watch it and cook it.
After trying the recipe, do share your reviews in the comment section. And for those who are having a query related to the recipe, feel free to ask your questions in the comment section. I will revert you with the best possible solution. Enjoy your meal.