Homemade Sausage and Tomato Pizza
I went to my grandmother's home which is in A village and I was there for 1 month because my father and mother went on a foreign trip.
One day, I was craving for pizza and I started crying in front of my grandparents and they felt bad for me and they started making pizza for me. After some time they bring the pizza to me and when I ate it. I found it as the best Sausage and Tomato Pizza I ever had.
It was so tasty and delicious that whenever I used to go to my grandmother's home, I request her to make that pizza and one day I ask her about the Sausage and Tomato Pizza Recipe so that I can share it with my lovely people.
Don't have Italian sausage? Here is a list of Italian sausage substitutes that you can use. Make this delicious pizza now. But here are some other amazing recipes that you should definitely try.
1. Lahmacun Turkish Pizza– Lahmacun pronounced as "lahma'joun ' is derived from the Arabic word "lahma bi'ajeen" meaning "dough with meat." Flatbreads or pizzas are one of the most delicious dishes.
2. Lamb Burger– Word 'Lamb' was originated from German Lambiz. Lamb is made up of sheep's meat and is quite popular in America because of Lamb Burger.
3. Cheeseless Pizza– Cheeseless pizza is originated from New York. As you know, New York is the capital of obesity. Hence, people are very afraid of calories over there. So in such an environment, cheeseless pizza is a great option.
4. Primavera Pizza– Primavera Pizza is an American pizza chain and their pizzas are so popular and tasty as well. The pizza recipe that I am going to tell you is really tasty and anyone can make it at their home.
Ingredients for Sausage and Tomato Pizza Recipe
| | |
| --- | --- |
| Ingredients | Amount |
| Olive oil | 4 tsp |
| Chopped garlic cloves | 4 units |
| Chopped onion | 2 medium unit |
| Chopped tomatoes |  2 cup |
| Tomato puree | ½ cup |
| Salt | 3 tsp |
| Sugar | 1 tsp |
| Dried oregano | A pinch |
| Fresh Basil leaves | 10 units |
| Maida flour | 2 cups |
| Wheat Flour | 1 tbsp |
| Yeast | 5 gm |
| Luke warm water | Enough to make the dough |
| Pre cooked chicken sausage | 5 units |
| Grated mozzarella cheese | 1 cup |
| Crushed red chili | 1 tsp |
How much Time it will take?
| | | |
| --- | --- | --- |
| Preparation Time | Cooking Time | Total Time |
| 30 minutes | 35 minutes | 1 hour 5 minutes |
Sausage and Tomato Pizza Recipe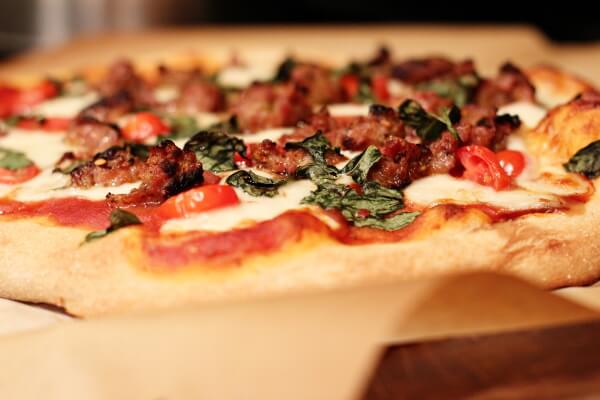 Tomato sauce
In a pan heat 2 tsp of olive oil. Add garlic cloves, 1 onion; all chopped finely. Fry them.
Now add 2 cups tomatoes (remove the rind while chopping) and tomato puree. Now add 2 tsp salt, ½ tsp sugar, a pinch of dried oregano, and 5 basil leaves to it. Cook it for about five minutes and close the flam.
Making dough
In a bowl add 2 cup maida and 1 tbsp wheat flour. Now add 5 gm yeast and mix it with lukewarm water. Add 1 tsp salt and ½ sugar and mix it. Keep it for an hour to fermentation. Now make balls and keep for another 10 minutes.
Add 1 tsp olive oil. Before making balls of the dough.
Make pizza
Take a dough ball to give it a round shape, almost the size of the pan.
Place it on a preheated pan, spread tomato sauce on it; now add chicken sausages, 1 chopped onion, mozzarella cheese, 1 tsp crushed red chillies, a few basil leaves, and 1 tsp olive oil (spread it on top).
Cook on a medium flame for about 15 minutes. Now serve hot.
Taste the delight of your mothers cooking and enjoy one of your favorites at home with family. Add a pleasure of cooking and family fun in your life.
Nutritional Facts Of Sausage and Tomato Pizza Recipe
| | |
| --- | --- |
| Calories | 24 |
| Fats | 0.3 g |
| Cholesterol | 0 mg |
| Sodium | 160 mg |
| Carbohydrates | 5 g |
| Protein | 1 g |
How to Make Tomato and Sausage Pizza at Home | Video