Hearty McDonald's Quarter Pounder Copycat Recipe
Note- This post may contain affiliate links, we earn from qualifying purchases made on our website. If you make a purchase through links from this website, we may get a small share of the sale from Amazon and other similar affiliate programs.
McDonald's serves some delicious burgers overall. Out of them, one burger that has remained on top of their menu for the longest time is their quarter pounder. Now you can make yourself a delicious quarter pounder, just like McDonald's, right at home with this easy recipe! 
For many reasons, the quarter-pounder burger from McDonald's is genuinely remarkable. One of the reasons is that the beef patties are much larger than the other burgers and, hence, so much more filling. 
But honestly, that is not all that makes this burger the wondrous creation it is. The sauces and flavors that get along make this quarter pounder perfect, so if you are someone like me who likes experimenting in the kitchen, making this burger must have been on your list for a while. 
You can customize it in ways that you would like to! The resemblance of the outcome is so much like the actual McDonald's burger that you might not even be able to tell the difference! 
This article has a complete guide on how to make this burger, starting with the absolute basics. We will first look at the equipment you need to make this burger, followed by the ingredients, method, and, finally, the nutritional information. So, let's get grilling! 
What Equipment Will You Need To Make McDonald's Quarter Pounder? 
Skillet – You will need a large skillet, preferably a cast iron skillet if possible, to grill the burger and toast the bun. You can use a regular skillet if you don't have a cast iron one. However, the cast iron skillet heats up more evenly and gives the burger a better char. 
Knife – A large and sharp kitchen knife will help quickly chop the onions, which are an essential element in the quarter pounder. 
Cutting Board – A cutting board will not only be handy when you need to chop the onions but also when you have to assemble the burger. 
Metal Spatula – A metal spatula will help flip the burgers quite quickly. 
Spoons – A few regular kitchen tablespoons will work for this recipe, as this burger doesn't need exact measurements for the sauces. 
How Much Time Will You Need To Make McDonald's Quarter Pounder? 
| | | |
| --- | --- | --- |
| Preparation Time | Cooking Time | Total Time |
| 5 Minutes | 10 Minutes | 15 Minutes |
What Ingredients Will You Need To Make McDonald's Quarter Pounder? 
Bun – For a single burger, you will need just one sesame-seeded bun for this recipe.
Beef Patty – A beef patty, or minced beef weighing ¼ lbs, is this burger's star. 
American Cheese – To make this burger irresistible, we will use two slices of American cheese. 
White Onion – A single burger needs only one tablespoon of finely chopped onion. So, you can use a tiny white onion or half of it if you like. 
Dill Pickle – A quarter pounder would be complete with the classic 2-3 slices of dill pickles! 
Ketchup – A single tablespoon of ketchup will give this burger a tangy and sweet flavor. 
Mustard – Adding a teaspoon of mustard will help give this burger a kick of spice.
Salt – Just ¼ teaspoon of salt will be needed to season the beef patty right before it is cooked.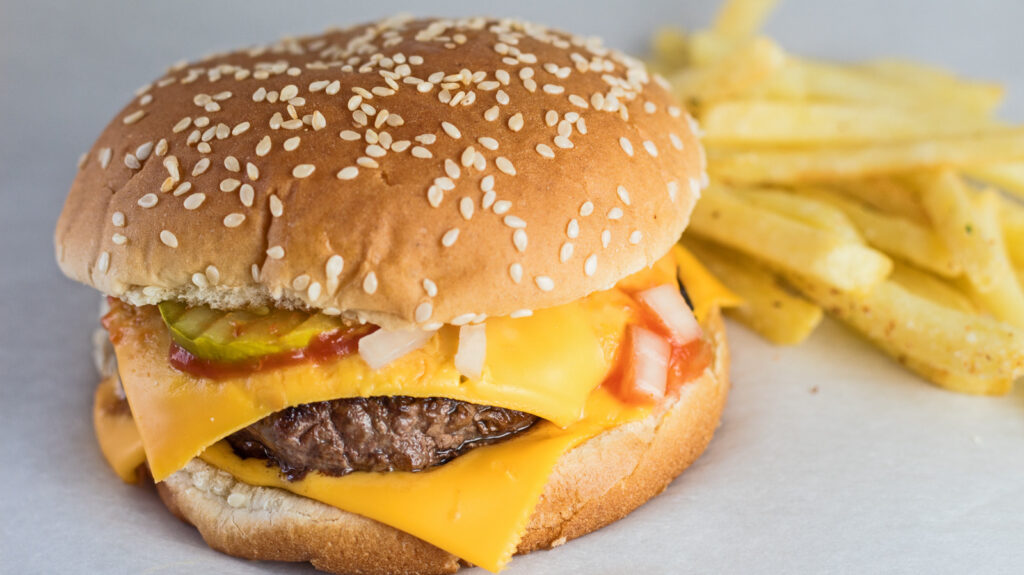 Steps To Make McDonald's Quarter Pounder
1. Begin With The Pre-Preps
The first step in any recipe is to get done with all the pre-preparations, as that does it and make it much easier later on. Start by finely chopping the onion and set aside a tablespoon. 
You can use the leftovers for a different recipe or make a stock! Now, heat the skillet and place the bun halves in it. Once they are toasted and have a golden-colored char, take them out of the skillet and keep them aside. 
2. Cook The Burger Patty
After your pre-preps, you can begin cooking the burger patty. Salt one side of the cake and place it in the hot skillet as soon as the buns are cooked. Make sure you place the salted side down and sprinkle some salt on the other side. 
Cook each side for 3-4 minutes on medium heat. Once the burger is cooked correctly, place a slice of American cheese and remove the patty from the flame. 
3. Assemble The Burger
Lastly, once the burger patty is cooked and the buns are toasted, you can assemble the burger. For that, add a slice of American cheese on the bottom bun and place the beef patty on top. 
Add ketchup, mustard, onions, and dill pickles on the top bun. Place the top bun on the burger and close it. Enjoy your homemade quarter pounder! 
Nutritional Information
| | |
| --- | --- |
| Calories | 428 kcal |
| Carbohydrates | 16 g |
| Protein | 35 g |
| Fat | 25 g |
| Saturated Fat | 10 g |
| Polyunsaturated Fat | 1 g |
| Monounsaturated Fat | 9 g |
| Trans Fat | 1 g |
| Cholesterol | 119 mg |
| Sodium | 4600 mg |
| Potassium | 1024 mg |
| Fiber | 6 g |
| Sugar | 10 g |
| Vitamin A | 1137 IU |
| Vitamin C | 11 mg |
| Calcium | 507 mg |
| Iron | 5 mg |
How Will The McDonald's Quarter Pounder Look And Taste Like? 
This homemade version of a classic from McDonald's looks a lot like the burger. The beef patty in this burger is thick and topped with the right amount of melted cheese. 
Finally, the rest of the elements elevate this burger so much that you would be unable to differentiate this homemade McDonald's quarter pounder from the real one! 
As far as flavor goes, this burger is again on par with the real deal. The beef patty is perfectly seasoned and charred, pairing well with the American cheese slice. Lastly, the little bit of onion, mustard, and ketchup create an excellent balance of flavors! 
Recipe Card
Hearty McDonald's Quarter Pounder Copycat Recipe
This easy copycat recipe for McDonald's Quarter Pounder barely takes any time to prepare! Now, with a few ingredients, you can enjoy this burger at home.
Chop onions finely and keep a tablespoon aside for the burger.

Toast the halves of the bun in the skillet until golden and toasted, then keep them aside.

Prepare the burger patty and salt on one side, and place it in the skillet with the salted side down.

Sprinkle salt on the top and let the burger patty cook for 3-4 minutes on each side, after which you can take it out of the skillet.

To assemble the burger, add a slice of cheese to the bottom bun and place the burger on it.

Add the mustard, ketchup, dill pickles, and onions on the top bun and place that on the patty to finish the burger. Enjoy your homemade Quarter pounder!
Frequently Asked Questions (FAQs)
Can the patty be cooked for a little longer?
It would be best to cook the burger for a maximum of the time mentioned, as that might dry the patty out. 
Can you also add pepper to the burger patty? 
Yes, you can sprinkle a dash of pepper on the burger patty if you would like. 
Does this burger taste like the one from McDonald's? 
Yes, this burger does taste almost the same as the one from McDonald's. 
Is it necessary to add onions to this burger? 
The onion does add a lot of flavor to the burger. However, you can skip it if you don't like onions too much.