I was throwing a beach party under the sun for my friends and close ones. In the food, I have a variety of starters, main course, and many more things and in drinks. I wanted something special that everyone will remember my party because I always do something which will remain a mark in my guest's mind.
I was in a dilemma first about the drinks and shots. A thought came first which is I will keep only drinks not shots but the second thought was to keep both but in a different manner. I decided everything but I want something like a signature shot. I searched everywhere and decided Green Tea Shot as my signature and I decided to make it myself.
Not to mention green tea helps weight loss and offers many other health benefits.
The next day, I served my shot to my guests and I get appreciation from everybody who was present there at the party.
As you all know I share everything with you. I will share Green Tea Shot Recipe with my lovely so you can make them for yourself. But there are many other drink recipes that we've covered in our blog. You should definitely check them as well.
1. Earl Grey Tea Latte– This drink is made by combining sweetened earl grey tea with some steamed milk and vanilla syrup. This recipe is so simple that anyone can easily make it at your home.
2. Spearmint Tea– Spearmint tea has diverse properties and chemical components that inhibit microbial, bacterial activity, tumors, oxidative stress and even aging symptoms. There are many health benefits of spearmint tea.
3. Hyderabadi Iranian Tea– This Hyderabadi Iranian Tea is enriched with your beloved tea with condensed milk and fresh cream to create a modern twist on classic Iranian style tea.
4. Moon Tea– This tea is can refresh your mind with its soothing taste and this is beyond the words. If you want a twist in our life as well as in our daily menu also, then this tea is just for you.
Ingredients Required For Green Tea Shot Recipe
| | |
| --- | --- |
| Ingredients | Amount |
| Irish Whiskey | 2 ounce |
| Peach Schnapps | 2 ounce |
| Sour Mix | 2 ounce |
| Lemon-Lime Soda Bottle | 1 |
| Ice Cubes | 7-8 |
Green Tea Shot Recipe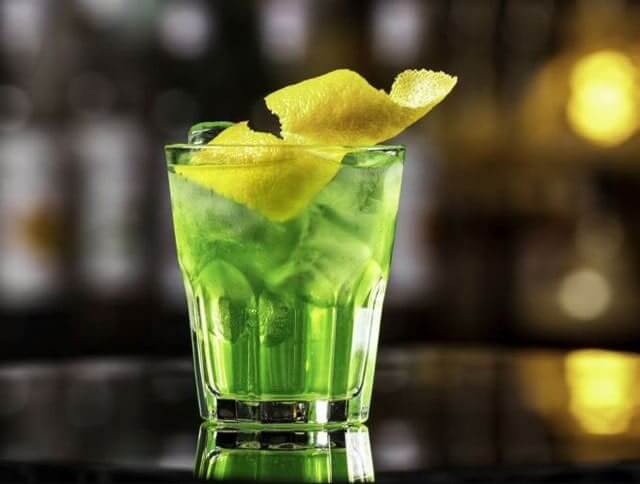 Add ice, Irish whiskey, peach schnapps, and sweet and sour to a shaking glass and shake well.
Transfer them to shot glasses.
Splash of lemon-lime soda on the shot glasses.
Add Ice Cubes also and serve.
How Much Time It Will Take?
| | |
| --- | --- |
| Preparation Time | Total Time |
| 5 MINS | 5 MINS |
Nutritional Facts Of Green Tea Shot Recipe
| | |
| --- | --- |
| Calories | 280 |
| Fats | 11 g |
| Carbohydrates | 34 g |
| Protein | 11 g |
| Cholesterol | 25 mg |
How to make Green Tea Shot at Home | Video