Flavorful Southern Comfort Manhattan Recipe
Note- This post may contain affiliate links, we earn from qualifying purchases made on our website. If you make a purchase through links from this website, we may get a small share of the sale from Amazon and other similar affiliate programs.
To make this holiday season more exciting and flavorful, we are here with a twist on your regular whiskey. Have you ever tried Southern Comfort with some other flavors? Sounds interesting, right? 
Today, we will make a flavorful Southern Comfort Manhattan cocktail and a great drink to enjoy with friends and family this holiday season. The best thing about this cocktail is that you need a few minutes to make and serve. 
Add your Southern Comfort with sweet Vermouth and dry Vermouth in a shaker. Give it a good shake. Remember to add ice and serve it in your fancy martini glasses. Add 1-2 cherries to your drink, and enjoy this flavorful booze.
So without further delay, let's dig into the southern comfort manhattan recipe. I will also take you through the detailed recipe with calories and nutrient counts.
What Equipment Will You Need To Make Southern Comfort Manhattan?
Cocktail Shaker – You need to add all the ingredients and mix them well using a shaker
Measuring Glass – We will measure all the liquids using a measuring glass.
Martini Glasses – When the drink is ready, glasses will be required to serve the same.
How Much Time Will It Take To Make Southern Comfort Manhattan?
| Preparation Time | Cooking Time | Total Time |
| --- | --- | --- |
| 5 Minutes | – | 5 Minutes |
What Ingredients Will You Need To Southern Comfort Manhattan
Southern Comfort – Southern comfort liquor is available in many variants. You can choose as per your preferences.
Sweet Vermouth – Sweet vermouth will add the required sweetness to your cocktail.
Dry Vermouth – If you want to add a fruity touch to your drink, then you can add dry Vermouth.
Maraschino Cherry – Maraschino cherry is one of the great garnishing ideas.
Ice – Add ice to your southern comfort manhattan to make it more tempting and refreshing.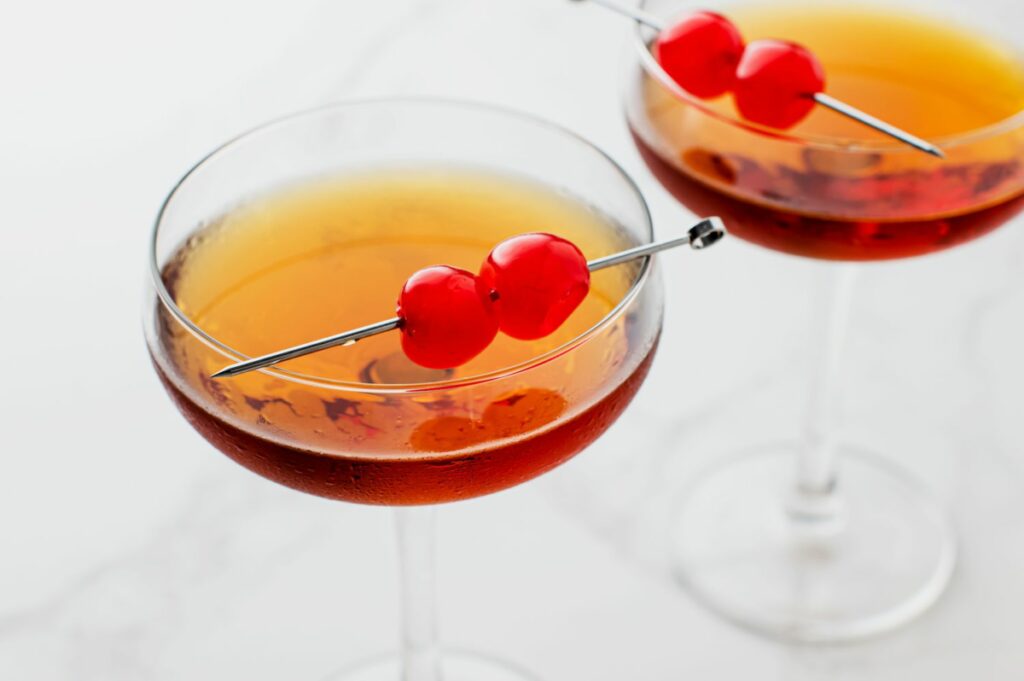 Steps To Make Southern Comfort Manhattan
1. Pre-preparation
Gather all the ingredients like – southern comfort liquor, sweet Vermouth, dry Vermouth, and maraschino cherry. Measure 1 ounce of sweet Vermouth and dry Vermouth. Also, take 2 ounces of southern comfort.
2. Mix all the ingredients
Take a shaker. Fill the shaker with some ice. Add all the measured liquids and shake them well.
3. Serve 
Take a martini glass and add more ice if you wish. Pour the mixed liquids from the shaker and add the maraschino cherry on top.
Nutritional Information
| | |
| --- | --- |
| Calories | 180 kcal |
| Carbohydrates | 9 g |
| Potassium | 35 mg |
| Sugar | 2 g |
| Vitamin C | 1.2 g |
How Will Southern Comfort Manhattan Look And Taste Like?
Southern Comfort Manhattan will have a hint of the fruity flavor with a proper buzz of whiskey. It will taste like a fruity alcoholic drink. The color of Southern Comfort Manhattan will have the same color as a whiskey which is a brownish shade with some fizz.
Southern Comfort Manhattan Recipe
Southern comfort Manhattan is your perfect drink for this holiday season. It is easy to make and rich in flavors.
Fill your shaker with ice.

Add 2 ounces of southern comfort, 1 ounce of sweet Vermouth, and 1 ounce of dry Vermouth into the shaker.

Close the lid and shake all the ingredients together.

You can add more ice if required.

Take out your martini glass and pour the drink swiftly.

Add 1-2 maraschino cherries and enjoy.
What is the alcohol content of southern comfort manhattan?
Southern comfort manhattan can contain around 35-40% of alcohol.
Can we add Southern Comfort to coke?
Yes, you can mix southern comfort manhattan with coke.
Is southern comfort manhattan a sipping drink?
Yes, it is a whiskey-based liqueur with a fruity flavor added.
Conclusion
We have come to the end of the recipe, and I know that you can't wait to try the drink. Southern comfort manhattan is a fancy and boozy drink. It is best to enjoy a chili day with your friends.
And obviously, it is speedy and easy to make. Adding sweet and dry Vermouth adds a fruity flavor, and the cherry on top will make the rink more aesthetic.
Gather all the ingredients, shake them well and enjoy! We will be back with more such flavorful drinks. Until then, have a glass of southern comfort manhattan.