Flavorful Chicken Martini Recipe
Note- This post may contain affiliate links, we earn from qualifying purchases made on our website. If you make a purchase through links from this website, we may get a small share of the sale from Amazon and other similar affiliate programs.
Ever wondered about making a chicken martini that tastes amazing? If so, you'll love this recipe. This chicken martini is an Italian recipe with all the right flavors and will quickly become your favorite. It's perfect for happy hour with friends or an afternoon get-together. 
To make a chicken martini, pound the chicken breasts first to flatten them. Drizzle salt and pepper on the chicken breast, coat it with the breadcrumbs and parmesan cheese and allow it to cook for several minutes. Serve it with a sauce made of white wine, lemons, and butter. 
You can pair it with mashed potatoes or boiled broccoli. You can also add fennel seeds, mushrooms, and fresh garlic topping for the flavorful sauce and tender meat. We recommend garnishing lemon zest for a fresh, citrus flavor that compliments this recipe perfectly.
Let us now dive into this delicious, tender, and saucy recipe. You will find a list of essential ingredients and equipment to cook the chicken martini below, along with proper instructions for the same.  
What Equipment Will You Need To Make A Chicken Martini?
Bowl – You will need a large mixing bowl to mix all the ingredients required for the sauce.
Knife – You will need a utility knife designed predominantly for slicing the chicken and cutting other veggies. 
Citrus Press Juicer – You will need a citrus press juicer to squeeze lemons to get fresh lemon juice. 
Chopping Board – Use a heavy chopping board to slice up those potatoes and chicken for the chicken martini. 
Measuring Cups -You will need measuring cups of all sizes to measure dry ingredients for this recipe.
Saucepan – You'll need two saucepans. One is to fry your chicken, and the other is to make lemon butter sauce. 
Meat Mallet – You may need a meat mallet to flatten the chicken breast as it makes it comparatively easy to cook. 
How Much Time Will You Need To Make Chicken Martini?
| Preparation Time | Cooking Time | Total Time |
| --- | --- | --- |
| 10 Minutes | 20 Minutes | 30 Minutes |
What Ingredients Will You Need To Make Chicken Martini?
Chicken – This Italian-American dish's key ingredient is chicken, which goes perfectly with all the other ingredients.
Breadcrumbs – You will need breadcrumbs to coat the chicken before pan or deep frying it. Dried bread crumbs are used to make a crisp and crunchy coating for fried foods.
Parmesan Cheese – You will need Parmesan cheese to coat the chicken to give a nutty and buttery taste.  
White Wine – White wine made from white grapes will taste sweet.  
Unsalted Butter – Unlike your regular butter, unsalted butter will help you bind the structure of the chicken. 
Lemons – You will need lemons to give a citrusy tart taste to your chicken martini. 
Eggs – Use eggs to dip the chicken before coating them with breadcrumbs. This will help the breadcrumbs to stick better.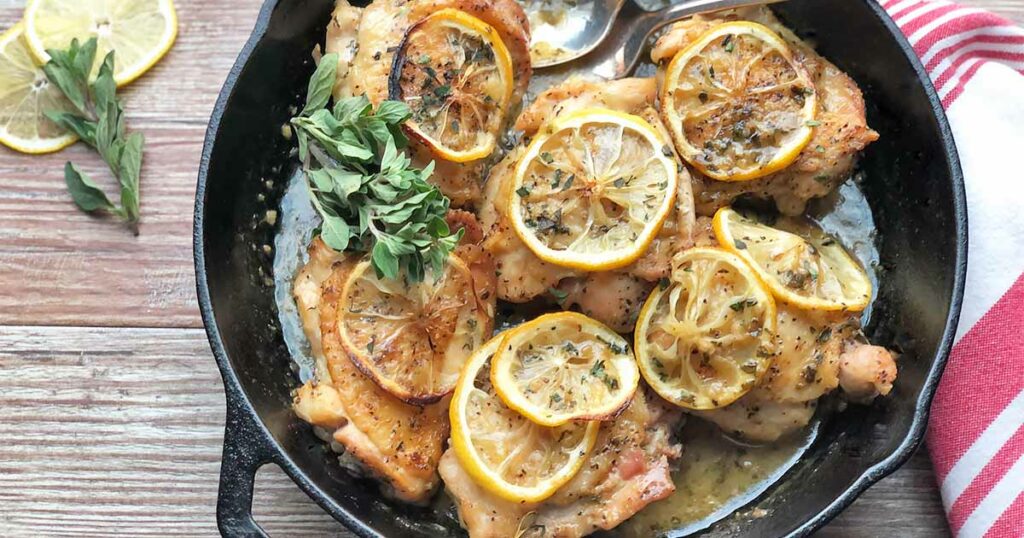 Steps To Make Chicken Martini
1. Pound and Chop The Chicken Breast
Place the chicken breasts on a chopping board and cut them in half horizontally. Use a meat mallet to flatten the chicken breasts.
2. Coat The Chicken
Season the chicken with salt and pepper. Put the breadcrumbs and parmesan cheese in two separate bowls, lay the coated chicken breasts in the mixture, and lightly coat both sides.
You may use eggs too. Place the coated breast in the pan and gently fry in the olive oil for about 3 minutes on one side. Turn it over and cook for a further minute.
3. Flame The Alcohol
Pour the white wine and lemon juice into another saucepan and allow the alcohol to burn off for 2 minutes. Add a scoop of butter to the pan.
Mix well over medium heat, then pour immediately over the chicken. Serve your recipe by garnishing chopped fresh parsley at the end. 
Nutritional Information
| | |
| --- | --- |
| Calories | 178 kcal |
| Carbohydrates | 1 g |
| Protein | 26 g |
| Fat | 4 g |
| Saturated Fat | 1 g |
| Cholesterol | 66 mg |
| Sodium | 251 mg |
How Will Chicken Martini Look and Taste like?
This chicken dish feels luxurious and classy. The process is pretty easy, and it tastes so flavorful with a hint of bitterness at each bite. Chicken martini tastes crispy, lemony, and cheesy on the outside and has a tender deliciousness on the inside. 
All of the flavors combine nicely without being too overpowering. The crispy chicken breast rolled up in breadcrumbs combined with buttery martini sauce, having a hint of citrus tart taste to complement the savory note, goes well for any occasion.
Recipe Card
Chicken Martini Recipe
A chicken martini is a classic dish that uses citrus and wine notes to complement the savory crispy chicken. If you've ever wondered how to make a chicken martini that tastes amazing, this recipe is for you!
Take the chicken breast and cut horizontally to thinly slice it. Also, flatten it with the help of a meat mallet or fork.

Seasoned the tenderized chicken breast with salt and pepper on both sides.

Take two separate bowls of breadcrumbs and grated parmesan cheese to prepare the chicken breading.

If you are using two chicken breasts, whisk one to two eggs. Dip the chicken breasts in eggs.

Coat both sides of the seasoned chicken breast in the breadcrumbs and cheese and firmly pat the chicken.

Pour two tablespoons of olive oil into a saucepan, put the coated chicken breast, and turn the sides until the color turns golden brown.

Remove oil from the saucepan and place it over high heat. Add wine and lemon juice and reduce by half. Add butter and whisk in as sauce comes to a boil. Serve the sauce in chicken cutlets and garnish the fresh parsley at the end.
Conclusion
If you love chicken, this is the perfect recipe for you. It's a simple recipe with savory, buttery notes with a hint of citrus. This chicken martini recipe is perfect for any occasion and goes great with any meal. With these tips, you can make the best chicken martini recipe ever! 
I'll see you next time with another recipe. You take care, and until then, happy cooking!
Frequently Asked Questions (FAQs)
What will go best with chicken martini?
A red wine, olive garnished on chicken, a piece of lemon, and a dash of bitterness will go best with the chicken martini.
 What is the best way to make a chicken martini?
Spread the chicken pieces into one layer on a big plate. Flatten with a fork several times, then sprinkle with a few generous shakes of lemon pepper.
What can I use instead of white wine in the chicken recipe?
Vegetable broth or red wine can be a flavorful replacement for white wine. You can even swap it in equal amounts. Remember, broth won't add acidity, so you might want to add a touch of white vinegar to achieve a similar tang.