Everything You Need To Know About Flautas And How To Make It Easily
Note- This post may contain affiliate links, we earn from qualifying purchases made on our website. If you make a purchase through links from this website, we may get a small share of the sale from Amazon and other similar affiliate programs.
There are many ways to prepare this crowd-pleasing Mexican delicacy. And today, we're showing you the simplest way you can make it at home. 
Flautas (translated as "flutes" in English) are made from rolled tortillas that are filled up and fried, resulting in a delicious savory flute-shaped treat! The filling often consists of pulled chicken or beef, Mexican chili peppers, and cheese. When serving this dish to guests, you can dress it in iceberg lettuce, sliced tomatoes, sliced avocados, onions, cream, cotija, or queso fresco. You can also keep it simple by pairing it with your favorite choice of salsa. 
Taquitos vs Flautas
It can be difficult to identify which is which, especially if it's your first time eating the dish. However, there is a subtle difference between a taquito and a flauta. 
Taquitos are generally shorter than flautas, and you'll notice this when you hold them side by side. And although they're often filled with the same ingredients, taquitos also come out flatter than flautas, because they're rolled more loosely. Furthermore, taquitos require much less oil to fry compared to flautas, which often need to be soaked in oil to keep their shape.
Regardless, most people use these names interchangeably because, after all — once it's in your mouth and you taste how delectable it is, you won't care which name to use.
How to Make Flautas
Now that we've discussed what flautas are, let's move on to making some! 
| Preparation Time | Cooking Time | Total Time | Yield |
| --- | --- | --- | --- |
| 10 minutes | 20 – 30 minutes | 30 – 40 minutes | Makes 16 flautas, Serve 8 |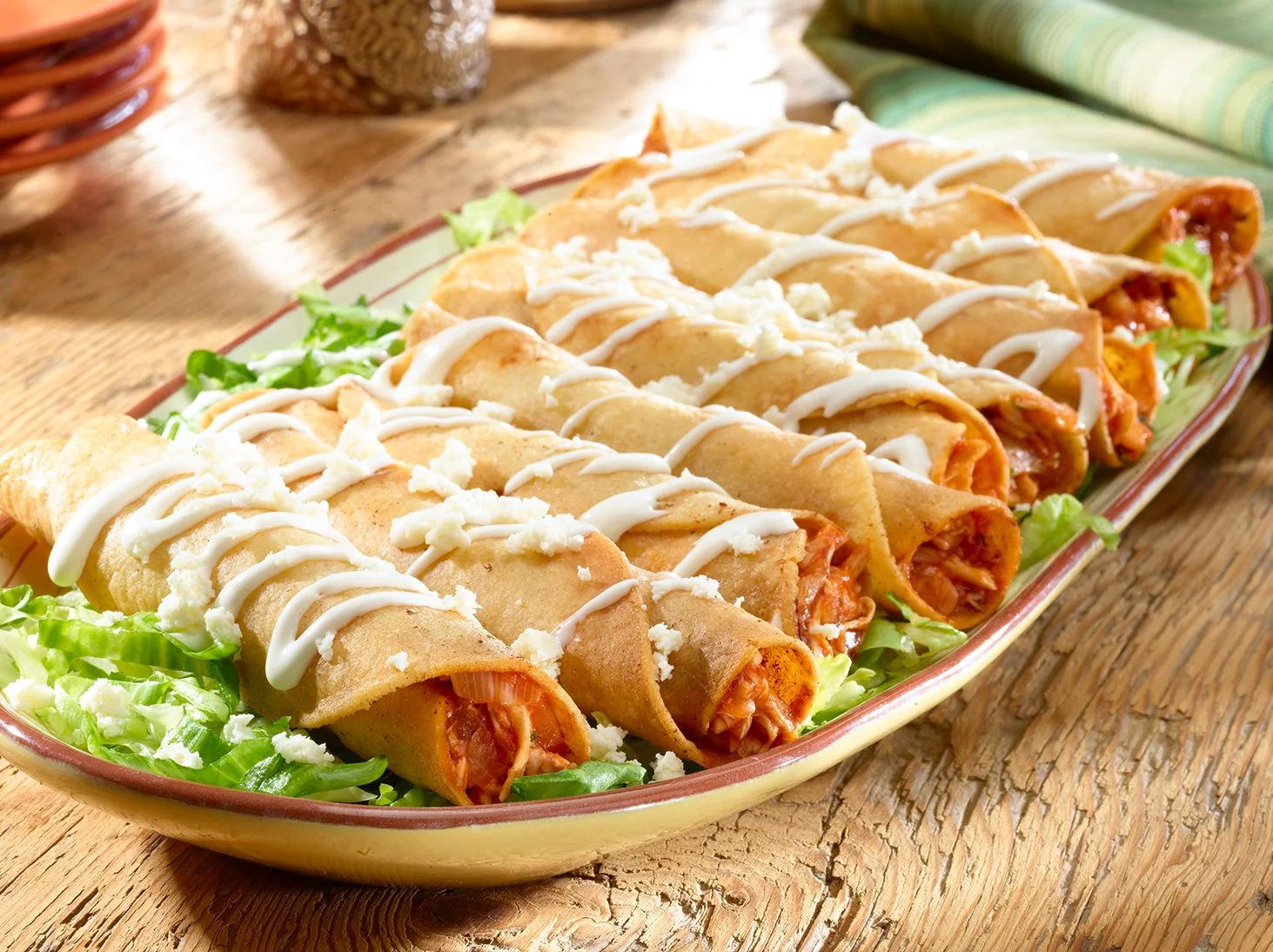 Ingredients Required For Flautas
To make your first batch of flautas, you'll need the following ingredients:
For the Filling
Flauta fillings are often made of chicken or beef. If you don't know where to find the right kind of meat for your flauta, Crowd Cow is a good place to start looking for high-quality beef. In this example, we'll be using chicken, as it's the easiest and fastest to cook. 
You'll need: 
2 pounds boneless chicken breasts or thighs
1/2 medium yellow onion
1 medium tomato, sliced
2 cloves garlic
2 teaspoons kosher salt
1 teaspoon freshly ground black pepper
1 teaspoon ground cumin
Instructions: 
Step 1: Put chicken in a pot along with the other filling ingredients and fill it with water. Make sure it covers the chicken by 1 inch.
Step 2: Place the pot on the stove and let it boil over medium-high heat. Let it cook through for about 20 minutes before turning the stove off.
Step 3: Let the chicken cool. Once it's cool enough to handle, place it on a cutting board and shred it using 2 forks. Then set aside. 
For the Flautas:
Corn tortillas
Toothpicks
Vegetable oil, for frying
Shredded lettuce
Crema
Sliced avocado
Instructions:
Warm the tortillas in the oven or microwave. This will make the tortillas more pliable, which is best when you start to roll them. Do this for about 10 to 15 seconds. 
Take 1 tbsp of the shredded filling and spread it evenly on one edge of the tortilla. Roll the tortilla up over the filling, make sure that the grip is tight. Once that's done, secure it with a toothpick so the filling won't fall out. 
Pour oil into a Dutch oven, make sure it's about 2 inches deep, then heat it at 375°F. Once the oil is hot enough, you can use tongs to drop in your flautas one by one. Each flauta will take about 2 to 4 minutes to cook. 
Preheat the oven to about 200°F. Take a baking sheet and line it with paper towels. 
Carefully lay out your cooked flautas on the baking sheet and place them in the oven to further cook. 
Serve them warm with crema, avocado slices, shredded lettuce, onions, or queso fresco!
Conclusion
Again, this isn't the only way you can make flautas. There are tons of other articles online that will give you different variations. But this is the easiest recipe you will find. 
If you feel like we left out anything from this article, let us know by commenting in the comment section below. Also, don't forget to share this recipe with your friends to enjoy at your next gathering!