Easy Tik Tok Ramen Recipe
Note- This post may contain affiliate links, we earn from qualifying purchases made on our website. If you make a purchase through links from this website, we may get a small share of the sale from Amazon and other similar affiliate programs.
On a cold winter afternoon, nothing beats a warm bowl of ramen. If you enjoy ramen noodles, you've probably tried a few different recipes already. However, if you haven't tried this Tik Tok ramen recipe, you're really missing out.
A lot of people have been enjoying this recipe that became viral through Tik Tok. It appears to be quite delicious and is quite simple to prepare. Therefore, you should try this even if you are a newbie like me.
There are only a few ingredients needed for this dish. A package of noodles, butter, garlic, and soy sauce is required. Cook the noodles and make a sauce using the rest of the ingredients, toss the cooked noodles into the sauce, and Tik Tok ramen is ready to serve.
This recipe is for you if you are a fan of dry noodles. Besides the aforementioned ingredients, you can add any of your favorite items to make it even more delicious!
What Equipment Will You Need To Make Tik Tok Ramen Recipe?
Saucepan – The first step for this recipe is to cook the noodles; we need a good saucepan.
Large Bowl – Mixing is one of the most important steps in this recipe, so you'll need a large bowl.
Knife – All recipes call for some choppings, so we need a good knife.
Spoon – Spoons are necessary for stirring and mixing the noodles with the ingredients.
How Much Time Will You Need To Make Tik Tok Ramen Recipe?
| Preparation Time  | Cooking Time | Total Time |
| --- | --- | --- |
| 5 Minutes | 10 Minutes | 15 Minutes |
What Ingredients Will You Need To Make Tik Tok Ramen Recipe?
Instant Ramen – When grocery shopping, pick your favorite instant ramen packets. The flavor of the ramen doesn't matter, as we aren't going to add any tastemakers to the recipe. (If you have a noodle flavor you don't like that much but are lying around that kitchen, choose that!)
Garlic – Garlic needs a bit of peeling and chopping, but its taste is worth the work. So get one teaspoon of garlic for the recipe.
Butter – Garlic and butter are a team. So we need a tablespoon of butter for this recipe.
Brown Sugar – Ramen, in general, is a little spicy! However, our Tik Tok ramen recipe is more on the sweet side, so we need a pinch of brown sugar. But if you don't have it, don't worry; you can easily substitute it with white sugar or honey.
Soy Sauce – Noodles have this delicious umami flavor, and we all know that soy sauce is responsible for that taste. Hence, for our recipe, we need 2 teaspoons of soy sauce.
Red Pepper Flakes – This is optional. However, if you like a little spiciness in your noodles, add 2 teaspoons of red pepper flakes.
Egg – Eggs bring the ultimate feel to a bowl of ramen; for this, you need 1 egg. (If you like more, you can add more.)
Everything Bagel Spice – This is the secret ingredient of this yummy recipe. This American seasoning brings flavor and texture to this TikTok ramen recipe.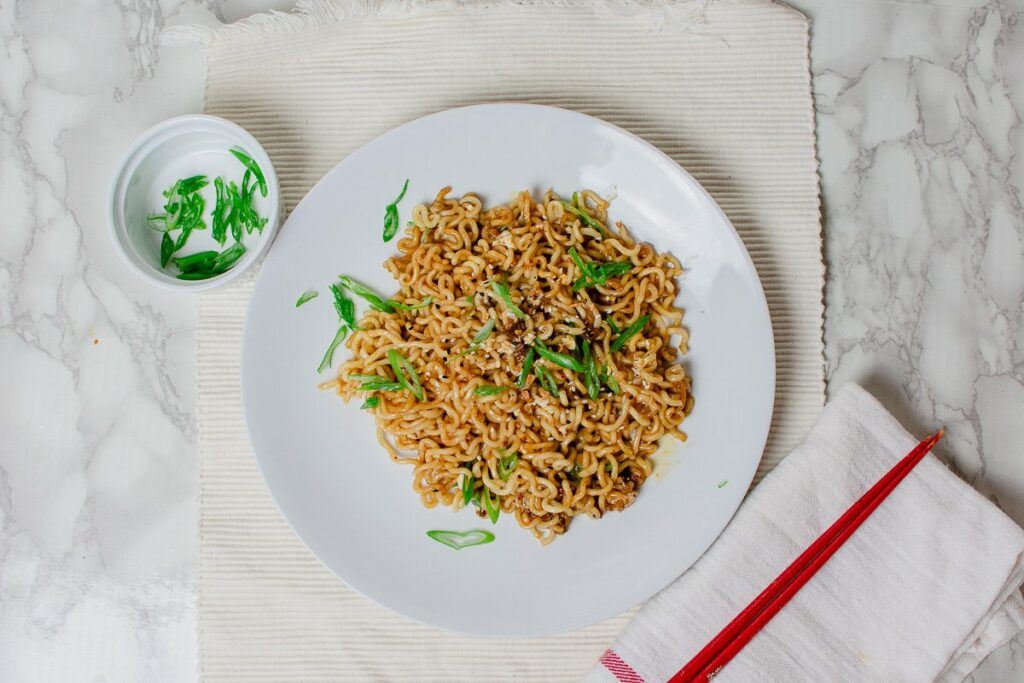 Steps To Make Tik Tok Ramen Recipe
1. Cook The Noodles
The first step to creating this yummy recipe is to cook the noodles. Boil the water and add any instant ramen noodles you have.
Wait for 2 to 3 minutes or until it's perfectly cooked. Check the noodles in between and make sure that they aren't overcooked. Otherwise, the noodles become too mushy.
2. Drain The Noodles
Once the noodles are perfectly cooked, remove them from the heat and strain them. Once strained, expose the noodles to cool running water.
This is to make sure that our noodles won't be cooked anymore in the heat. If you like a bit of noodle soup in your recipe, you can save some of the strained water.
3. Prepare The Sauce
Since we aren't using any tastemakers, the sauce is what gives the noodles their taste. For this, take another pan and turn on the gas.
Lower the heat and add butter to it. Add the garlic to the butter. Add garlic and cook until it loses its raw taste. Once it's done, add red pepper flakes, brown sugar, and soy sauce to the pan and stir well.
4. Add The Noodles
Add the drained noodles to the sauce and toss thoroughly. Make sure the sauce finely coats all parts of the noodles.
5. Cook The Egg
Move all the ingredients in the pan to one side and make some space for our eggs. Crack open one egg and scramble it.
6. Serve 
Once the eggs are done, mix them with the other ingredients. Pour some everything bagel over the ramen, and it's all set to serve.
Tips To Keep In Mind While Cooking Tik Tok Ramen Recipe
The Flavor of The Noodles Doesn't Matter –  For making this recipe, you can choose any ramen noodle of your choice.
Use Ingredients Conveniently – It is always advisable to use fresh ingredients to make this recipe. If you're short on time, you can easily replace the garlic with garlic powder or the red chili flakes with pepper powder.
Cook The Sauce Before The Noodles – If you're new to cooking or want to spend some time in the kitchen, make the sauce first. If noodles are left too long after cooking, they will start to cake up. So make the sauce, then cook the noodles, and mix it all.
Keep Some Noodle Water Aside – If you like slurpy noodles or if your sauce is too thick, add some noodles water to the sauce and enjoy this combination. However, adding too much noodle water is not advisable as it might alter the taste. One tablespoon will be enough.
Cook The Egg To Your Liking- Scrambling isn't required; if you prefer poached or boiled eggs, go ahead. If you do not like eggs, then skip it.
Be Creative With The Toppings – Other than Everything Bagel, you can also add all your favorite toppings, like chicken or even green onions.
Nutritional Value
| | |
| --- | --- |
| Calories | 252 |
| Fat | 28 g |
| Saturated Fat | 14.7 g |
| Cholesterol | 190 mg |
| Sodium | 1245 mg |
| Potassium | 85 mg |
| Carbohydrates | 65 g |
| Sugar | 3 g |
| Protein | 6 g |
How Will Tik Tok Ramen Look And Taste Like?
Tik Tok ramen recipe is an extremely easy recipe that you can cook at any time of the day. It's a lightly flavored food, and if you aren't into strong flavors, then Tik Tok ramen is something you should definitely try.
Unlike normal ramen, tik tok ramen isn't soupy but rather dry. It is yellowish-brown and is often seasoned with everything beagle. However, the toppings can change according to one's personal liking.
Recipe Card
Tik Tok Ramen Recipe
This tik tok ramen recipe is exactly what you need to try this holiday season. It is extremely delicious and easy to cook. It has a mild flavor and can be enjoyed at any time of the day!
Cook the noodles in a pot and drain them.

To a pan, add butter. Once the butter is melted, add garlic to it. After that, add red pepper, brown sugar, and soy sauce. Saute it for a minute

Add noodles to the sauce and mix it well. In this, add egg in either scrambled/boiled/poached form.

Garnish it with everything bagel and other toppings of your choice, and the Tik Tok ramen is ready to serve.
Frequently Answered Questions (FAQs)
What is the Tik Tok ramen hack?
Tik Tok ramen hack is to make the ramen without the tastemaker. Instead, ramen is mixed with a homemade sauce.
Is Tik Tok ramen good?
Yes. Tik tok ramen is very delicious and easy to make.
What does tik tok ramen taste like?
Tik tok ramen is predominantly sweet with a strong umami flavor.
What seasoning can I add to ramen to make it taste better?
You can add white pepper, Sichuan pepper, or red chili flakes as a ramen seasoning.
Conclusion
We all face situations where we need guidance about how to serve our uninvited guests. Next time someone gives you a surprise visit, treat them with some hot Tik Tok ramen and share your warmth with them.
If you try our super easy Tik Tok ramen recipe, do let us know in the comment section.
Disclaimer – The images added in this blog post have been taken from Tournadough and Sea of Blush.