Easy Irish Cream Syrup Recipe
Note- This post may contain affiliate links, we earn from qualifying purchases made on our website. If you make a purchase through links from this website, we may get a small share of the sale from Amazon and other similar affiliate programs.
Now that the holiday season has arrived, it's time to indulge in all our favorite foods. If you enjoy coffee and want to make it even more special, you must try our Irish cream syrup recipe. If you have planned your drink, try it along with this Irish cream syrup.
If you love experimenting with beverages, try different types of drinks for each festive day. However, if you are new to cooking, thus Irish cream syrup recipes can be your savior! Make it once, store it, and serve your special coffee to your guests.
There are few ingredients needed for this dish. A small number of ingredients, including cocoa powder, almond extract, vanilla extract, sugar, and water, can be used to brew this syrup quickly. The fact that it is so simple to create makes it a great cooking activity for youngsters.
Irish cream syrup and Irish cream liquor can occasionally be mistaken. Although they both have a similar sound, they are distinct from one another, and Irish cream syrup has no alcohol content.
Do you want to prepare some at home? Then you should read this article. In this article, we'll walk you through the necessary tools, and ingredients. Don't waste any more time; let's go right to the article.
What Equipment Will You Need To Make Irish Cream Syrup? 
Heavy-Bottomed Saucepan – Like any other syrup, we need a good heavy-bottomed saucepan to cook this syrup.
Whisk – Mixing is the key to the perfect tasting syrup. So grab a good whisk before making the dish.
Measuring Cups – While making this syrup, try to take all ingredients in the correct proportion.
How Much Time Will You Need To Make Irish Cream Syrup? 
| Preparation Time  | Cooking Time  | Total Time  |
| --- | --- | --- |
| 5 Minutes | 10 Minutes | 15 Minutes |
What Ingredients Will You Need To Make Irish Cream Syrup? 
Water – For making the syrup, we need one whole cup of water. Nothing fancy, just plain water.
Granulated Sugar – Irish cream syrup is sweet, so we need a cup of sugar.
Cocoa Powder – We just cannot miss the chocolate taste in the Irish cream syrup, and it is the cocoa powder that makes it flavorful. For 1 cup of water, take 1 tablespoon of cocoa powder.
Vanilla Extract – Even though we only add a teaspoon of this, that's enough to bring in all vanilla flavor to the recipe. 
Almond Extract – Just a touch of nutty flavor is what makes Irish Cream syrup special. ¼ teaspoon of almond extract is required to make this recipe.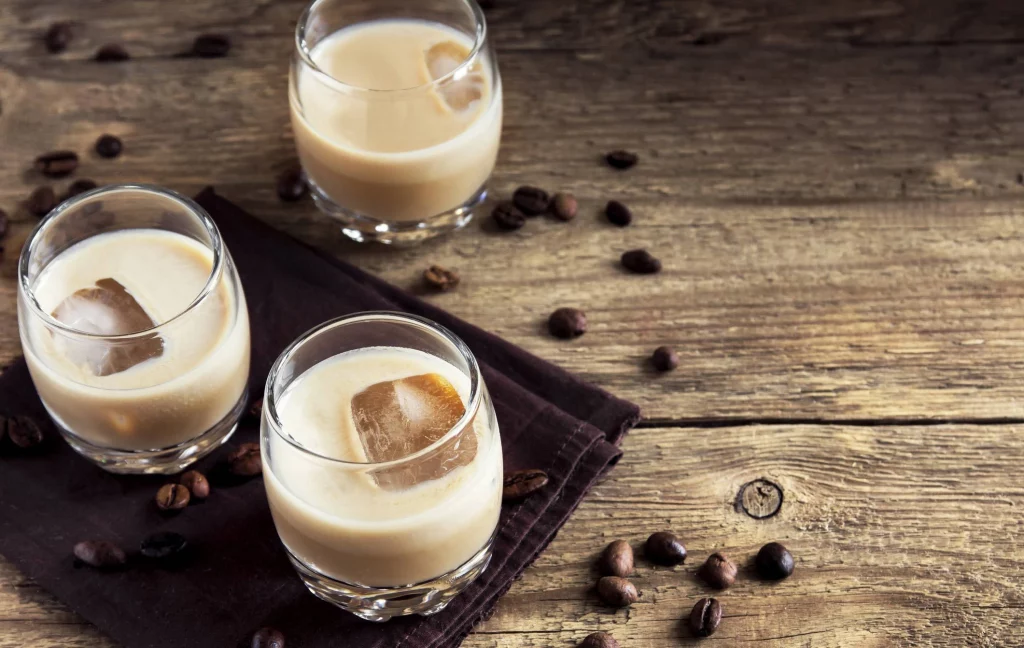 Steps To Make Irish Cream Syrup
1. Make The Sugar Syrup
Making sugar syrup is the first step to creating any syrup in general. For this, mix one cup of sugar with one cup of water. Bring to the stove and let it boil.
Once boiled, simmer it for another five minutes or until the sugar caramelizes. We do not need a thick consistency; take it off the stove once it is slightly thickened.
Add a teaspoon of vanilla extract and ¼ teaspoon of almond extract into the sugar syrup and mix it well.
2. Mix The Cocoa Powder
Into this mixture, add 1 tablespoon of cocoa powder. For the best taste, add unsweetened cocoa powder. While adding, do not add it as a whole. Add little by little and whisk it well. This will take a minute but keep whisking until everything is dissolved.
3. Let It Rest
After whisking, let the syrup cool down. Once the syrup is completely cooled, pour it into a tight glass jar and store it in the fridge for further use.
What does Irish cream syrup mix well with?
If you are new to this dish, you might be wondering where to use this syrup. Irish cream syrup is so versatile that you can pair it with almost anything and everything. Irish cream syrup has a taste that everyone would love. 
Coffee – Irish cream syrup, regardless of its other uses, is made for coffee pairing. Just a teaspoon of Irish cream syrup can elevate the taste of your coffee to a whole new level.
Hot Chocolate – Hot chocolate is too good on its own. However, just a splash of Irish cream sugar makes it even more irresistible. Next time you have your cup of hot chocolate, have it with Irish cream syrup and see the magic for yourself.
Ice Cream – Irish cream syrup is mostly used in beverages. But it works extremely well with ice creams as well. Just pour a little amount of syrup over your favorite ice creams, and enjoy the new unfolded flavor.
Nutritional Value
| | |
| --- | --- |
| Calories | 100 kcal |
| Total Fat | 0 g |
| Saturated Fat | 0 g |
| Sodium  | 160 mg |
| Carbohydrates | 32 g |
| Sugar | 23 g |
| Protein  | 0 g |
How Will The Irish Cream Syrup Look And Taste Like? 
You must have seen the Irish cream syrup being sold at different places. Homemade Irish cream syrup looks almost similar to the store-bought one. It has a dark brown color and a light watery texture to it.
Recipe Card
Easy Irish Cream Syrup Recipe
If you are someone who loves the chocolate flavor in your drink, then you should definitely this Irish cream syrup recipe. It is a perfect blend of vanilla and chocolate flavor with a touch of nuts. This holiday season, try this Irish cream syrup recipe and turn your otherwise regular coffee, mocktails, and mochas into special ones.
Make a simple sugar syrup using 1 cup water and 1 cup sugar.

Into that, add 1 teaspoon of vanilla extract and ¼ teaspoon of almond extract. Bring it down from the heat.

Add 1 tablespoon of unsweetened cocoa powder into the mixture and whisk well. Blend well and allow it to cool down.

Irish cream syrup is ready to use.
Frequently Asked Questions (FAQs)
What is in Irish cream syrup?
Irish cream syrup is a perfect blend of sugar, cocoa powder, vanilla extract, and almond extract.
What is the taste of Irish cream syrup?
Irish cream syrup has a smooth chocolate taste with a hint of vanilla.

Is Irish cream like RumChata?

RumChata has a note of cinnamon, unlike that of Irish cream syrup.
Conclusion
Sometimes little things can bring a whole change of positive changes. That's exactly what Irish cream syrup does; add a teaspoon of this syrup into your coffee, latte, mochas, or mocktail and see how it beautifully enhances the flavor of the drink.
If you are a newbie in cooking, then you should try our Irish cream recipe; it's easy to make and will help impress all your guests.