Easy Classic Dark Chocolate Mousse Recipe
Note- This post may contain affiliate links, we earn from qualifying purchases made on our website. If you make a purchase through links from this website, we may get a small share of the sale from Amazon and other similar affiliate programs.
I asked my mother that; Is there any dessert that I never ate and she replied with Yes! There is one thing that I never made at home. She asked me Do I want to try it? I said I will try it but Is it tasty or not?
She said just wait until I try it. I was desperately waiting for that dessert and after some time my mother brings something like cake and I was like it is a cake, I don't want it but my mother said it is not a cake, it is a Dark Chocolate Mousse.
But when I taste it and I found it very tasty and delicious and I could not stop myself from eating mousse and Guess What?
Today, I will share the Dark Chocolate Mousse Recipe with my lovely dessert lovers. But before we jump onto the recipe, let's check out some other desserts that you might like.
1. Swiss Chocolate Square– This recipe is a thin layer of cake with a fantastic creamy frosting on top which is cut into small squares. The frosting is really what's worth it and makes it super delicious.
2. Aztec Chocolate Bar– Aztec chocolates were known for their sweet and spicy taste as they used to add chili to their chocolates. Sounds strange, right? But to your surprise, this experiment of theirs got quite popular as it tasted delicious.
3. Chocolate Tuile– These curved-shaped thin chocolate cookies can be a great element with ice cream at your next party. But these traditional French cookies are brittle and can easily break.
4. No-Bake Chocolate Marquise– For the ultimate chocolate lover in you, this easy to make and yummy in taste no-bake chocolate marquise is a must have for you.
Ingredients for Dark Chocolate Mousse Recipe
| | |
| --- | --- |
| Ingredients | Amount |
| Dark chocolate | ½ cup |
| White eggs | 3 units |
| Sugar | 2 tbsp |
| Ice cubes | ½ cup |
| Cold water | 1 cup |
| Cream | 2 cups |
| Cream and Crushed Chocolate | To garnish |
How Much Time It Will Take?
| | | |
| --- | --- | --- |
| Preparation Time | Cooking Time | Total Time |
| 70 minutes | 20 minutes | 90 minutes |
Classic Dark Chocolate Mousse Recipe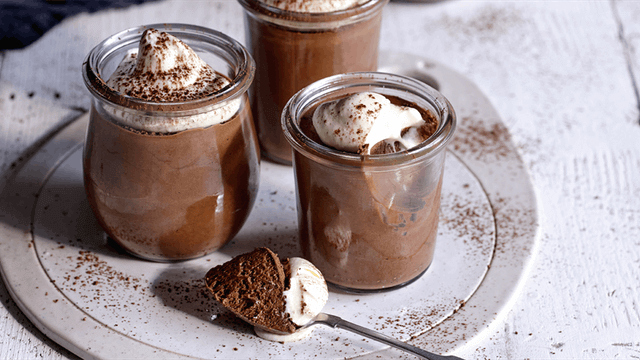 In a pan, add some water and heat it. Now put dark chocolate in a glass bowl and keep it above the pan to melt.
In a bowl add 3 eggs and sugar and beat it with the beater.
In another bowl add ½ cup ice cubes, 1 cup cold water and 2 cups rich cream. Beat it with the beater thoroughly.
Now mix both the beaten mixtures in the melted chocolate. Mix it thoroughly and refrigerate it for an hour. `
Now garnish it with cream and crushed chocolate.
Taste the wonderful chocolaty delight to make your day worth an ending. Give your day just the perfect shot of extremely extravagant tastes to fill you with joy.
Nutritional Facts Of Dark Chocolate Mousse Recipe
| | |
| --- | --- |
| Calories | 300 |
| Fats | 24 g |
| Proteins | 5 g |
| Carbohydrates | 18 g |
| Cholesterol | 84 mg |
| Sodium | 61 mg |
| Potassium | 0 mg |
How to Make Dark Chocolate Mousse at Home | Video