Delicious Chocolate Mastani Recipe
My sister studies in Pune. Last summer, when she came back from Pune to home for spending her vacations, I asked her about the culture, tradition, and especially about food my favorite thing she told me about everything.
In the last, I ask her about her favorite thing what she likes to eat or drink there, she said her favorite drink is ChocolateMastani and I found it unique and I ask her about did she know how to make it.
She replied with yes and I request her to make it for me now. She made it for me and after I had one sip of that drink I was feeling refresh and positive.
Today, I will share the Chocolate Mastani Recipe with my people. A chocolate rich simple recipe; here's a fine addition to your delightful drinks list. A glass full of happiness and a topping that soothes the eye, actives your taste buds is all that is needed to change the air around you. Let's journey towards an experience full of joy and enjoy the aftermaths with pleasure and happiness. But there are many other drink recipes that we've covered in our blog. You should definitely check them as well.
1. Shochu Hot Chocolate– Shochu hot chocolate is a Magical Pleasure with a rich, velvety texture that coats your mouth with the glorious taste of chocolate. The sweet potato Shochu not only enhances the flavor of the chocolate, but it also keeps the richness of the beverage in check, making it easy to down a few mugfuls of this in winters.
2. Sitaphal Mastani– This Sitaphal Mastani or the Custard Apple Milkshake is the healthiest thing you can ever try during a long exhausting weekend. The Sitaphal Mastani blends down to a smooth textured drink due to its already sweet and creamy flesh.
3. Dry Fruit Mastani– This dry fruit mastani topped with vanilla ice cream is something that you can't resist. So let's try out this delicious mastani at our home this summer.
4. Pistachio Mastani– This yummy delight is one of the best respites for hot summer days. This pistachio mastani is another rich and royal essence to make your taste buds blow with its lavish taste.
Ingredients Required Chocolate Mastani Recipe
| | |
| --- | --- |
| Ingredients | Amount |
| Cooked milk | 2 cups |
| Cocoa powder | 3 tsp |
| Sugar | 3 tbsp |
| Chocolate ice-cream | 1 scoop |
How to make Chocolate Mastani Recipe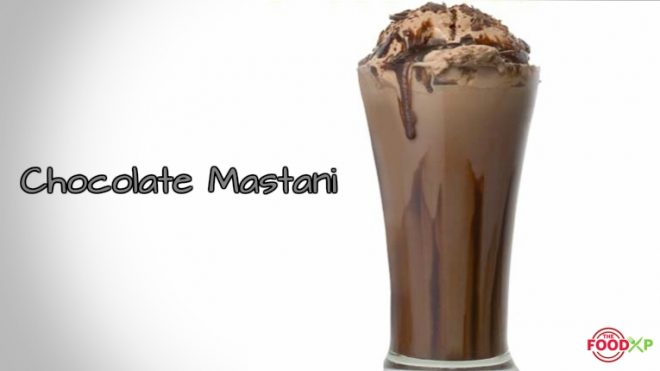 Take milk in a mixing jug and mix cocoa powder and sugar to it.
Chill in the refrigerator for 30 minutes.
Pour the milk in a serving glass.
Finally, add a scoop of chocolate ice cream. Serve chilled.
A pour of happiness to lead a soothing journey of life.
How much time it will take?
| | | |
| --- | --- | --- |
| Preparation Time | Chilling Time | Total Time |
| 30 MINS | 30 MINS | 60 MINS |
How to Make Chocolate Mastani at Home | Video