Crispy Aloo Tikki (Potato Patty) – Indian Appetizer Recipe
Oh! Now that I am actually writing I am bored to tell you to change your life, instead, hear my story…
When I was a kid, this mouth-watering street food was my mood fixture. I had a mango tree in my backyard and its trunk was really fascinating, you know its colour just resembled the to the Aloo tikki's mother used to make, slight dark brownish. I had my cupboards coloured in the same colour.
Well to date every month mother makes a point to make me the same Aloo Tikki recipe the same colour. Hardships separated that tree and me, but the colour remained a memory unforgettable.
By recalling the memory of my childhood, I made those tikkis at home with my mother's Aloo Tikki recipe and I thought I should share it with my lovely people.
Let's journey to one of my mood fixtures; ALOO TIKKI, my unforgettable memory. Also, there are other recipes that you can have as starters, let's check them out.
1. Guyanese Beef Patties– Beef patties are like hand pies with juicy and tender minced beef inside and a flaky pastry on the outside. This recipe has a perfect ratio of crust and filling. These are so delicious and satisfying that you will not be able to get over them.
2. Khaman Dhokla– This khaman dhokla recipe makes a wonderfully soft and fluffy, lightly sweet and savory cake that's perfect to enjoy anytime of the day.
3. Punjabi Paneer Pakora– Paneer pakora are a quick evening snack that has a lovely crispy texture with a moist, soft paneer from within.
4. Maharashtrian Mix Dal Dosa– This recipe is highly nutritious and delicious and makes a perfect breakfast menu. It is a very quick and easy recipe and there is no need for fermentation of batter for this dosa.
Ingredients for Crispy Aloo Tikki Recipe
| | |
| --- | --- |
| Ingredients | Quantity |
| Potatoes | 4 units |
| Corn flour | 2 tbsp |
| Salt | ½ tsp |
| Chaat masala | ½ tsp |
| Garam masala | ¼ tsp |
| Cooked green gram | ½ cup |
| Oil | ½ cup |
| Beaten curd, pudina chutney, roasted cumin seeds, red chilly powder, chat masala | To sprinkle on top |
| Aloo bhujiyaa and Pomegranate | Enough to garnish |
How much Time it will Take?
| | | |
| --- | --- | --- |
| Preparation Time | Cooking Time | Total Time |
| 35 MINS | 25 MINS | 60 MINS |
60 minutes to a memorable experience of tasty street food at home.
Crispy Aloo Tikki Recip | Potato Patties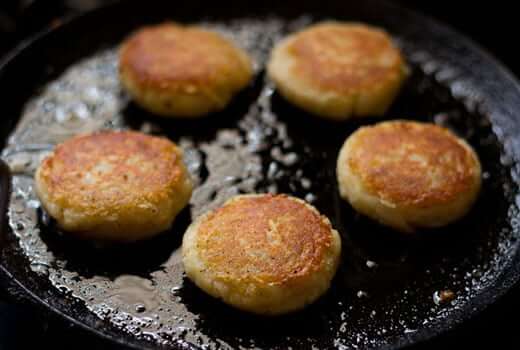 Boil 4 potatoes.
Mash them and place it in a plate.
Add 2 tbsp cornflour, salt, chat masala, garam masala and mix it.
Now make tikki shape out of this.
Make a cavity in the top and add cooked green grams in it.
Seal it and flatten it.
Now in a preheated flat pan add ½ cup oil and heat it.
Put the above made flattened tikkis in it.
Cook it from both sides till it turns golden in colour.
Place the cooked tikkis on a serving plate.
Put beaten curd and pudina chutney on it.
Now sprinkle roasted cumin powder, red chilly powder, and some chat masala on it.
Garnish it with Aloo bhujiyaa and Pomegranate.
Serve hot.
Cherish the FIXTURES ALOO TIKKI, enjoy a sight so pleasant and make memories unforgettable for a long time. This recipe definitely deserves a special place in your life.
Nutritional Facts of Aloo Tikki Recipe
| | |
| --- | --- |
| Calories | 90 |
| Protein | 2 g |
| Carbohydrates | 13 g |
| Fats | 4 g |
| Cholesterol | 0 mg |
| Sodium | 6 mg |
| Potassium | 130 mg |
How to Make Aloo Tikki at Home | Video