Creamy Paula Deen Stroganoff Recipe
Note- This post may contain affiliate links, we earn from qualifying purchases made on our website. If you make a purchase through links from this website, we may get a small share of the sale from Amazon and other similar affiliate programs.
Does the weather look cloudy outside? Try a comforting, warming, and filling Paula Deen Stroganoff recipe that's perfect for a cold day. It's a gravy recipe made with rich ingredients and flavors. Wanna know more? Stay with me. 
Making stroganoff is quite easy. Start with sauteing steaks, mushrooms, and onions. Stir in beef broth, cream of mushroom soup, and season with house seasoning. Slow cook for thirty minutes and enjoy this rich and creamy stroganoff. 
Paula Deen makes stroganoff by adding cream of mushroom soup and beef broth. It gives savory flavors. Moreover, properly cooked steaks with flour coating add the right texture to the gravy.
Serve this delicious stroganoff with buttered noodles or potatoes. I've included the recipe instructions, equipment details, and nutritional information in this article. Check out other Paula Deen recipes.
Other Paula Deen Recipes That You Can Try
Paula Deen Baked Spaghetti
Paula Deen Breakfast Casserole
Paula Deen Carrot Cakes
Paula Deen Baked Beans
Paula Deen Chicken Noodle Soup
Paula Deen Salmon Patties
Paula Deen Vegetable Soup
Paula Deen Buttermilk Pie
Paula Deen Cobbler
Paula Deen Cheesecake
What Equipment Will You Need To Make Paula Deen Stroganoff?
Skillet – Cook stroganoff in the skillet.
Spatula – Use a spatula to combine the ingredients.
How Much Time Will You Need To Make Paula Deen Stroganoff?
| Preparation Time | Cooking Time | Total Time |
| --- | --- | --- |
| 10 Minutes | 10 Minutes | 20 Minutes |
What Ingredients Will You Need To Make Paula Deen Stroganoff?
Steaks – For stroganoff, use cubed steak strips.
Butter – Sauté meat and vegetables in butter.
Beef Broth – Add beef broth to add a richer flavor.  
Cream Of Mushroom Soup – A spoonful of cream of mushroom soup adds a savory and salty flavor.
Sour Cream – Add sour cream when serving stroganoff for a tangy flavor.
Olive Oil – Sauté vegetables in olive oil. 
All-Purpose Flour – Sprinkle all-purpose flour on the steaks to cook them perfectly. 
House Seasoning – Season the steaks with Paula Deen house seasoning.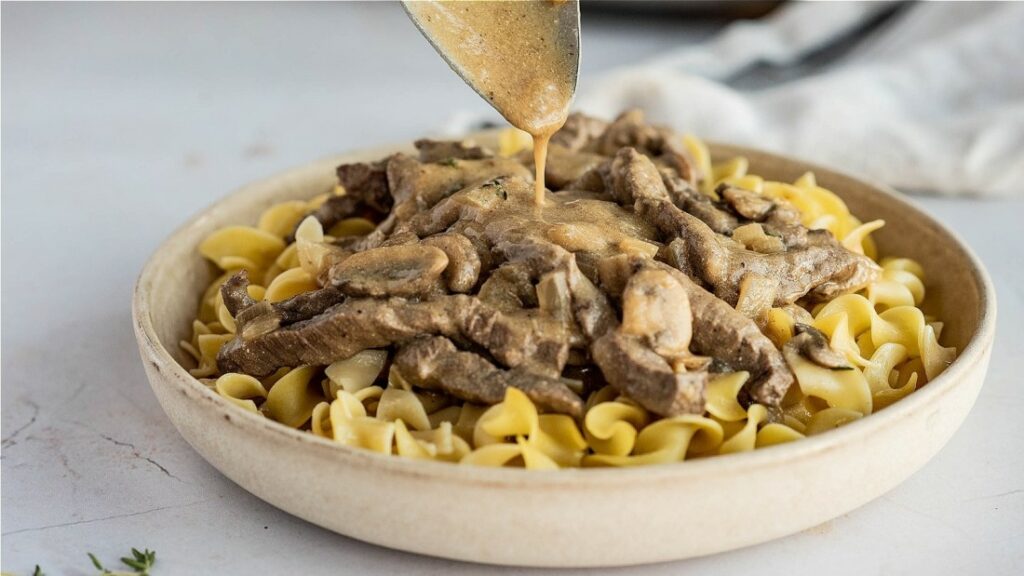 Steps To Make Paula Deen Stroganoff 
1. Season Steaks 
To make stroganoff: first season the steaks with Paula Deen house seasoning. Then, dust off some all-purpose flour on it to achieve crispy texture.
2. Cook Steaks
Heat oil and butter in the skillet. Place steak strips on it and quickly brown them on both sides for ten minutes. Once cooked, remove the steaks from the pan.
3. Cook Vegetables
To the same pan, add sliced onions and mushrooms. Saute for two minutes until tender. Sprinkle one teaspoon of all-purpose flour into it.
4. Combine Steaks 
Put the steak strip into the pan again. Now it's time to add cream of mushroom soup and beef broth. Mix well and cover with the lid—Cook for thirty minutes on low heat. 
Season it with salt and black pepper. Stir in sour cream when you serve the stroganoff. It's ready. Enjoy with cooked noodles. 
Nutritional Information 
| | |
| --- | --- |
| Calories | 384 kcal |
| Fat | 25 g |
| Cholesterol | 92 mg |
| Sodium | 1162 mg |
| Carbohydrates | 15 g |
| Sugar | 3.5 g |
| Protein | 25 g |
How Will Paula Deen Stroganoff Look And Taste Like?
Paula Deen stroganoff is a classic gravy recipe with a creamy texture. It is savory, salty, and filled with the goodness of rich elements.
The look of the stroganoff is light brown with chunks of steaks. Moreover, the steaks add a nice flaky texture to the whole gravy.
Recipe Card
Paula Deen Stroganoff Recipe
Paula Deen Stroganoff is a beef gravy prepared with rich ingredinets. It's creamy, thick and delicious. Prepared in just 20 minutes, this stroganoff is great to pair with pasta or coked rice.
Season steak strips with Paula Deen house seasoning.

Sprinkle some flour on the steaks.

Heat oil and butter in the pan and cook steaks on both sides for five minutes. Let it brown.

Remove steaks from the pan.

Now add mushrooms and onions to the pan. Saute for two minutes. Then add beef broth and mushroom soup to the pan. Mix well. Stir in one teaspoon of flour.

Cover the pan and slow cook for thirty minutes.

Season with salt and black pepper and stir in sour cream before serving.

Paula Deen stroganoff is ready.
Frequently Asked Questions (FAQs)
What is stroganoff made of?
Stroganoff is a kind of gravy made of beef broth, onions, mushrooms, steaks, and sour cream.
Is stroganoff German or Russian?
Stroganoff is a popular Russian dish. The dish was named after Alxedaner stroganoff, who lived in the 19th century.
What does stroganoff taste like?
Stroganoff is a creamy affair made with intensely savory flavors. It has a mushroom flavor along with onions. The beef broth adds richness to the stroganoff.
What goes with stroganoff?
Buttered egg noodles, rice, mashed potatoes, roasted Brussels sprouts, garlic bread, and salad recipes go well with stroganoff.
How do you add flavor to stroganoff?
You can add Worcestershire sauce to enhance the taste of the recipe. Also, you can add garlic, molasses, soy sauce, and vinegar for a better stroganoff flavor.
Conclusion
Enjoy this amazing stroganoff gravy with your favorite dishes. It's a perfect treat for rainy weather. Let's enjoy this comforting gravy with noodles.
The preparation takes less time, and the taste lasts longer. Let us know your experience making this recipe.