Collard Greens Recipe
Note- This post may contain affiliate links, we earn from qualifying purchases made on our website. If you make a purchase through links from this website, we may get a small share of the sale from Amazon and other similar affiliate programs.
Collard Greens are a member of the cabbage family. They are leafy green vegetables like spinach that are commonly used in the U.S.A.
Cooking them is a must, as they are too raw to eat. But they are packed with nutrition as they have abundant vitamins, rich in antioxidants and have anti-cancer effects.
They are the perfect quick healthy side dish and inexpensive too. If you've never tried Collard Greens before, then this collard greens recipe is a great introduction for you. But here are some other amazing recipes that you should definitely try.
1. Sous Vide Carrots– I am a very big fan of sous vide recipe because of the sweetness and the flavour filled in this recipe because they are perfectly cooked. I learned this recipe from one of my friends who is a great chef.
2. Arkansas Green Beans– It is a delectable side dish with your main meal course. This recipe is a makeover of green beans with sweetness.
3. Christmas Green Beans– Christmas green beans are dressed up with pimentos and chopped pecans that are caramelized in butter and honey. A simple, healthy side dish to complete your family dinner.
4. Crack Green Beans– Crack Green Beans will have even the pickiest eater begging for seconds. This recipe is a great dish to take to any potluck and makes a delicious and easy side at any dinner party.
Collard Greens Ingredients
Almost everything that is required to prepare Collard Greens is available at your home already and if not, then you can buy the ingredients from any supermarket near your home.
1 tablespoon olive oil
3 slices bacon
1 large onion, chopped
2 cloves garlic, chopped
1 teaspoon salt
1 teaspoon pepper
3 cups chicken broth
1 pinch red pepper flakes
1 pound fresh collard greens, cut into 2-inch pieces
How to make Collard Greens at Home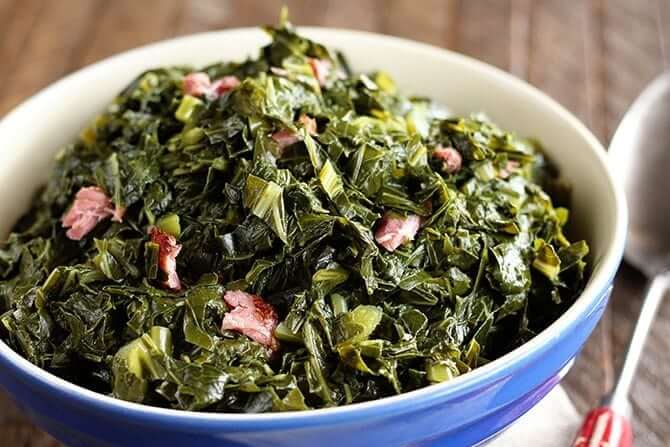 There are so many ways to make Collard Greens at home but the below-mentioned way is one of the best ways to make it.
Heat oil in a large pan over medium-high heat.
Add bacon, and cook until crisp.
Remove bacon from pan, crumble and return to the pan.
Add onion, and cook until tender, about 5 minutes.
Add garlic, and cook until just fragrant.
Add collard greens, and fry until they start to wilt.
Pour in chicken broth, and season with salt, pepper, and red pepper flakes. Reduce heat to low, cover, and simmer for 45 minutes, or until greens are soft.
You have to follow every step mentioned above if you want to make your Collard Greens healthy and tasty.
Nutrition Facts for Collard Greens
There are no reasons not to make Collard Greens as they are inexpensive, rich in vitamins A, C, and K and collard greens will keep your liver happy.
Below mentioned is the full nutritional breakdown of Collard Greens
| | |
| --- | --- |
| Calories | 32 |
| Total Fat  | 0.6g |
| Cholesterol | 0mg |
| Sodium | 17mg |
| Potassium | 213mg |
| Protein | 3g |
| | |
| --- | --- |
| Vitamin A | 100% |
| Vitamin C | 58% |
| Vitamin D | 0% |
| Vitamin B6 | 10% |
| Calcium | 23% |
| Iron | 2% |
| Cobalamin | 0% |
| Magnesium | 6% |
Watch Collard Greens Recipe