Classic Quaker Oatmeal Raisin Cookies Recipe without Brown Sugar
Now-a-days, family times are rare and when you have it, you want to make the best out of it by having a healthy discussion or by having some healthy food. And what is better than some Cookies made of healthy oats.
Yes, you heard it right!
You can make healthy cookies at home by using the famous healthy Quaker oats and without using brown sugar. This can be a perfect healthy treat for your whole family at the dining table. These Quaker Oatmeal Raisin Cookies without Brown Sugar are soft in texture and chewy because of its ingredient raisins. Excess of raisins would also make them delicious to the cores.
So this Quaker Oatmeal Raisin Cookies Recipe without Brown Sugar gives an altogether new definition to the cookies. It is simple in making and adorable enough for kids and grown-ups to like it. Also, there are other recipes that you can have as starters, let's check them out.
1. Buttermilk Biscuits– My favourite snack with tea are buttermilk biscuits and that too homemade. The buttermilk biscuits are the only reason why I love tea so much. I always prefer them to be homemade which are healthy, tasty and good for health.
2. Garlic Chips– An easy, no-fuss tutorial on how to make crispy garlic chips at home, and ways to incorporate them into your cooking repertoire. 
3. Gluten-Free Monster Cookies without Peanut Butter– These easy, giant gluten free chocolate chip monster cookies are made with oats, peanut butter, and plenty of brown sugar, but no rice flour.
4. Gujrati Mattar Ghugra– The Moong Dal Ghughra also known as Karanji or Gujiya in some parts of India are delicious flaky crust pastries filled with sweet, sour and spicy lentil mixture.
Ingredients for Quaker Oatmeal Raisin Cookies Recipe
| | |
| --- | --- |
| Ingredients | Quantity |
| Butter | 155 gm |
| Breakfast sugar(powdered sugar) | 175 gm |
| Honey | 75 gm |
| Cake flour | 225 gm |
| Baking soda | 1 tsp |
| Salt | ¼ tsp |
| Oats | 100 gm |
| Milk | 50 ml |
| Raisins | 100 gm |
| Butter paper | To apply so as to bake. |
How much time it will Take?
| | | |
| --- | --- | --- |
| Preparation | Baking | Total |
| 30 minutes | 20 minutes | 50 minutes |
Quaker Oatmeal Raisin Cookies Recipe without Brown Sugar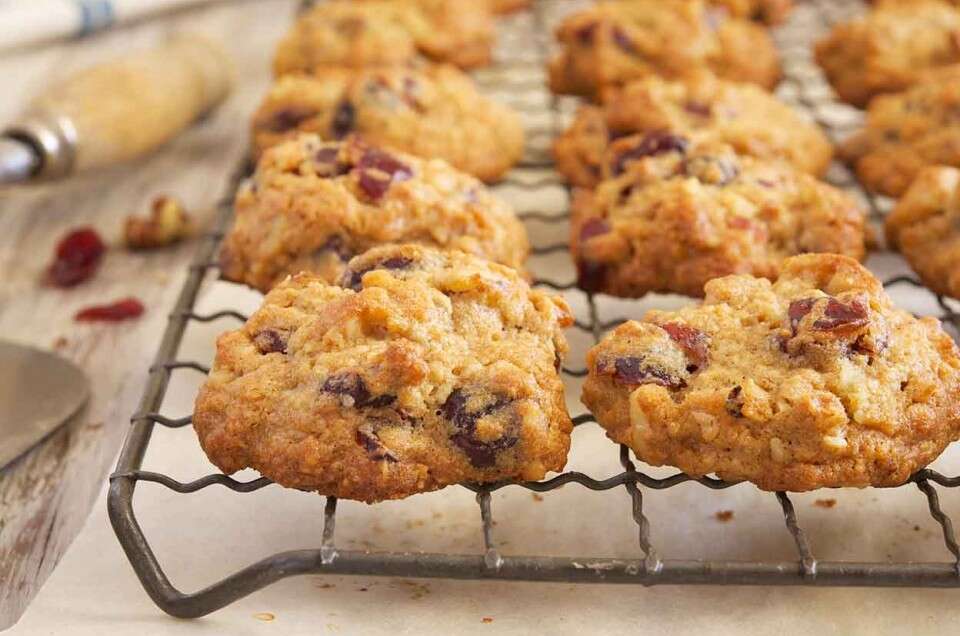 In a bowl add 155 gm butter and 175 gm breakfast sugar.
Beat it with a beater. Add 75 gm honey and beat it again.
Now put 225 gm cake flour, 1 tsp baking soda, ¼ tsp salt and 100 gm oats and mix it all.
Add 50 ml milk and 90 gm raisins. Make dough.
Make small round shapes out of the dough and embed its top with raisins.
On a microwave, tray applies butter paper. Place the cookies on it. Pre-heat the oven at 170⁰C temperature.
Place the cookies in the oven and bake for 20 minutes.
Serve cold.
Enjoy the jelly-like topping due to raisins and an absolutely different tasted cookie for the togetherness that it can bring. These Quaker Oatmeal Raisin Cookies without Brown Sugar can become a pathway to all your hearts bring upon happiness. Simple foods like the cookies can heartthrob us into excitement in your life.
Stay tuned for more such exciting recipes…
Nutritional Information for Quaker Oatmeal Raisin Cookies Recipe
| | |
| --- | --- |
| Calories | 110 g |
| Fat | 4.7 g |
| Cholesterol | 20 g |
| Sodium | 6 mg |
| Potassium | 50 mg |
| Carbohydrates | 16 g |
| Protein | 2 g |
How to Make Quaker Oatmeal Raisin Cookies without Brown Sugar at Home | Video