Classic Blueberry Mule Recipe
Note- This post may contain affiliate links, we earn from qualifying purchases made on our website. If you make a purchase through links from this website, we may get a small share of the sale from Amazon and other similar affiliate programs.
Want to enjoy a citrus and berry-flavored drink with the undertones of sweetness and a spicy kick? Then the blueberry mule cocktail is the suitable choice. It is a much-loved flavor of the classic Moscow mule. 
This berry-flavored cocktail is an amazing fruity drink option to enjoy with your family and friends during this holiday season. It is also super easy to make and you can make some in less than half an hour. 
This cocktail is the perfect blend of fizz of ginger beer, punch of vodka, and juicy blueberries. Combine all the ingredients well and add ice cubes to get a cool and refreshing taste. 
In this article, I have mentioned all the equipment and ingredients with some interesting facts about blueberry mule cocktails. Let us now move ahead with the drink without further delay. 
What Equipment Will You Need To Make Blueberry Mule?
Cooking Pot – Make blueberry syrup in the cooking pot. 
Wooden Spatula – Stir the mixture to prepare the blueberry syrup by using a wooden spatula. 
Measuring Jigger – To measure the right quantities of ingredients, use a measuring jigger. 
Copper Mug – Serve blueberry mule cocktail in copper glasses and enjoy. 
Knife – Cut the lime wedge using a sharp knife. 
Spoon – Give a nice mix by using a regular spoon.  
How Much Time Will You Need To Make a Blueberry Mule?
| Preparation Time | Cooking Time | Cooling Time | Total Time  |
| --- | --- | --- | --- |
| 5 Minutes | 10 Minutes | 10 Minutes | 25 Minutes |
What Ingredients Will You Need To Make Blueberry Mule?
Here are the key ingredients you will need to prepare a blueberry mule cocktail. 
Blueberries – Use fresh or frozen blueberries to get a fruity taste and colorful appearance. 
Sugar – For enhancing the undertones of sweetness, use white sugar. 
Water – To get the liquid consistency of blueberry syrup, water is needed. 
Salt – A pinch of salt is required for maintaining the balance between the different flavors of syrup. 
Vodka – Add vodka to get a clean and neutral flavor.
Lime Juice – Use freshly squeezed lime juice for the citrusy flavor notes in this shot recipe.
Ginger Beer – To get the zing of ginger, add ginger beer as a classical ingredient. 
Ice Cubes – For maintaining the cool effect of the drink, add ice cubes as per your choice. 
Lime Wedge – Use a lime wedge to garnish the drink. 
What Are The Tips To Make Blueberry Mule?
You can use citrus-flavored vodka to get another refreshing flavor. You can also switch the ingredients by adding distinct types of liquor such as whiskey and tequila. 
If you want to enhance the fruity tangy flavor of blueberry, just muddle a few fresh blueberries in the copper mug and add the bottom before adding any other ingredients. This addition of a layer of berries will ensure the enhancement of flavors in the drink. 
For extra flavor, you can just simply make alterations to the simple syrup. Add fresh rosemary, basil, ginger, or even cinnamon sticks to blueberries to create different flavors. 
This Blueberry Mule recipe is super simple and easy to blend into a few drinks. You can add the basic blueberry syrup to give different flavors. 
You can also use blueberry syrup already available in the market.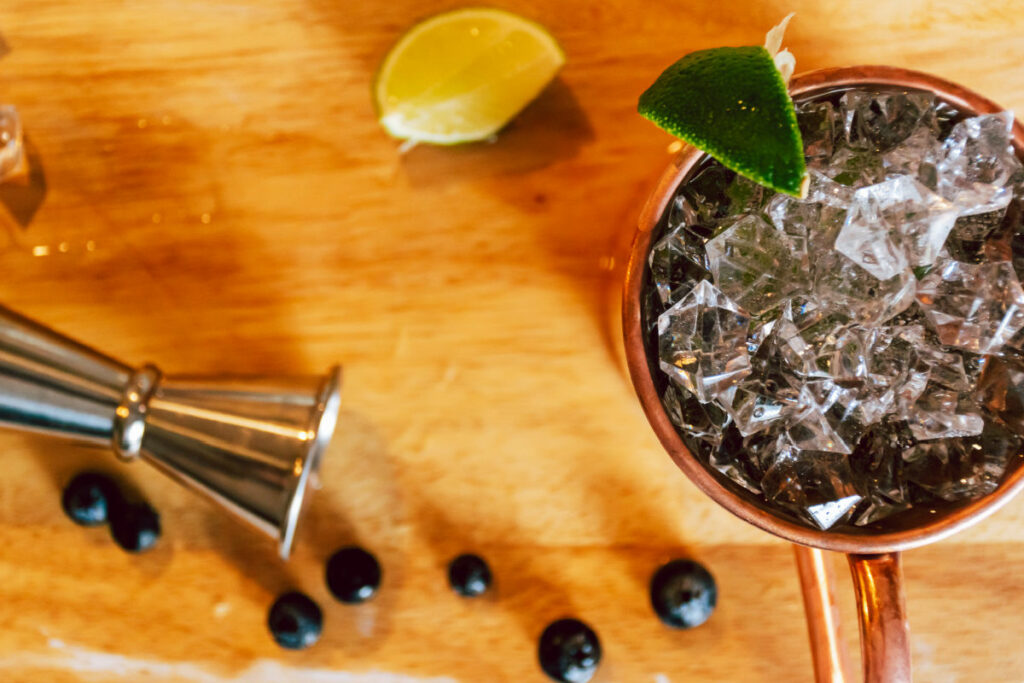 Steps To Make Blueberry Mule
1. Gather Ingredients
To make a blueberry mule, gather all the ingredients. We'll need blueberries, sugar, water, salt, vodka, lime juice, ginger beer, and ice cubes. 
2. Cook Them Well
For preparing blueberry syrup, the first step is to put a cooking pot on the stove. Get fresh or frozen blueberries, whichever one is available. Combine blueberries, sugar, water, and salt in a pot over medium heat. 
Stir all the ingredients with the help of a wooden spatula. Let the mixture bring to a boil. Once it boils, reduce the heat and simmer to get the desired thickness.
You can achieve the required thickness in 3 to 5 minutes. Remove the pot from the heat and place it aside. Let the prepared syrup cool for about 10 minutes. 
3. Mix Them Well
In the copper mug, add vodka and lime juice by using a measuring jigger. You can also use a mason jar instead of a copper mug.
 Add a few ice cubes to maintain the cooling effect. Now, pour 3-4 ounces of ginger beer over the ice cubes. After this, top the drink with 3 tablespoons of blueberry syrup. Stir well to combine the ingredients well. 
4. Serve And Enjoy 
Garnish the glass rim of the cocktail with a lime wedge. Stir in 4-5 pieces of fresh or frozen blueberries. It is ready to get served. 
Can I Substitute Another Fruit Instead Of Blueberry Juice For Flavor?
The blueberry Moscow mule is a perfect holiday cocktail. It tastes and looks absolutely amazing. But if you are not an admirer of blueberry, you can substitute blueberry juice with any other seasonal fruit juice.
Some other flavors you can try are pineapple, cucumber, cranberry, cherry, blackberries, watermelon, strawberries, or grapefruit. I love to add fresh berries to enhance its taste and make it a fun summer cocktail for the warmer months.
Nutritional Information
| | |
| --- | --- |
| Calories | 828 kcal |
| Fat | 1 g |
| Carbohydrates | 183 g |
| Sodium | 31 mg |
| Potassium | 57 mg |
| Protein | 3 g |
| Sugar | 178 g |
How Will a Blueberry Mule Look And Taste?
Blueberry Moscow mule is the perfect blend of berries and drinks. This is a refreshing and colorful drink. 
Blueberry Moscow mule is an apt choice for summer days, as well as they, are also an ideal option for the festive season. This drink is a perfect example of the balance between sweet, strong, and spicy flavors. 
Recipe Card
Classic Blueberry Mule Recipe
Want something refreshing and fruity to enjoy this festive season, here is a classic blueberry Moscow mule cocktail recipe for you. Let's make this easy blueberry mule recipe in a quick time.
Combine blueberries, sugar, water, and salt in a pot over medium heat.

Bring it to a boil and reduce the heat.

Cook it for 3-5 minutes to get the desired thickness.

Place the syrup aside and let it cool for 10 minutes.

Add vodka, ice cubes, lime juice, and ginger beer to the copper mug.

Top the ice cubes with 3 tablespoons of blueberry syrup.

Stir the ingredients well and garnish it with a lime wedge.

It is ready to serve.
Frequently Asked Questions (FAQs)
What is a blueberry mule made of? 
Blueberry mule is made from vodka, ginger beer, and lime juice with blueberry syrup. 
What is the blueberry Moscow mule flavor?
Blueberry Moscow is the perfect blend of sweet, strong, and spicy flavors. 
Is it suitable for children?
No, it is not suitable for children as it has alcoholic ingredients. 
What can you substitute for vodka in a Moscow Mule?
You can use a spiced rum, or dark rum, or swap it for club soda for a virgin mule. 
What liquor do you mix with ginger beer?
You can add a punch of vodka to mix with ginger beer to get the perfect drink. 
Why is blueberry Moscow mule served in copper glasses? 
Copper glasses or mugs help to retain the drink cool for a longer period of time. 
Conclusion
If you are looking for something to serve your guests or enjoy yourself at the weekend, then blueberry mules are the easiest and most delicious way. 
You can easily blend this drink in your own way. You can add distinct flavors to the drink to add other flavors. 
So, what are you waiting for, try this super easy-to-make recipe this holiday season. If you like this article and want to know about more recipes, do check the other recipes on our website.