Churros Recipe
Note- This post may contain affiliate links, we earn from qualifying purchases made on our website. If you make a purchase through links from this website, we may get a small share of the sale from Amazon and other similar affiliate programs.
Once, I went to a mall in Spain. And after we finished our shopping we went to the food court and I saw something very interesting things there like I saw open food courts where chefs are making food live and preparation of food is going live. It was quite interesting for me because I never saw anything like this before.
The food stall which attracts me more is of Churros food stall. It was unique for me because they are using a machine to make those sticks. I ordered one for me and it was very tasty and divine and I never ate anything like this before.
In that mall only there was a museum and I saw a book there which is related to recipes and I searched for Churros Recipe in that book and Guess what I found Churros Recipe and click the picture of Churros Recipe.
After I came back to India, I used that Churros Recipe of that book and made them at home. And Believe me. it was the same as I ate in the mall.
But one thing I realized after coming to India is that Churros is incomplete without its classic chocolate sauce. So today, I will share the Churros Recipe with my lovely people so you can make Churros and well popular dish of Spain at home itself. But here are some other amazing recipes that you should definitely try.
1. Puppy Chow– Puppy Chow is one of the best American desserts and snacks. Known variously as monkey munch, muddy buddies, muddy munch, reindeer munch or doggy back, this easy puppy chow recipe can be made quickly.
2. Peanut Butter Blossoms– Homemade peanut butter blossoms are the quintessential Christmas cookie and trademark of any holiday cookie tray. My classic recipe yields soft, peanut buttery, and easy-to-make festive cookies.
3. Krusteaz Waffles– Krusteaz Waffles recipe is easy and anyone could make it in around 15 minutes. And if you want to make Kruteaz Waffles at home, just follow the procedure in this recipe.
4. Eel Sauce– Eel sauce is not actually made of eel. This sauce is served alongside Japanese dishes like sushi. Natsume, Unagi or Kabayaki are some of its varieties. One of the main ingredients of Eel Sauce is mirin, a Japanese rice wine.
Churros Recipe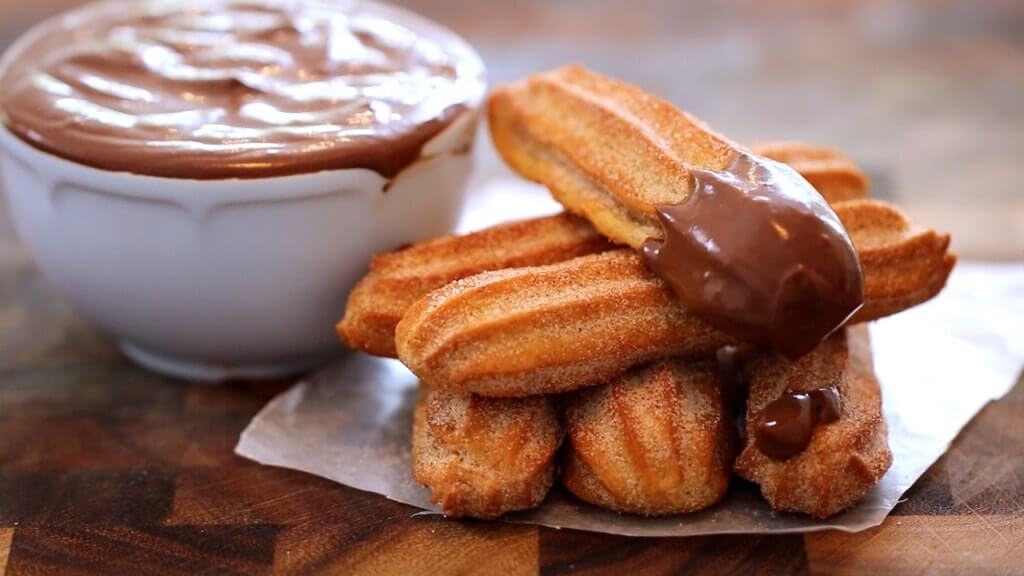 How Much Time It Will Take?
| | | |
| --- | --- | --- |
| Preparation Time | Cooking Time | Total Time |
| 15 MINS | 25 MINS | 40 MINS |
Ingredients Required for Make Churros Recipe
| | |
| --- | --- |
| Ingredients | Amount |
| Flour | 1 cup |
| Butter | 1/2 cup |
| Salt | 1 tbsp |
| Egg | 2 |
| Vegetable | 1/2 cup |
| Sugar | 1 tbsp |
| Cinnamon | 1 tbsp |
| Water | 2 cup |
Churros Recipe
In a saucepan, add water, butter, sugar, and salt.
Boil over medium heat.
Remove from heat and stir in flour.
Again heat and cook, stir until mixture pulls away from sides for 4 to 5 minutes.
After if cooks, beat mixture until you touch the batter and pull your finger away.
Transfer mixture to a piping bag fitted.
Pour enough oil into a large, deep, heavy pot and heat it until the temperature reaches 350 degrees C.
Drop churros as sticks and fry churros, until puffed and deep golden brown all over, about 10 minutes. 
Note: Eat Churros with chocolate sauce.
Nutritional Facts of Churros Recipe
| | |
| --- | --- |
| Calories | 661 |
| Fats | 51 g |
| Carbohydrates | 57 g |
| Protein | 4 g |
| Cholesterol | 0 mg |
| Protein | 294 mg |
Recipe For Churros Chocolate Sauce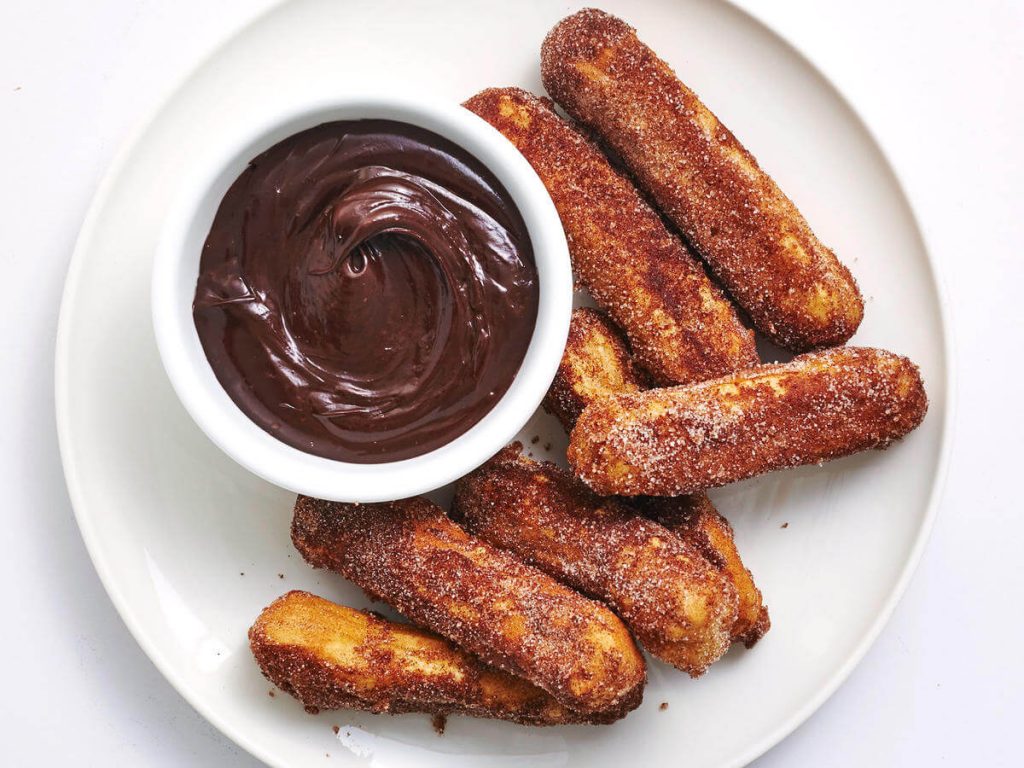 Not with Churros only every snack will taste delicious if you have it with Chocolate Sauce.
Ingredients Required For Churros Chocolate Sauce
| | |
| --- | --- |
| Ingredients | Amount |
| Milk | 1/2 cup |
| Cream | 1 cup |
| Corn Syrup | 1/2 cup |
| Dark Chocolate or Sweet Chocolate | 4 ounce |
| Hot Paprika | 2 tbst |
How To Make Churros Chocolate Sauce Recipe
Add corn syrup and milk and corn syrup.
In a pan combine chocolate and milk.
Melt the chocolate over medium heat.
Whisk the mixture and until it will convert into a chocolate mixture.
When it will convert to chocolate mixture it is ready to serve.
Nutritional Facts Of Churros Chocolate Sauce
| | |
| --- | --- |
| Calories | 100 |
| Fats | 3 g |
| Cholesterol | 5 mg |
| Sodium | 30 mg |
| Carbohydrates | 20 g |
| Protein | 1 g |