Chopped Cheese Sandwich Recipe
Note- This post may contain affiliate links, we earn from qualifying purchases made on our website. If you make a purchase through links from this website, we may get a small share of the sale from Amazon and other similar affiliate programs.
When I was a child, my favorite sandwich was Chopped Cheese Sandwich. Whenever my mom makes something which I don't like I told my mother to make Chopped Cheese Sandwich, somewhere it was a kind of sweet memory for me.
Now, I have become an adult, I miss those things which I use to do in my childhood to annoy my mother and today, only I was thinking about what I use to do an idea came into my mind to recall my childhood.
My mother served me food in the afternoon and I started saying I don't want to eat this, I want the Chopped Cheese Sandwich and I started beating the dining table and my mother went to the kitchen and made me a Chopped Cheese Sandwich. While eating it, a thought came into my mind that I should share the Chopped Cheese Sandwich Recipe with you all.
Today, I going to share Chopped Cheese Sandwich Recipe. But here are some other amazing recipes that you should definitely try.
1. Bacon Sandwich– Bacon sandwich is just the right breakfast meal for meat and sandwich enthusiasts. It has crunchy strips of roasted bacon along with fresh vegetables and toppings. This makes it a great breakfast sandwich.
2. Pastrami Sandwich– Pastrami Sandwich is also considered as New York's signature sandwich. I had my first Pastrami sandwich in one of New York's restaurants. Since then, I crave for the sandwich as good as they serve.
3. Tex-Mex Shredded Beef Sandwiches– These sandwiches make a perfect dinner if you have a busy day. It will give you the taste of barbecue and you will love it. You munch it even after coming from the office. You can add vegetables of your liking to it.
4. Doritos Chicken Casserole– The recipe which I am going to share now is everyone's favorite. This recipe is a combination of both the Chicken and the tacos or I must say Doritos.
Ingredients Required To Make Chopped Cheese Sandwich Recipe
| | |
| --- | --- |
| Ingredients | Amount |
| Beef | 1 pound |
| Olive Oil | 2 tbsp |
| Sliced Onion | 1 |
| Pickled Peppers | 1/2 cup |
| Cheese | 1/2 cup |
| Bread | 1 |
| Salt | 1 tbsp |
| Pepper | 1 tbsp |
| Hoagie Rolls | 2 |
| Ketchup | 1 cup |
| Butter | 1 tbsp |
| Lettuce | 2 |
| Sliced Tomato | 1 |
How To Make Chopped Cheese Sandwich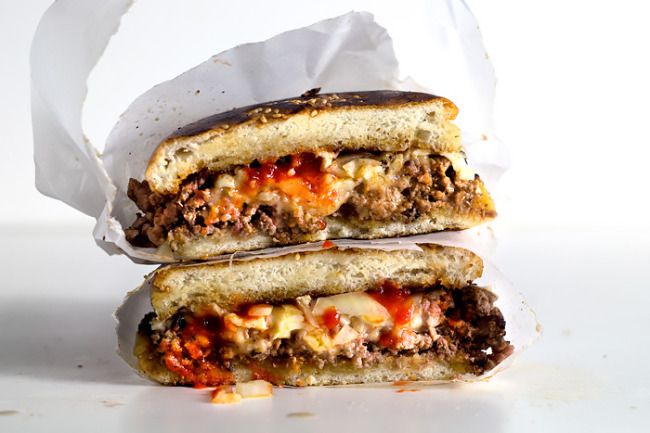 Combine ketchup, and peppers in the bowl beat until it becomes smooth.
Melt butter in a pan over medium heat.
Add onions and cook until onions are soft for about 5 minutes. Remove from heat and set aside.
Form beef into bread and add with salt and pepper.
Heat a pan over medium heat.
Add bread and cook 5 minutes.
Sprinkle sauteed onion in between the bread. Layer cheese over the beef, and cook 2 minutes.
Spread reserved ketchup on the bottom bun of each hoagie roll.
Divide the meat mixture between the two sandwiches.
Top each with shredded lettuce and sliced tomato.
How Much Time It Will Take?
| | | |
| --- | --- | --- |
| Preparation Time | Cooking Time | Total Time |
| 5 MINS | 15 MINS | 20 MINS |
Nutritional Facts Of Chopped Cheese Sandwich Recipe
| | |
| --- | --- |
| Calories | 800 |
| Fats | 45 g |
| Carbohydrates | 46 g |
| Proteins | 52 g |
| Sodium | 1800 mg |
| Cholesterol | 173 mg |
How to Make Choose Cheese Sandwich at Home |Video