Chewy Coffee Cookies Recipe
Note- This post may contain affiliate links, we earn from qualifying purchases made on our website. If you make a purchase through links from this website, we may get a small share of the sale from Amazon and other similar affiliate programs.
We all need our caffeine fix to stay awake, and so does Santa Claus! So this year, how about ditching the regular chocolate chip cookies and instead handing out some chewy coffee cookies?! I mean, Santa, too, needs some coffee to keep up with all the work at night! Let's explore the recipe for these Christmas treats that will surely land you on the 'Nice' list! 
This may sound extremely odd to a lot of people reading this, but I am not that big a fan of coffee, per se. Yes, I am totally, without a doubt, a complete tea person. But, but, once place where coffee does get my attention is coffee-flavored desserts! There is just something about the bitterness of the coffee with the sugar and fat. 
It creates a complete harmony, which is so worth experiencing! The same goes for these coffee cookies, to be honest. Yes, you will have to bake cookies from scratch, but this will give you a great time to enjoy baking for the holiday season! 
Moreover, most of us are always looking for new recipes around Christmas time. So, these cookies surely need to be one of the things that you bake for the holiday season. They make the perfect chewy delight for a midnight snack! 
In this article, you will find a guide on how to make these cookies, with all the little tips and tricks that you can follow. From the equipment to the nutritional information and everything in between, is all in this article. So, let us not wait for any further and get you ready for some holiday baking! 
What Equipment Will You Need To Make Coffee Cookies? 
Measuring Cups – While baking, precision is key and hence, measuring cups will be needed to get all the measurements right. 
Measuring Spoons – A set of measuring spoons will help with measuring some of the ingredients that are needed in very small quantities for this recipe. 
Bowl – A small bowl will be needed to make the espresso and a large one to mix all the dry ingredients in. 
Stand Mixer – This recipe needs the butter to be light and fluffy and for that, it needs to be whipped in a stand mixer. Trust me, and it will be very difficult to do it manually! 
Silicone Spatula – While making the dough, there is a high chance that the ingredients will splatter everywhere in the mixing bowl. So, a silicone spatula will help you scrape all the sides clean. 
Ice Cream Scoop – An ice cream scoop will help you get cookies all of the same sizes. 
Baking Tray – You will need a large baking tray to bake the cookies. 
Parchment Paper – A piece of parchment paper or a silicone mat will stop the cookies from sticking to the tray. 
Cooling Rack – A cooling rack will be needed to let the cookies cool down completely before you can serve them. 
How Much Time Will It Take To Make Coffee Cookies? 
| | | |
| --- | --- | --- |
| Preparation Time | Baking Time | Total Time |
| 20 Minutes | 10 Minutes | 30 Minutes |
What Ingredients Will You Need To Make Coffee Cookies? 
All-Purpose Flour – Starting with one of the main ingredients in these cookies, you will need 2 ¼ cups of all-purpose flour to get this recipe together. All-purpose flour does work the best. 
Butter – About ⅔ cups of room temperature unsalted butter is the source of fat in this recipe, which will also give the cookies a lot of flavors. 
White Sugar – This recipe will need ½ cup of granulated sugar or white caster sugar. 
Brown Sugar – We will be adding ½ cup of brown sugar as well to this recipe, as it will help add a lot of moisture to the cookies and give them a malty flavor too. 
Egg – One whole large egg will help combine all the ingredients together in this recipe. 
Baking Soda – To get a yield of 18 cookies, this recipe will need ¾ teaspoons of baking soda as a leavening agent. 
Vanilla Extract – Vanilla extract will help get rid of the egg flavor and will enhance the rest of the flavors, too, in this recipe. Around 1 ½ teaspoon of the same will be needed for this recipe. 
Coffee – Here, for the coffee flavor, you will need 4 teaspoons of either instant coffee or instant espresso powder. 
Boiling Water – For the coffee flavor to seep into the cookies, we will dissolve the coffee in 1 ½ tablespoons of boiling water before adding it to the cookie dough. 
Chocolate Chips – These will surely add an extra layer of flavor to the cookies and I would recommend using ½ cup of either semi-sweet chocolate chips or chunks.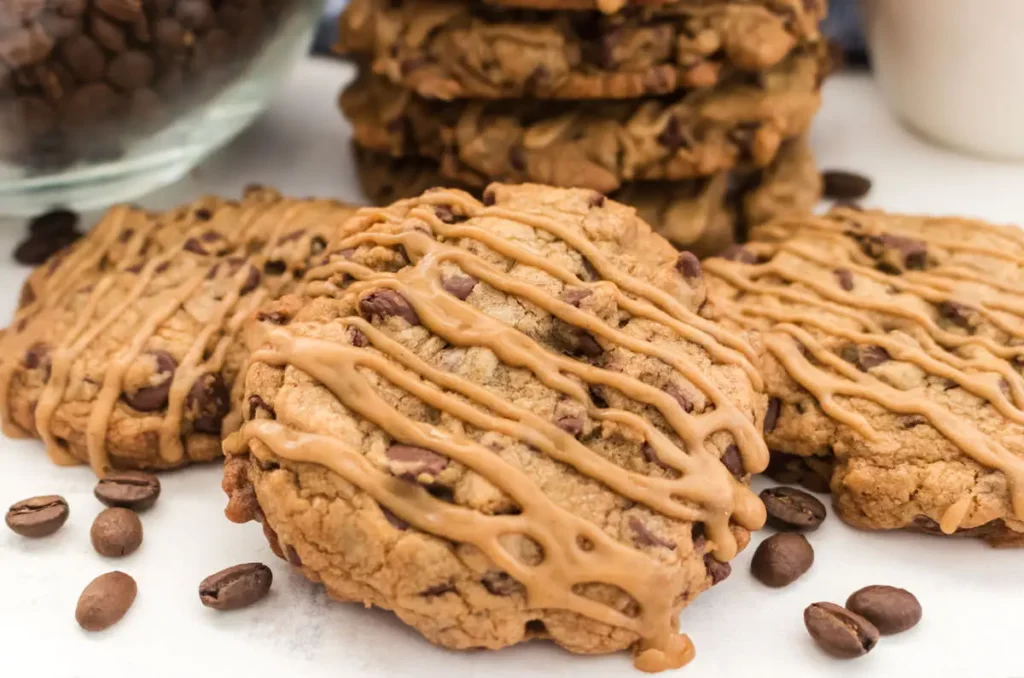 Steps To Make Coffee Cookies
1. Prep Step
While making these cookies, the first step is to get all your preps done. For that, start off by preheating the oven to 350 degrees Fahrenheit. Line two baking trays with parchment paper or a silicone baking sheet and set aside.
In a small bowl, mix together the coffee powder and the boiling water. You can also use an espresso machine if you would like to. So, out of that, you will need 2 tablespoons of espresso. In a large bowl, mix together the flour and baking soda and set aside. 
2. Make The Dough
Once your preps are done, you can begin making the dough. In a stand mixer bowl, add in the soft butter along with both the sugars. Beat the mixture until it is light and fluffy and then add in the egg along with the vanilla extract. 
Keep scraping down the sides of the bowl to combine all the ingredients together. To this, add in the liquid espresso, along with the dry ingredients and mix until everything is well combined together. Lastly, fold in the chocolate chips with a spatula. Your dough is ready! At this stage, you can chill it in the refrigerator for about 15 minutes or straightaway begin forming the cookies. 
3. Bake The Cookies
After your dough is ready, take an ice cream scoop and scoop out 18 cookies onto the trays that you previously lined with parchment paper. Make sure you place the cookies with enough space between each other, around 3-4 inches apart. 
Add some more chocolate chunks on top if you would like, or bake the cookies as they are in the preheated oven for 10 minutes. After the 10-minute mark, take them out of the oven and place the tray on a cooling rack for 10 minutes. 
After the 10-minute mark, take the cookies off the tray and transfer them onto the cooling rack for them to cool down completely. At this stage, too, you can add in some chocolate chunks if you would like. Once the cookies are completely cooled, serve it with a cold glass of milk! 
Nutritional Information
| | |
| --- | --- |
| Calories | 198 kcal |
| Carbohydrates | 27 g |
| Protein | 2 g |
| Fat | 9 g |
| Saturated Fat | 5 g |
| Polyunsaturated Fat | 0.4 g |
| Monounsaturated Fat | 2 g |
| Trans Fat | 0.3 g |
| Cholesterol | 19 mg |
| Sodium | 49 mg |
| Potassium | 58 mg |
| Fiber | 1 g |
| Sugar | 13 g |
| Vitamin A | 213 IU |
| Calcium | 13 mg |
| Iron | 1 mg |
How Will The Coffee Cookies Look And Taste Like? 
After baking, one thing may run through your mind, which is if what you made even turned out the way it was supposed to. Well, with cookies, one good news is that there can always be some room for trial and error! However, the basics that you should expect out of these cookies are as given below. 
As far as the cookies will look, they will look almost like a much darker version of a regular dark chocolate chunk cookie. The coffee adds a lot of flavor and the chocolate chips melted on top do make the cookies look exceptionally appetizing! 
Coming to the flavor of these cookies, as I mentioned earlier, nothing can really beat coffee-flavored desserts! The soft balance of the coffee flavor with the malty sugar and also the decadent chocolate chunks truly creates a symphony that is not worth missing out on! 
Recipe Card
Coffee Cookies Recipe
Is there anything better than coffee flavored desserts?! These cookies are soft, chewy and the perfect caffeine fix that you would need to start your day with. This cookie recipe is extremely easy and the perfect treat for Santa Claus on Christmas!
Preheat the oven to 350 degrees Fahrenheit.

Line the baking trays with parchment paper and keep aside.

In a small bowl, mix together the espresso powder and boiling water.

In a separate bowl, mix together the flour and baking soda.

Now, in a stand mixer bowl, add the unsalted butter at room temperature, along with the white and brown sugar. Whip until they are all light and fluffy.

Then, add in the egg and vanilla and mix again while making sure you scrape down the sides of the bowl.

After the egg is mixed in, add the espresso mix along with the dry ingredients and mix again, just until it forms a dough.

Add in the chocolate chunks to the dough and fold them in; refrigerate the dough for 10 minutes.

With an ice cream scoop, scoop out the cookies onto the baking tray that we previously lined with parchment paper, making sure there is 3-4 inch of space between them.

Top the cookies with some more chocolate chunks if you would like and then bake in the preheated oven for 10 minutes.

Take the tray out of the oven once done, and place it on a cooling rack.

After 10 minutes, transfer the cookies from the baking tray directly onto the cooling rack and let them cool completely, after which, serve!
Frequently Asked Questions (FAQs)
Can self-raising flour be used for this recipe? 
No, self-raising flour has baking powder added to it, which is something that we won't need for this recipe. So, it is better not to use self-raising flour. 
Can the instant coffee powder be used for this recipe?
Yes, the instant coffee powder can be used for this recipe. 
Is it necessary to add chocolate chunks to the cookies? 
The chocolate chunks do add a lot of flavor to the cookies, but you can skip them if you would like. 
Why does this recipe have baking soda and not baking powder? 
Baking soda helps make cookies extra soft and chewy and hence, that is the leavening agent of choice for this recipe. 
Is it okay if the cookies turn out a little hard? 
Technically, as per the recipe, the end product should be soft and chewy cookies. In case they have a hard texture, the cookies are most probably over baked. 
Conclusion
Soft, chewy and decadent, these cookies are the perfect caffeine hit, just in the form of a dessert! The flavors pair exceptionally well together and the cookies are really soft and chewy, which leaves you with a rich mouthful. If coffee flavored desserts are down your alley, then these cookies are surely worth a try!