Chatpata Roasted Poha Chivda Recipe
A fibrous addition to daily lives is not a bad idea. In fact how bare it is that we eat fibers in the whole meal to keep us a complete nutrient need to be fulfilled for our bodies. Then indie spices would just add on to the crunch of the dish.
This south Indian plain Chivdas with a raw taste can be turned into a delight unexpected. The punch of Hing powder has the ability to burst your taste buds with an amazing taste.
I used to live alone because of my work, I live in Bangalore away from my home and in the morning, I always use to get late for my office, in my hustle-bustle of morning, I always eat Poha because it is healthy and easy to make.
Today, I will share the Roasted Poha Chivda Recipe with you today but before I share the recipe I will tell you the benefits of eating Poha. Also, there are other recipes that you can have as starters, let's check them out.
1. Mirchi Pakoda– Mirch Pakoda or Mirchi Bhajiya are deep-fried fritters made with a bigger sized variety of green chillies, gram flour, herbs and spices.
2. French's Green Bean Casserole– Ready to make the best green bean casserole? Creamy mushroom sauce surrounded by tender green beans, topped with the crunchy flavor of French's Crispy Fried Onions make this holiday casserole an instant classic.
3. Red Pepper-Pistachio Bisque– This creamy, paprika-laced red bell pepper bisque, along with a parsley-pistachio pistou for the topping; makes you the lavish combination.
4. Maharashtrian Mix Dal Dosa– This recipe is highly nutritious and delicious and makes a perfect breakfast menu. It is a very quick and easy recipe and there is no need for fermentation of batter for this dosa.
Here are the benefits of eating Poha
Controls Blood Sugar Levels. Poha is considered a good meal for diabetics.
Good Probiotic. This may come as a surprise to many, but Poha is good probiotic food too.
A Good Source Of Healthy Carbohydrates. …
Easily Digestible.
Rich In Iron.
Low In Calories.
There are times when you need excitement in daily lives adding an experience needed for a change. This dish is a complete transformation on your plates; from raw and plain to burst of excitement.
Come Let's see how to make Roasted Poha Chivda at home
Ingredients Required for Roasted Poha Chivda Recipe
| | |
| --- | --- |
| Ingredients | Amount |
| Beaten Rice | 1 cup |
| Chane ki daal | ½ cup |
| Cornflakes | ½ cup |
| Peanuts | ½ cup |
| Oil | 1.5 tsp |
| Rye seeds | 1 tsp |
| Leaf Cody (kadi patta) | 8-10 leaves |
| Turmeric powder | ½ tsp |
| Salt | 2 tsp |
| Hing powder | ¼ tsp |
How much time it will take?
| | | |
| --- | --- | --- |
| Preparation Time | Cooking Time | Total Time |
| 10 MINS | 15 MINS | 25 MINS |
Roasted Poha Chivda Recipe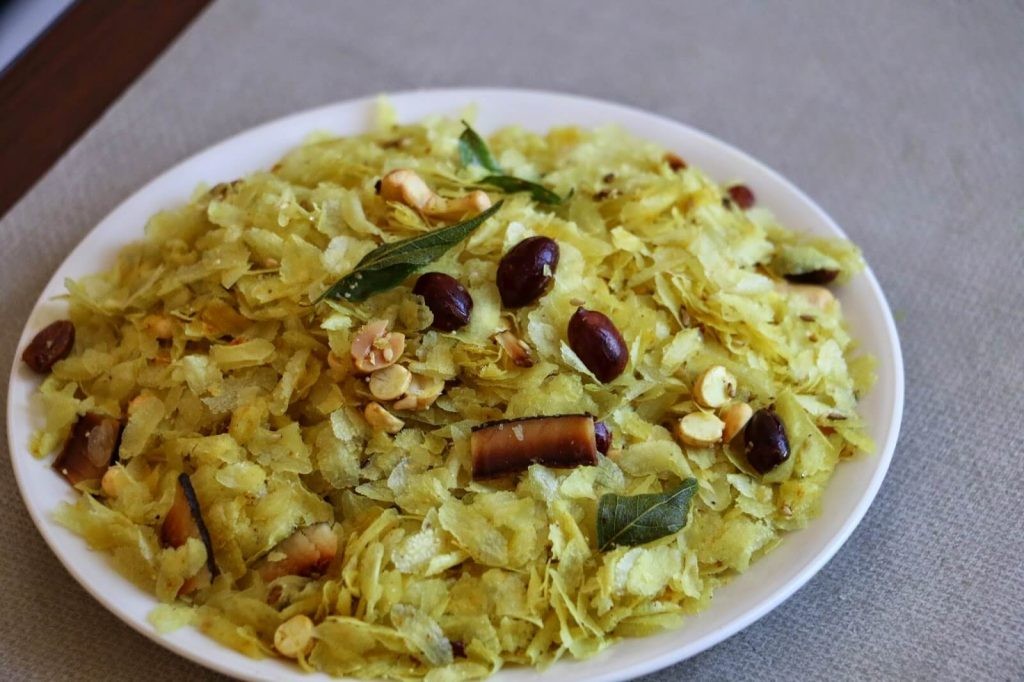 Heat a pan, add ½ tsp oil to it, let it heat.
Now add 1 cup Beaten Rice, and ½ cup of each Chane ki Daal, Cornflakes, and Peanuts.
Fry them for about 10 minutes on a medium flame, put them in a bowl.
Now in another pan add1 tsp oil and heat it.
Add rye seeds, Kadi Patta, turmeric powder, hing powder and salt to it.
Mix it all, add the above-fried ingredients, and cook it for a while.
Put it on a plate and serve hot.
Add excitement to just another plate served of delights. This cereal Chivda hence when cooked with our strong spices adds on to yet another plain dish and simple phase of our lives. It's going to be harsh let's make one phase beautiful and amazing.
Nutritional Facts Of Roasted Poha Chivda Recipe
| | |
| --- | --- |
| Calories | 166 |
| Fats | 11 g |
| Cholesterol | 0 mg |
| Sodium | 216 mg |
| Carbohydrates | 16 g |
| Proteins | 2 g |
How to Make Roasted Poha Chivda at Home | Video