Carrot Cake Recipe
Note- This post may contain affiliate links, we earn from qualifying purchases made on our website. If you make a purchase through links from this website, we may get a small share of the sale from Amazon and other similar affiliate programs.
A classic, non-chocolate, soft textured cake is what I need for my grandmother's birthday. It is just going to be the best for her health. I lost in the thoughts when I was young and it was my birthday what my grandmother did for me with excitement. On my birthday she made a cake for me.
Today, she is having her birthday and I want everything best for her, and I decided to make a cake for her and with her favorite Carrot but I don't know the Carrot Cake recipe.
I surfed over the internet and get many Carrot Cake recipes and shortlisted one and started making the cake and after 1 hour and served to cake to my granny she appreciated me for my efforts and cake was yum.
I thought I should share the healthy Carrot Cake recipe with my lovely people so you can make this cake at home. In case you don't have eggs at home, you can explore the best egg substitutes in cake mix. Here are some other cake recipes that you must try.
1. Rum Cake– Rum Cake is a dessert that has rum and usually eaten by people in the Caribbean. You can have rum cake on the holiday season, Thanksgiving, St. Patrick's Day, etc.
2. Dr. Bird Cake– Dr. Bird Cake is a soft cake flavored with banana and pineapple. It's baked in a 9×13 pan and is essentially a scaled-down version of a classic Hummingbird Cake.
3. Vegan Chocolate Cake– This is really simple, yet very tasty cake. This vegan cake is a good recipe to make any time you need to make a basic chocolate cake.
4. Eccless Cake- Eccless cakes are one of the most authentic recipes of England. They go way back and are delicious. They are made by filling pastries and delicious sweet fillings and look like small pastry pockets.
Ingredients for Traditional Carrot Cake Recipe
For Carrot Cake
| | |
| --- | --- |
| Ingredients | Quantity |
| Carrots | 6 units |
| All-Purpose Flour | 2 Cups |
| Baking Powder | 2 tsp |
| Baking Soda | 1 tsp |
| Ground Cinnamon | 1/2 tsp |
| Ground Ginger | 1/2 tsp |
| Ground Nutmeg | 1/4 tsp |
| Salt | 1/2 tsp |
| Vegetable Oil | 3/4 cups |
| Eggs | 4 |
| Brown Sugar | 1 cup |
| Granulated Sugar | 1/2 cup |
| Applesauce | 1/2 cups |
| Vanilla Extract | 1 tsp |
For Frosting
| | |
| --- | --- |
| Ingredients | Quantity |
| Cream Cheese | 8 ounce |
| Unsalted Butter | 1/2 cup |
| Powdered Sugar | 2 cup |
| Pure Vanilla Extract | 1 tsp |
| Dry Fruits | For Toppings |
Traditional Carrot Cake Recipe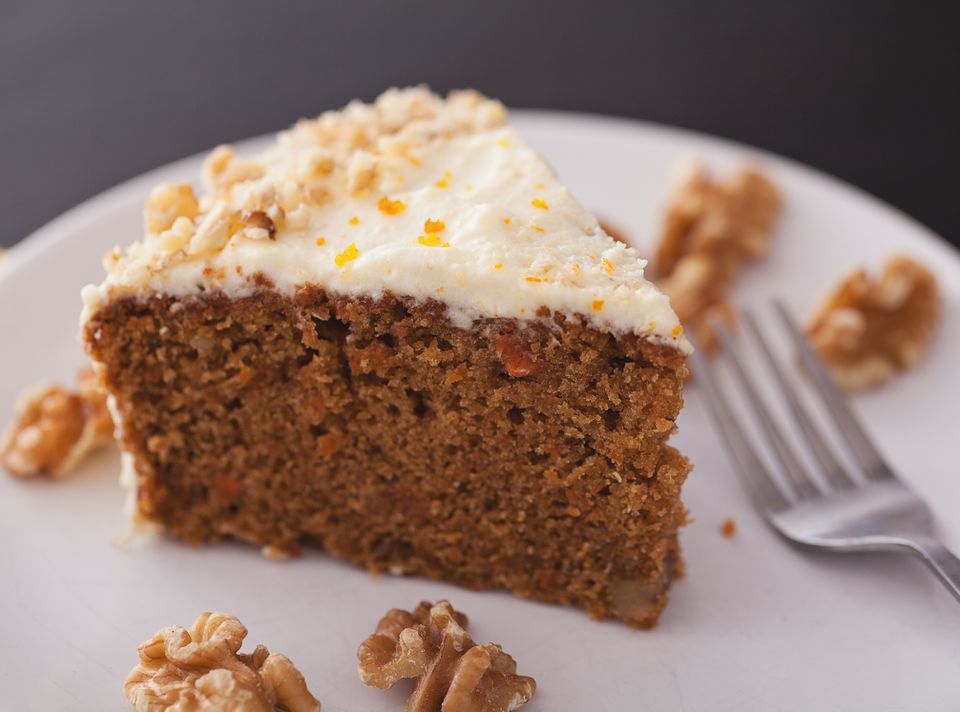 For Carrot Cake
In a large mixing bowl, add flour, baking powder, baking soda, cinnamon, ginger, nutmeg, and salt and mix all of them.
Now take oil, eggs, brown sugar, granulated sugar, applesauce, and vanilla in another bowl and whisk them together.
Now grate the carrots and add them to the mixture you just made in step 2, and mix all of them.
Now mix this mixture with all the dry ingredients from step 1 and mix them all.
Now heat the oven at 350°F and spray two 9-inch round cake pans well with non-stick cooking spray.
Now evenly pour the cake batter on the cake pans and bake it in the oven at 350°F for around 30 minutes.
Remove it from the oven, and allow it to cool for around 20 minutes. And after 20 minutes, remove the cakes from the pans as well.
For Cheese Frosting
Take a bowl and add butter, cream cheese, and vanilla and mix them using an electric mixer.
When the mixture will become smooth and creamy, add powdered sugar and vanilla extract to the mixture.
Again mix it until the frosting becomes smooth.
Your frosting is ready
Put Frosting over the Cake
When your frosting is ready, level the tops of the cake using a cake leveler.
Now put 1/2 cup of the frosting of the first piece of cake evenly. You can use a knife to evenly spread it.
Now place the other on the piece of cake that you have just frosted and use the remaining frosting to frost the top the sides of the cake.
If desired, then you can use some dry fruits as toppings as well.
How Much Time it Will Take?
| | | |
| --- | --- | --- |
| Preparation | Cooking | Total |
| 2 Hours | 30 Minutes | 2 Hours 30 Minutes |
Nutritional Information for Carrot Cake Recipe
| | |
| --- | --- |
| Calories | 401 |
| Fat | 23 g |
| Saturated Fat | 6 g |
| Carbohydrates | 46 g |
| Sugar | 35 g |
| Fiber | 2 g |
| Protein | 4 g |
| Sodium | 246 g |
| Cholesterol | 52 g |
How to Make Carrot Cake at Home | Video