American Vegetable Chop Suey Recipe
Well, any noodle dish is Chinese for us, but, this one's an innovation by the West Chinese Restaurant. For AMERICAN CHOP SUEY have fried noodles, tangy sauces, and vegetables to add on to its delight. The sauce with a combo of veggies just slips smoothly on our tongue and the crisp of noodles just adds on to the pleasure of eating.
I ate Chop Suey in a Restaurant in California and it was very tasty and sumptuous. I asked my friend who is from China about the recipe and I made it at my home.
I am the kind of person who searches for everything and I search about this also on the internet. Chop Suey is an American-Chinese dish and it has many conflicting stories from where Chop Suey came from.
Chicken Shop Suey is far and beyond one of the most popular dishes from Chinese takeaways and also a very healthy one. And this is where to find these healthy takeaways. Even better, it can also be a pretty healthy option. The chicken is usually lean chicken breast – a good source of protein, plus low in saturated fat. ISN'T IT HEALTHY?
Come I will take you to a colourful bowl of eatable is just the outcome of the American Vegetable Chop Suey Recipe. It's yummy, its absolute pleasure to your taste buds, it's a delight to watch and amazing to savour.
Also, there are other recipes that you can have as starters, let's check them out.
1. Sous Vide Potatoes– Sous vide is a great way to perfectly cook one of the most versatile and easily available ingredients; that are potatoes.
2. Grilled Green Tomatoes– Make use of unripened green tomatoes, grilled and dressed with basil sauce, in this simple side that goes well with fried chicken or grilled steak.
3. Grilled Asparagus– The special thing about this recipe is that it's so simple. Fresh asparagus with a little oil, salt, and pepper is cooked quickly over high heat on the grill. Enjoy the natural flavor of your veggies.
4. Eggplant Napoleon– These eggplant napoleon appetizers are stacked with slices of baked eggplant, tomatoes, and mozzarella cheese. It's the perfect appetizer for a summer dinner.
Ingredients for American Vegetable Chop Suey Recipe
| | |
| --- | --- |
| Ingredients | Amount |
| Oil | 1 tbsp |
| Length Chopped Onions | 1 unit |
| Diagonal Chopped Beans | ½ cup |
| Thin Length Chopped Carrot | ½ cup |
| Thin length Chopped Green Capsicum | 1 unit |
| Salt | ½ tsp |
| White Chilli Powder | ¼ tsp |
| Tomato Ketchup | ½ cup |
| Red Chilli Sauce | ½ tbsp |
| Sugar | 1 tsp |
| Water | ½ cup |
| Corn flour | 2 tbsp |
| Vinegar | 1 tsp |
| Chopped Cabbage | 2 tbsp |
| Crispy Fried Noodles | 1 plate |
For crispy fried noodles take dry noodles, boil them and then fry them. Or simply take noodles and deep fry them.
How Much Time it will Take?
| | | |
| --- | --- | --- |
| Preparation Time | Cooking Time | Total Time |
| 10 MINS | 30 MINS | 40 MINS |
American Vegetable Chop Suey Recipe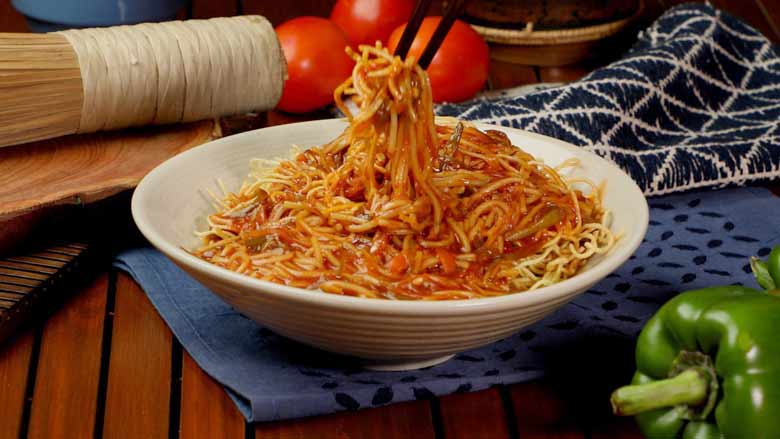 In a preheated pan add 1 tbsp oil and heat it. Add onion, beans, carrot, and capsicum to it.
Fry them on a high flame for a while in order to keep them half cooked. Now add salt, white chilly powder, and tomato ketchup.
Mix it and cook for another minute. Add red chilly sauce and sugar. Mix it thoroughly and cook for another minute.
Side by side takes some water in a cup add 2 tbsp cornflour in it. Mix it and add it to the above-cooked mixture.
Turn the flame to medium and keep stirring it until gravy gives out a thick texture.
Add vinegar and cabbage to it, cook it for another minute. Now take crispy fried noodles on a plate and pour the above-cooked gravy on it.
Serve hot.
Just as mother serves you as a friend, guide and loves this delightful CHOP SUEY serves you as a pleasured savory and a treat to watch.
Nutritional Facts of American Vegetable Chop Suey Recipe
| | |
| --- | --- |
| Calories | 296 |
| Carbohydrates | 13 g |
| Fats | 16 g |
| Protein | 22 g |
| Cholesterol | 60 mg |
| Sodium | 900 mg |
| Potassium | 450 mg |
How to Make American Vegetable Chop Suey at Home | Video