9 Best Allspice Berries Substitutes
Many of us love a kick of spice in our food. Whether we associate spice only with stereotypically spicy cuisines or we like adding a dash of spice to cuisines worldwide, we all love a dash of spice! Which spice is your favorite, though? Mine is definitely allspice berries!
Allspice berries have heat, a peppery flavor, and a mild amount of sweetness too. Basically, just the best combination of flavors! However, have you found yourself in a position where you are all out of it and need a substitute? Then definitely read this article to know about the best allspice berries substitutes!
What are some great substitutes for allspice berries? The best allspice berries substitutes are cloves, nutmeg, cinnamon, star anise, and five-spice powder. 
But, before we get to the substitutes, let us discover allspice berries a little more. This will help you better understand how to use them and the substitutes.
Quick Peek: Allspice Berries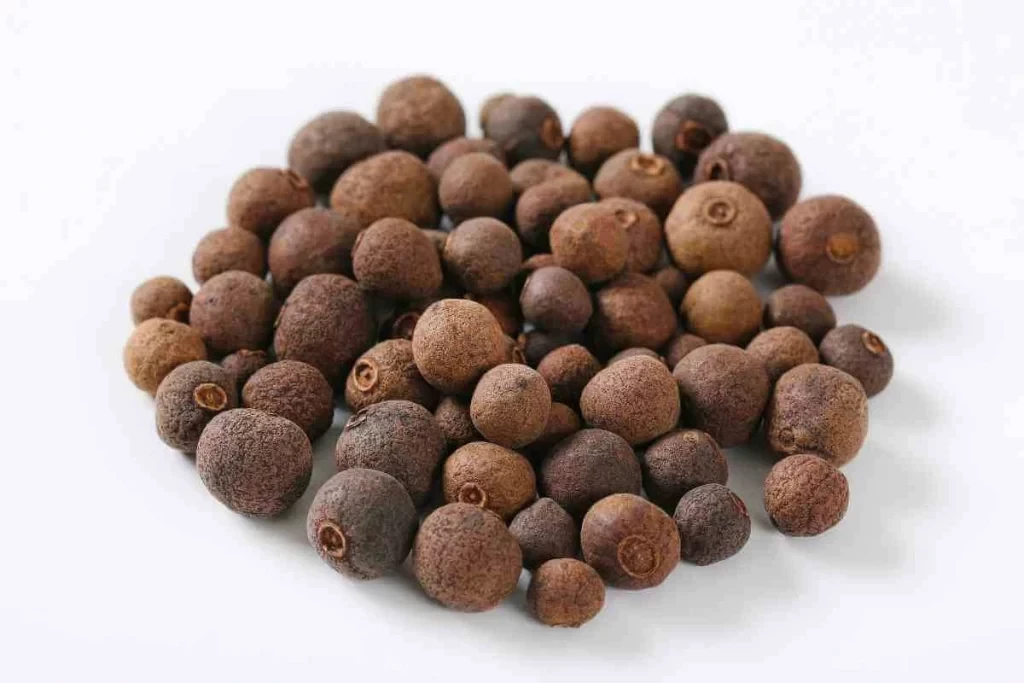 This section will help you understand allspice berries, their flavor and texture profile, and even nutritional information!
What Are Allspice Berries?
Also known as a Jamaica pepper, myrtle pepper, or pimento, allspice is the unripe fruit of the Pimenta dioica. It is a tree native to the West Indies, Southern Mexico, and Central America.
Once dried, the fruits resemble peppercorns, which are commonly known as allspice berries. Allspice berries are used whole or in powder known as allspice powder.
There is also a common misconception that follows allspice. The misconception is that allspice is a combination of various spices. However, it is an individual spice with many flavors in one. 
Describing Allspice Berries: Flavor And Texture
Allspice berries resemble peppercorns a lot. They are small and round, resembling a berry. Hence, they are referred to as allspice berries. The berries are ground into a fine powder to make allspice powder. 
As far as taste goes, the flavor of allspice berries is highly multidimensional. It has sweet, sour, and spicy notes. It almost tastes like a combination of cloves, cinnamon, and nutmeg, as described by many people. 
Uses Of Allspice Berries
Allspice berries are used for both savory and sweet recipes. The whole berries generally work well for infusion in various foods. These include brines, soups, stocks, broths, stews, and even certain drinks.
The powdered form of allspice berries works best in baking if you prefer to use it. Moreover, ground allspice berries can be used in various marinades, as rubs for meat and various other foods. Usually, adding whole berries at the beginning of cooking any dish maximizes their flavor. 
Allspice Berries On The Health Radar | Looking Through The Wellness Telescope 
Allspice berries, being a spice, are usually used in very minute quantities in various recipes. Hence, it is difficult to derive any sort of nutritional benefits from them. A single teaspoon of allspice berries contains only 5 calories. 
Despite the minute quantities used, allspice berries do, however, carry vital nutrients and have various health benefits. They are an excellent source of manganese, calcium, iron, and vitamin B5. 
Allspice berries have been used as a home remedy for various health concerns such as cold, nausea, menstrual cramps, and indigestion. Allspice berries also contain certain compounds that are said to help with preventing bacterial infections. 
9 Best Allspice Berries Substitutes
I think this is enough information on allspice berries! Now, let us quickly dive into the substitutes! The best substitutes for allspice berries are given below.
1. Allspice Powder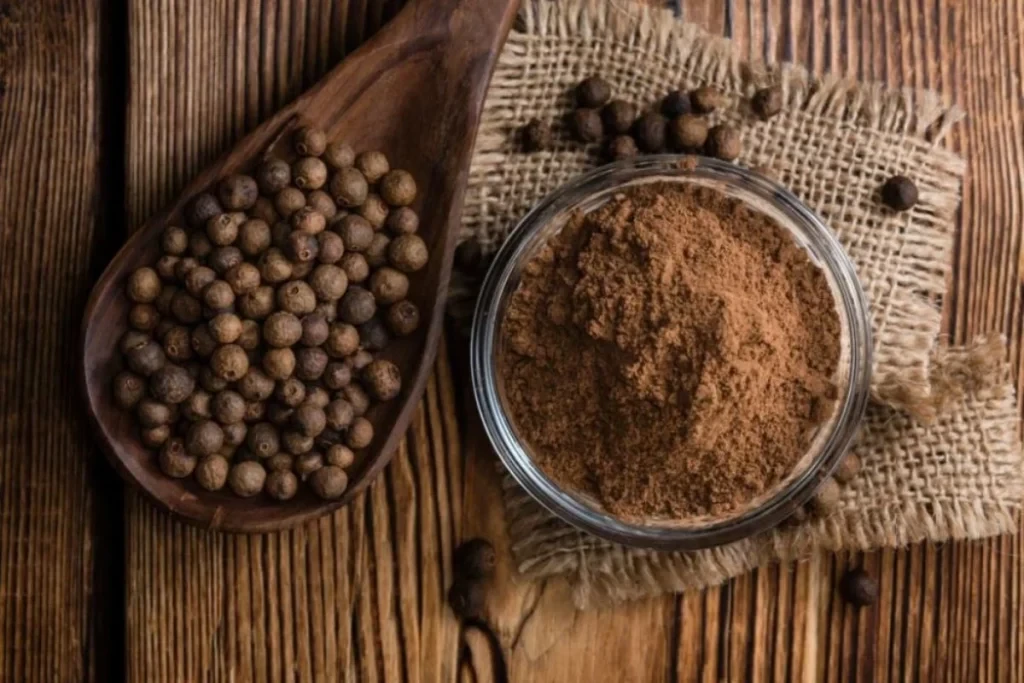 If you are all out of allspice berries, allspice powder is the best substitute you could use! It is essentially ground-up allspice berries and has the exact same flavor as whole berries.
However, one thing to remember is that you might have to change the step at which you add the spice. Whole spices are usually added initially, as they impart most flavor while being tempered. 
Powdered spices, however, need to be added at a later stage. This will help incorporate the flavor of the spice better into your food.
2. Cloves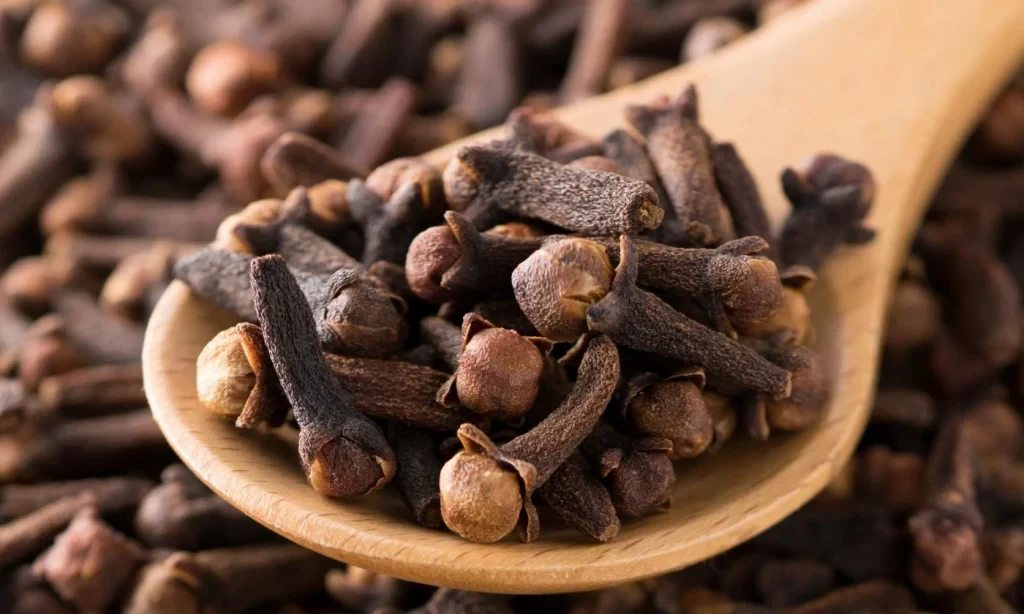 Whole cloves impart a flavor slightly similar to allspice berries. When used in desserts especially, there is hardly any difference in the taste. This makes them a great substitute for allspice berries.
Cloves, however, do lack the peppery flavor that allspice berries have. They do have a strong flavor too. You can start by adding ¾ th the number of whole cloves to the number of allspice berries given in the recipe. 
If towards the end, you think the flavor does not match what you expected, you can easily add some ground cloves to your food. Moreover, to add the peppery taste of allspice berries, you can add some ground pepper to your food to balance the flavor.
3. Nutmeg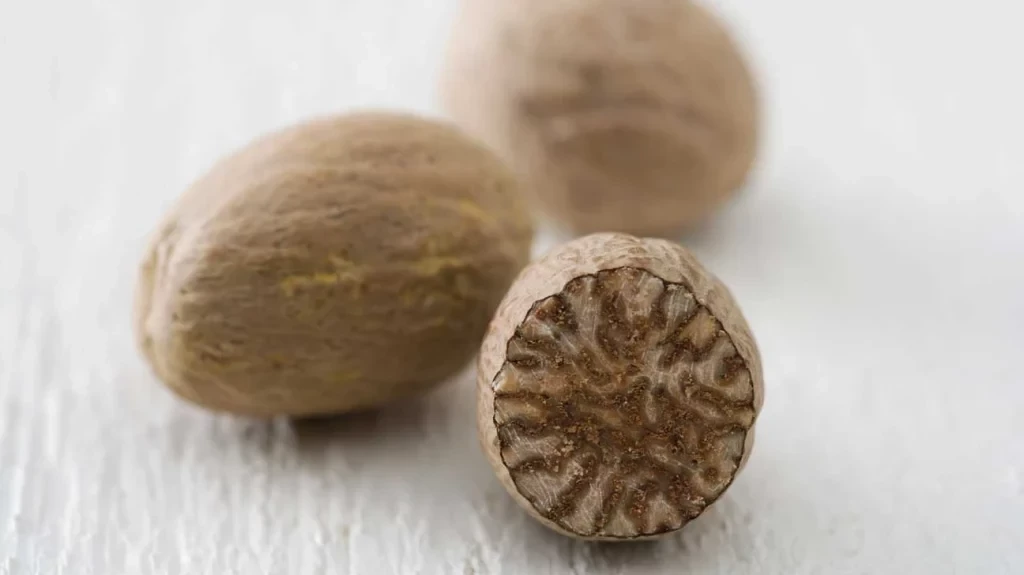 Nutmeg is another great spice with a warm, earthy taste. This makes it a great substitute for allspice berries.
Nutmeg, just like cloves, lacks the peppery flavor of allspice berries. However, you can easily adjust the flavor by adding some crushed peppercorn and nutmeg powder. 
While using nutmeg, make sure you use half the quantity as that of allspice berries, just to be safe. You can adjust the flavor later by adding extra nutmeg to your food if you want a deeper flavor.
4. Cinnamon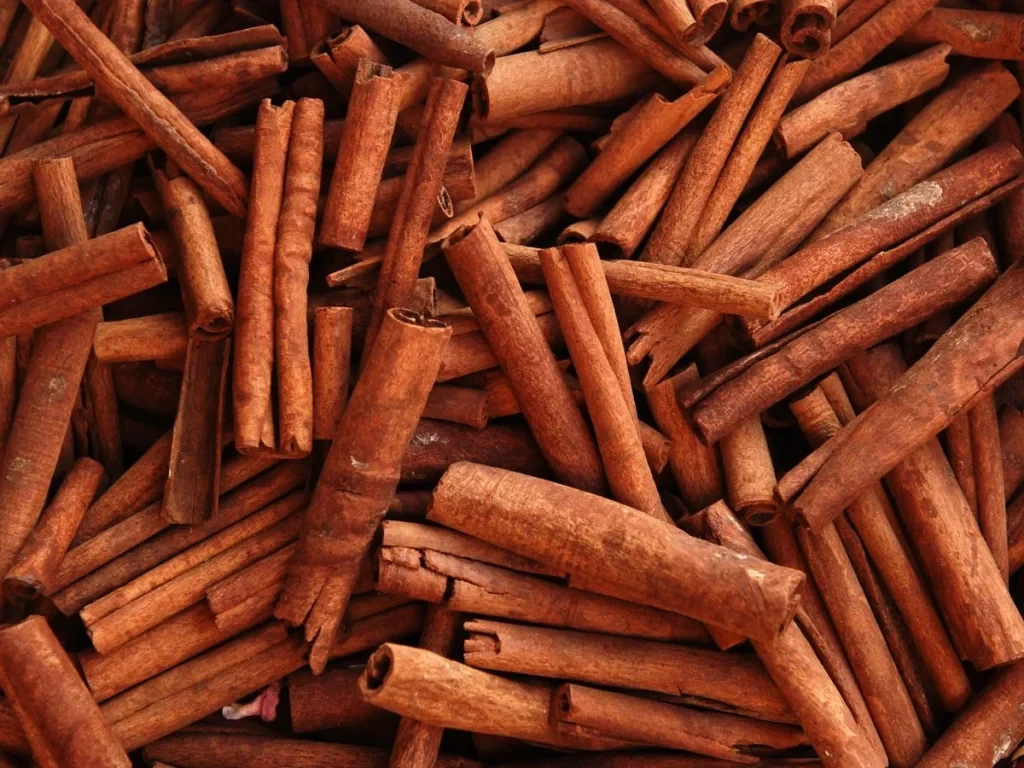 Cinnamon is a great spice with a slightly sweet taste. It works very well as a substitute for allspice berries. Cinnamon, moreover, is a very common spice available in most supermarkets. I bet you have some in your pantry too!
You can easily substitute allspice berries with cinnamon using the same quantity. To add to the peppery flavor, you can add some ground black pepper to complement the cinnamon. 
5. Star Anise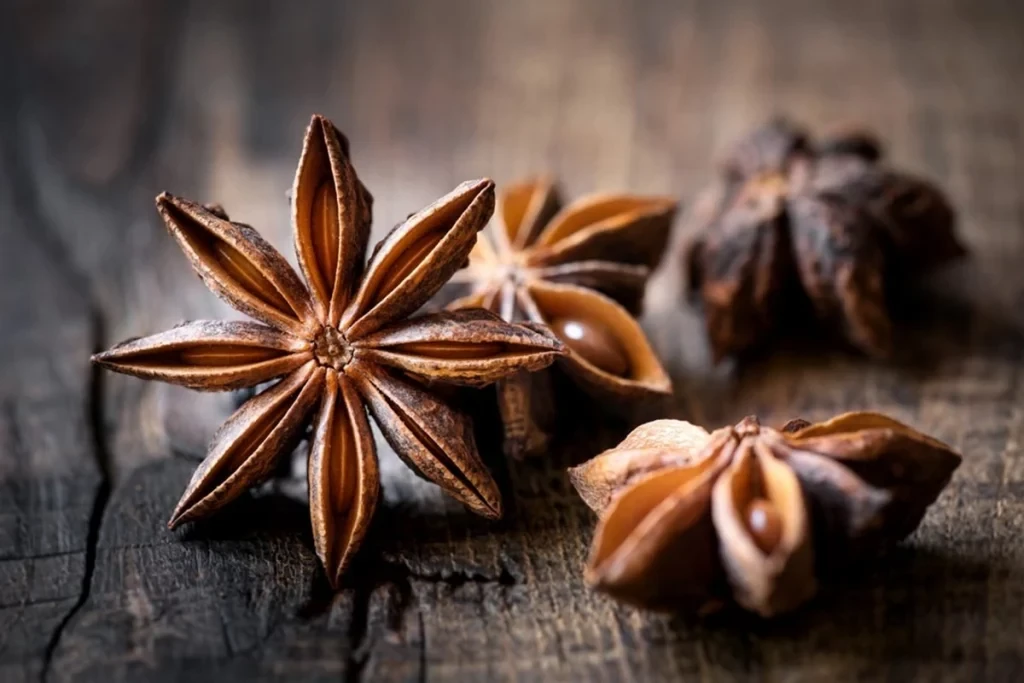 Star anise has a strong flavor and tastes somewhat similar to sweet licorice with warm and spicy undertones. It does carry a strong smell too. However, it still makes for good allspice berries substitute.
Star anise does have a very distinct smell and taste. So if that is something that does not really work for you, you might want to consider other options. However, if that is not a problem, it goes very well in stews, curries, and marinades as an allspice berries substitute.
6. Five Spice Powder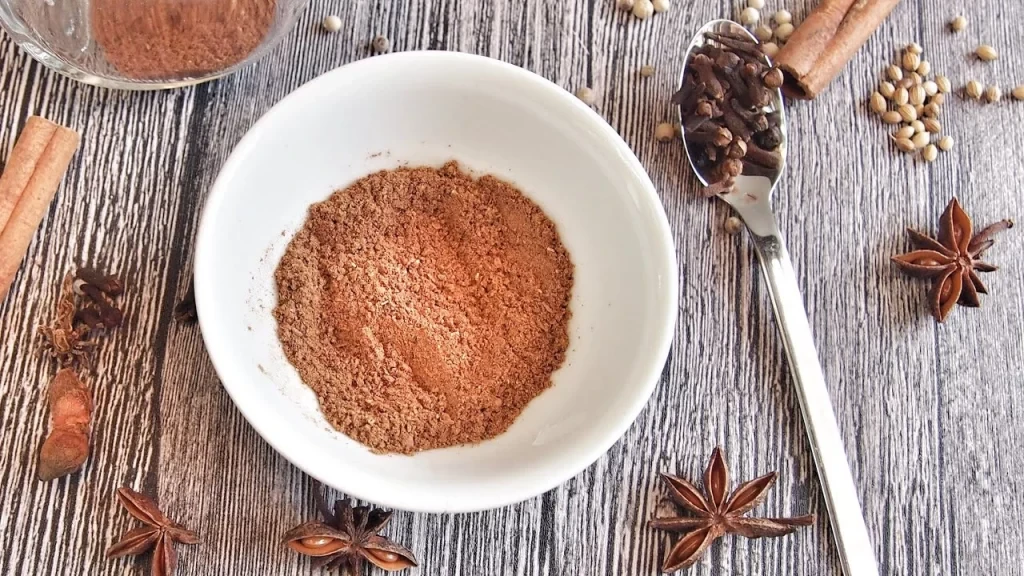 Five-spice powder is usually a blend of cinnamon, star anise, fennel, cloves, and ginger or pepper. It has sweet and savory notes, making it great allspice berries substitute.
Being a powdered spice, the five-spice powder must be added towards the end of preparing a certain dish rather than at the beginning. This is because powdered spices impart their flavor better when added at a later stage. You can use the same quantity of five powders as the number of allspice berries in your food.
7. DIY Spice Blend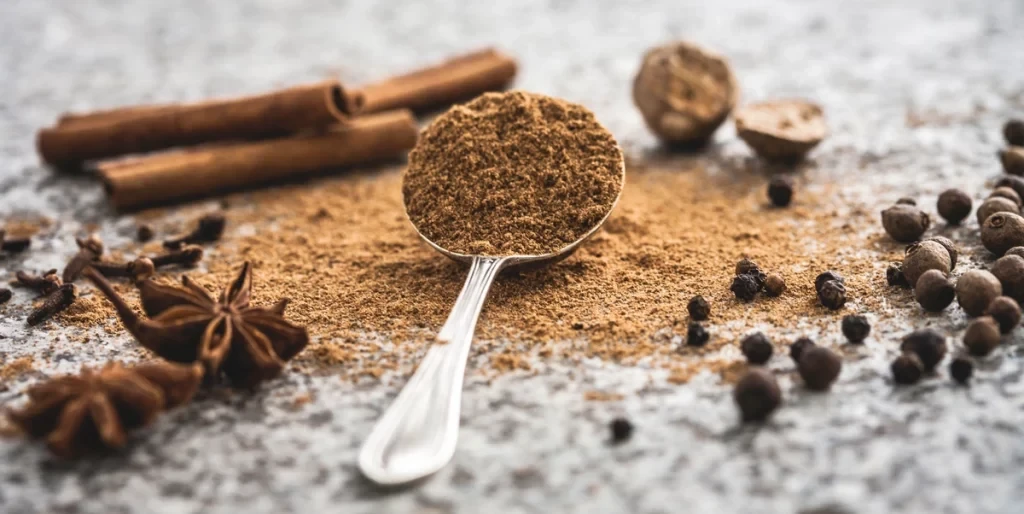 Despite the fact that allspice is not a combination of flavors but a spice on its own, you can easily make a spice blend with a similar taste. This DIY spice blend works as a great allspice berries substitute.
To make this spice blend, combine 3½ teaspoons ground cinnamon, 1¼ teaspoons ground nutmeg, and a pinch of ground cloves. This can be used in a 1:1 ratio to replace allspice powder. 
Use ½ teaspoon of this powder for every 6 allspice berries added to a dish. Again, as it is in a powdered form, make sure you add this spice at a later stage rather than in the beginning. 
8. Pumpkin Pie Spice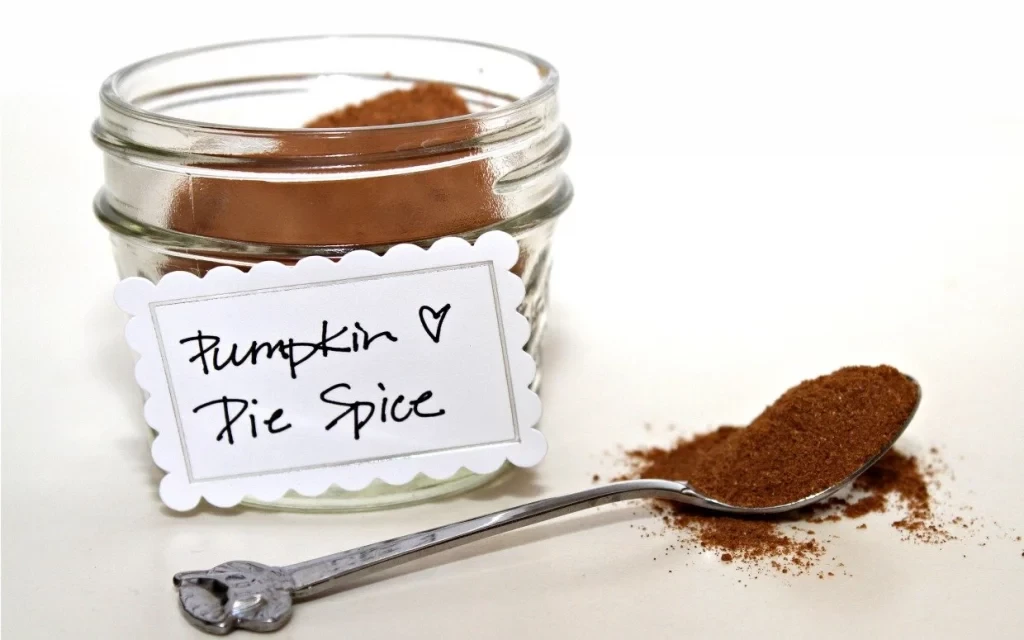 Pumpkin pie spice is used to flavor pumpkin pies. It is generally a blend of ground cinnamon, nutmeg, ginger, cloves, and sometimes allspice. This makes it a great substitute for allspice berries.
Pumpkin pie spice can sometimes have a slightly overpowering sweet flavor. There is a huge possibility that the pumpkin pie spice you have might lack the peppery flavor that allspice berries do have. For this, you can use a little bit of black pepper powder to balance out the flavors. 
9. Apple Pie Spice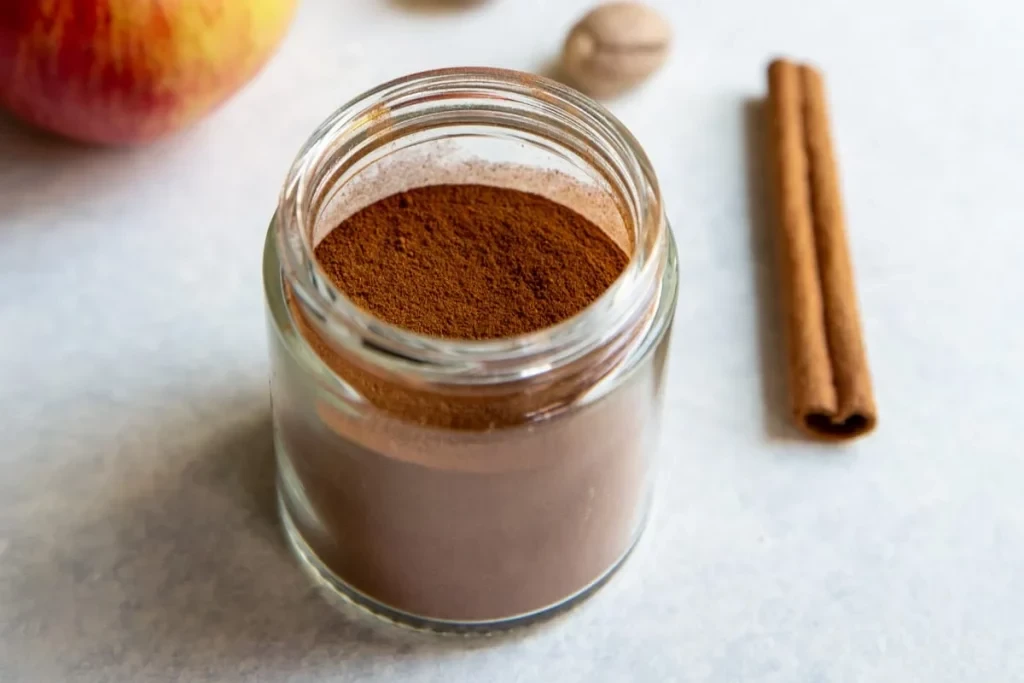 Apple pie spice is generally made of a mixture of cinnamon, nutmeg, and allspice. It also contains cardamom and ginger. As the spice mix contains allspice, apple pie spice makes great allspice berries substitute.
Again being a powder, Apple pie spice must be added at a later stage while cooking food rather than in the beginning. This will help impart its flavor to the food in the best way. 
Short Recap
I am sure you must have gone through the entire article. However, are you still confused about which substitute would work best? For that, I have broken it down further for you. 
Most Suitable: The most suitable substitute for allspice berries would be cloves.
Easily Available: The most easily available substitute for allspice berries is cinnamon.
Best Flavor Profile: Allspice powder would provide the best flavor profile when used as a substitute for allspice berries. 
Final Word
As we have reached the end of this article, I hope it has helped you understand all about allspice berries and their substitutes. A few of the substitutes given are in powder form. 
However, for best results, I would definitely recommend using one of the whole spices and pepper powder. Whole spices will give a specific aroma to food that powdered spices don't. Hence I say, try substituting whole for whole and powdered for powdered.
Frequently Asked Questions (FAQ's)
Are allspice berries the same as allspice powder?
Yes, they are essentially the same thing, just in two different forms.
What berries are in allspice berries?
Allspice is the dried brown berry of the tropical Pimenta dioica tree.
Are allspice berries the same as juniper berries?
No, they are both different from each other.
What is Jamaican allspice made of?
Jamaican allspice is made of allspice berries.
Are allspice berries the same as peppercorns?
No, they are two different types of spices.
Are allspice berries the same as pimento?
Yes, allspice berries are also known as pimento.
Why is allspice called so?
The flavor of allspice tastes like a combination of cinnamon, nutmeg and cloves. Hence the name 'allspice'.